There's plenty to do and see in Los Angeles, the city of bright lights, Hollywood stars and an exciting dining scene. This diverse metropolis includes many eclectic neighborhoods with distinct personalities. Here you'll find a laid-back vibe, a vibrant art scene, trendsetting design and internationally influenced cuisine. The following represent but a few design-forward, distinctly L.A. restaurants.
Prova Pizzeria
Prova Pizzeria is all about being authentic, from its wood-fired pizza crust to its farm-fresh ingredients. Staying true to Chef Vito Iacopelli's southern Italian roots, Belzberg Architects celebrates the art and craft of cooking through the use of simple, natural materials such as wood and Carrara marble that pay tribute to the old-style pizzeria — but with a modern twist. Inside, oversize arrow graphics along an exposed wood-grain wall direct traffic to the open kitchen, where a bar-height table encourages interaction between the chef and patrons. Custom wood and metal tables by local craftsman Ilan Dei, along with tabletop and concrete planters by Rolling Greens of Culver City, make both indoor and outdoor seating areas inviting. Photos by Bruce Damonte
The Springs
Set near the L.A. River in a former warehouse, The Springs — a wine bar/juice bar/yoga and wellness center — serves as an oasis in the heart of a concrete jungle. Designed by the multidisciplinary firm Design, Bitches to provide a much-needed gathering place for the local wellness community, the 13,800-square-foot mixed-use space centers on the theme of transformation. Details like concrete block planters that look like they're growing out of the walls and floor, a rope screen room divider, a pierced concrete block screen and a blue-stained plywood wall that extends between the yoga and restaurant/lounge add definition and a sense of intimacy. Bright bursts of color give the space a sun-drenched look, while paper lanterns create a soft moonlight-like glow at night. 
The Springs, photo by Laure Joliet
Odys + Penelope
Warm and welcoming, the La Brea District's Odys + Penelope is a casual, modern Brazilian-style churrasco and grill. Led by Michelin-starred chef owners Quinn and Karen Hatfield, Odys + Penelope features an open grill, wood-fired smoker and churrasco. By integrating these live-fire cooking methods into the design, Alexis Readinger of Preen, Inc. creates a rustic and comfortable space with a contemporary edge. The 4,200-square-foot neighborhood eatery features brick walls, exposed beam ceilings, a communal wood table repurposed from the original wood beam ceilings of what once was an old printing press, and a live olive tree growing out of the bar area. Large geometric cutouts for storing firewood draw the eye toward the open kitchen with adjoining bar seating where guests can watch the live-fire cooking. Up at the storefront window, a modern façade disguises two existing Corinthian columns. Photo by Augusta Quirk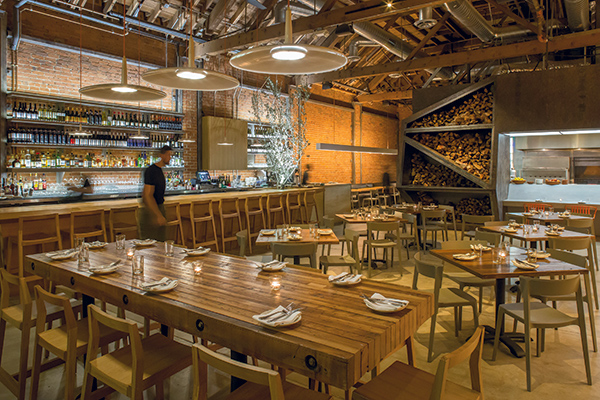 Odys + Penelope