Getting creative in the restaurant industry doesn't just put you ahead now. It keeps your restaurant alive. With the restrictions on dine-in services across the globe brought on by the COVID-19 pandemic, restaurants are being forced to creatively use resources and rely on takeout and delivery to stay afloat.
Luckily, the art of takeout is something we've been studying for years. And, yes, it is an art, in both presentation and execution. There are challenges surrounding making sure all parts of an order get delivered, from how the food looks, tastes and feels when it arrives to a customer to food safety. When done poorly, it can be detrimental to a brand's reputation. When done successfully, the restaurant has a chance to stand out and, most important, can keep customers coming back. And one of the keys is an accurate, inexpensive and safe packaging system.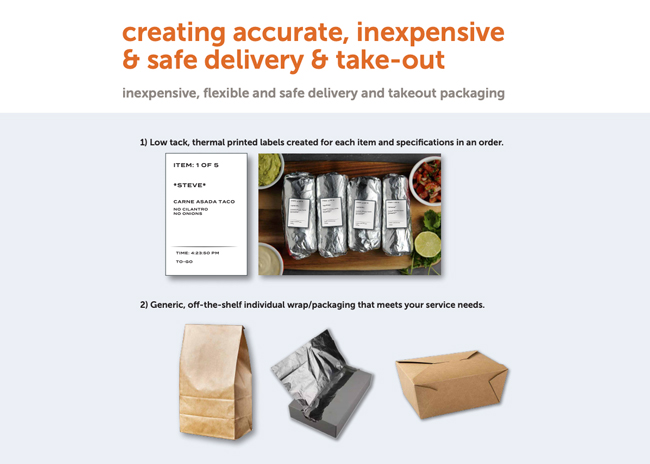 Order Accuracy and Completeness
A messed-up order is a pain for everyone. The unhappy customer will often drive back or call to address the issue. In turn, someone on the other end has to deal with it and figure out how to make it right. While mistakes happen, this is more often the result of a disorganized order assembly and tracking system. To avoid this, we recommend utilizing a kitchen display system (KDS), one to two thermal printers and branded labeling.
Although we recommend KDS monitors for the majority of the food production process, one or two good old-fashioned thermal printers — used to print individualized descriptions for each item onto a low-tack label — is best for to-go orders. This label allows you to describe the specific item with any modifications and how one item may be part of a bigger order. These low-tack labels go directly onto the item's wrapping. You can use generic wrapping like foil, wax paper or butcher paper to save money and get up and running quickly, while printing branded stickers to "seal" the wrappers and give it your brand's look and feel.
These individual items can then be placed into generic to-go or carry-out packaging. That overall packaging is also sealed with a branded label that adheres the order receipt onto one of the bags and communicates the customer's name, order time and number of bags/boxes that complete the order. This way, the customer or delivery provider knows exactly how many bags and/or boxes they should be leaving with, leaving nothing behind.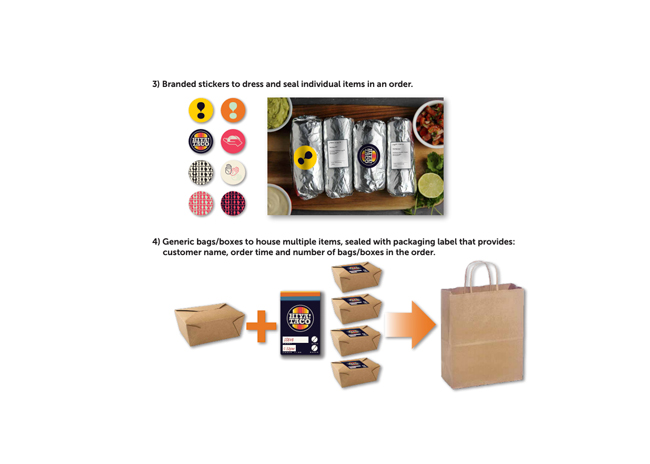 Flexible Branding
You want your takeout to look nice, allow your product to travel well and clearly communicate your brand, and you don't have to spend thousands of dollars to do it. We recently worked with HIYA Taco, a new fusion taco concept out of Milwaukee, Wis., to implement this practical, inexpensive takeout and delivery model. The goal was to design something that reflects the taco shop's That 70's Show-inspired aesthetic while allowing the new concept to experiment and figure out what packaging best fits their menu items without having to invest in custom printed and produced packaging.  
First, we opted for generic packaging. Whether it's the small sheets of wax paper used to transfer each taco from station-to-station-, foil wrapping around the to-go tacos, the cardboard box holding multiple tacos and salsa or shareables like their "taachos," or the brown paper bag transporting and the majority of the order together, it's all off-the-shelf product that you can bulk order from just about anywhere. This versatility is critical for restaurants that are trying to figure out what products work best for various takeout items.
Then comes the actual brand expression. From logos and icons to taglines, you can easily create custom-printed labels and stickers that express your brand and make anything identifiable as your product. With HIYA, we used key icons and elements of the brand design to create stickers solely for branding on individual items, and the logo and tagline for labels that seal the larger packaging. Again, this prevents you from having to invest a lot of money on custom-printed bulk ordered packaging, which is already more expensive, that might end up not even being a good fit for your menu items. These stickers and labels can easily be printed on any color laser printer for the couple of days it takes to get large quantities of custom printed labels and stickers produced and delivered. This saves a lot of time and money compared to custom produced packaging.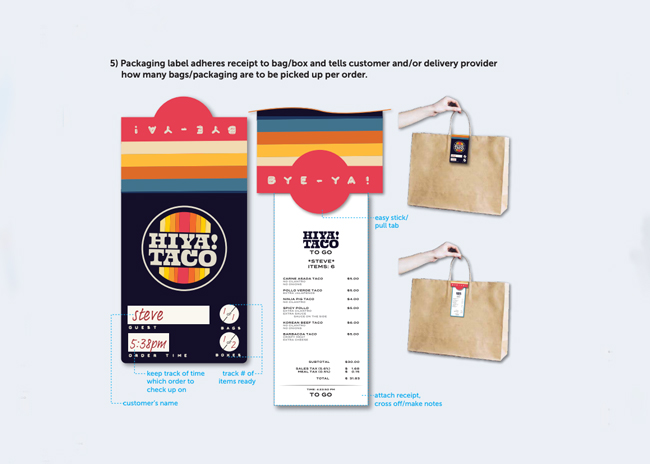 Safety
One of the great things about this system is that it ensures safety during transport by communicating to the customer that everything is closed and sealed in the restaurant. Using stickers to seal individual items and packaging labels to close boxes or baggage both keeps the contents sealed and communicates to delivery drivers and customers that it has been sealed. That way, if that seal is ever broken, customers know something has happened after it left the restaurant. It's an inexpensive way of evoking the tamper-proof packaging pharmaceutical companies developed after the Tylenol incident. We believe that this helps everyone feel more comfortable in these times when we're all hyper-vigilant about who and how people touched our food.