Over the past few years, Francesco Zimone noticed a trend in Los Angeles dining. The restaurant scene, he says, had gotten overpriced and unsatisfying. After valet parking, drinks and food, it was easy to drop $200 in a night, but still feel rushed and, frankly, hungry. On the other hand, parties at friends' houses were the best times he'd been having, with plenty of space and time to relax and mingle.
A native of Italy, Zimone saw an opening and partnered with L'Antica Pizzeria da Michele, a 150-year-old concept out of Naples, Italy, to open the first L'Antica Pizzeria da Michele in the United States.
"I saw an opportunity in the Los Angeles market to put people together in a way that felt a little bit less sterile than restaurants seemed to me over the last few years. I figured there was an opportunity to create a space that was somehow secluded," he says.
Walking into Pizzeria da Michele in Los Angeles, guests can see Zimone's appreciation for relaxing residential spaces in the first space they encounter, the host station. Instead of a standard podium, the restaurant uses a fully functioning (and sometimes played) upright piano, along with shelving, and some knickknacks that give the space a living room ambience.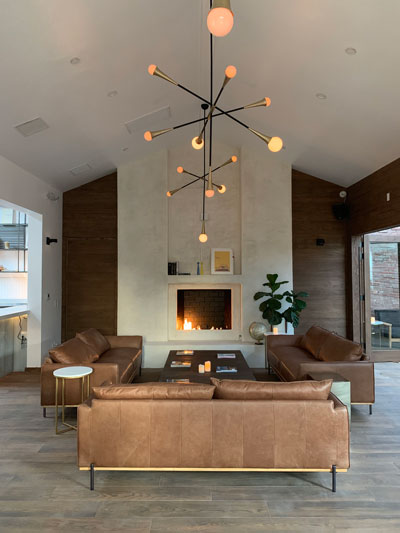 L'Antica Pizzeria da Michele's design has a purposefully residential design.
Following the piano is a full-blown living room set up, with leather couches, coffee and end tables and a fireplace designed with an "H" for Hollywood, says Zimone.
"When you look in, immediately everyone feels this joyful atmosphere with very little pretentiousness. We want people to feel immediately at home. People can have a full dinner at the couches. It breaks down the rules of a restaurant a little bit."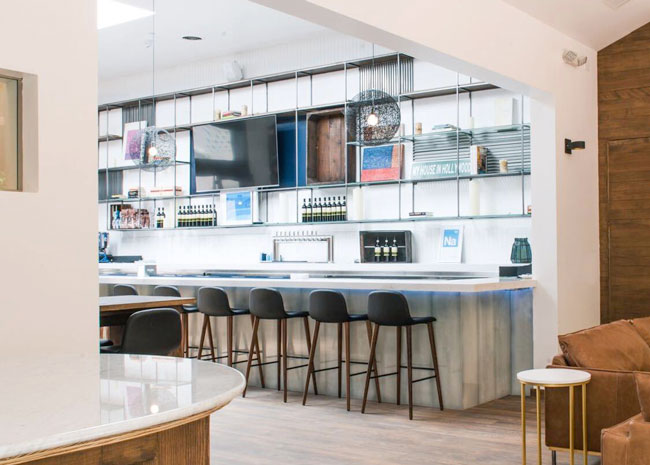 The bar at L'Antica Pizzeria da Michele has a sophisticated element.
To the left of the living room is Pizzeria da Michele's bar area. While the living room is designed to be cozy, this is a more sophisticated environment for get-togethers, like a place found in London, New York or Milan, Zimone says.
This area features wood-style ceramic tiles that match the hardwood floors he had to remove to bring the operation up to code. Solid oak planks line the wall while the bar top is a solid surface material designed to look like Carrara marble.
Solid oak planks line the wall at L'Antica Pizzeria da Michele.
"It is absolutely nonporous. I wanted to make sure we had the least problems long-term with the health department and anything that had to do with porous surfaces," says Zimone.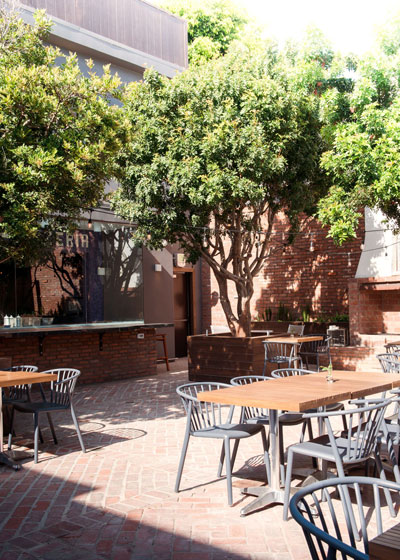 The courtyard at L'Antica Pizzeria Da Michele Los Angeles offers a sense of seclusion and protection, just like courtyards in Italy
Past the bar area is perhaps the restaurant's biggest attraction, its back courtyard. This space offers a sense of seclusion and protection, just like courtyards in Italy, making it a particularly appealing space for relaxation.
Zimone and his team made and designed the outdoor tables out of oak. This wood, he noted, was specially treated with an outdoor staining process that permeates the material, allowing it to stand up to all sorts of weather.
To enhance the courtyard, Zimone filled it with greenery. "The walls of the exterior are about 25 feet. I didn't want there to be the feeling of a jail. By adding the plants and trees we softened up the entire area and created a space that totally feels like a secret garden," he says.
While most of Pizzeria da Michele's menu is made in a standard kitchen, the pizza is made in the center of the courtyard itself. This area features a marble bar top where guests can pull up a stool and enjoy their meal while watching pies get made. Following heath code guidelines, though, the space itself is enclosed in glass.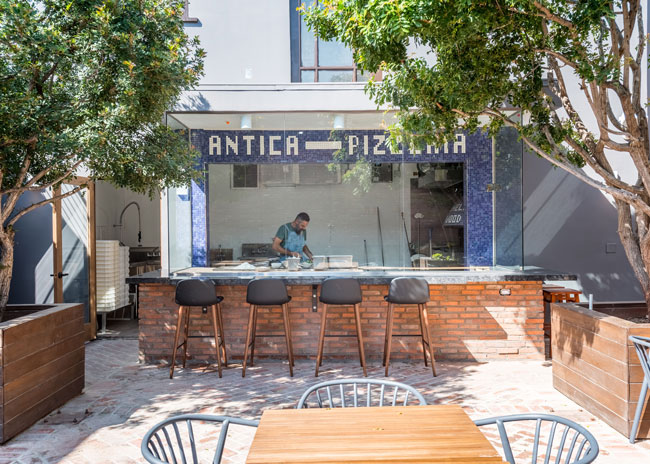 The courtyard at L'Antica Pizzeria da Michele features an open pizza bar.
"The pizzeria exists in the middle of the courtyard because we wanted to recreate the street feeling," says Zimone. "Pizza is a street food, so we wanted to recreate the atmosphere of looking into the pizzeria, where the pizza maker is there preparing it in front of you."