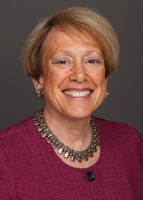 Talk about hot industry trends like farm-to-table, better burgers, local sourcing, all-day breakfast, even fine-casual service, and the folks at Farmer Boys Restaurants might seem a bit smug. After all, these trends have been core elements of the Riverside, Calif.-based brand since its founding in 1981 by five "farmer boy" brothers who emigrated to the U.S. from Cyprus.
Well known in its primary Central and Southern California markets for award-winning burgers, cooked-to-order breakfast, fresh-made salads and signature sandwiches, the brand has grown to 92 units. It is now expanding its regional footprint and implementing new marketing and design initiatives to better leverage its strengths in the competitive fast-casual segment.
Karen Eadon is leading the charge. She joined the brand as chief marketing officer in 2014, and in 2015 was promoted to president and COO, bringing extensive senior-level marketing and operations experience at brands such as Mimi's Café, El Pollo Loco, Taco Bell, Applebee's and McDonald's with her.
It seems Farmer Boys got the memo early about where some consumer and industry trends were headed. How would you describe the concept?
KE: Yes, we were fast casual before fast casual was cool. From the start, we were limited service and had a drive-thru, but we also had a decor and service experience that was much more like a full-service restaurant. Guests order at the counter, but we bring the food out to their tables. We use real plates and silverware. We come out to refill coffee and soft drinks. We bus tables. We're also very different in that we've always done almost all of our prep on-site, from fresh zucchini fries and onion rings to cutting heads of lettuce for our salad mix to making our own dressings. Our burgers are never frozen, and in 2012, we added The Natural burger, made from hormone- and antibiotic-free fresh ground beef. So a lot of what you're seeing today is the catch-up for what we've been doing for a long time.
Your menu is extensive compared with many in the fast-casual space. Has it been fairly consistent in terms of breadth and depth?
KE: It has changed pretty dramatically. The brothers' very first restaurant was a traditional Greek-American coffee shop/diner. There was a time when they did steak, fried chicken and shrimp dinners and also a number of Mexican items. But to facilitate growth, they refined it into a limited-service menu. As the brand gained traction, it evolved into where we are today, which is the core essence of Farmer Boys: breakfast, burgers, salads and sandwiches, all of which are highly customizable.
Breakfast is a real differentiator for us. There aren't many fast casuals with solid three-daypart business models. QSR restaurants offer it, but our breakfasts are much more similar to what you'd get at a full-service, family-style restaurant. Our breakfast burritos are huge, and we offer full breakfast platters, sandwiches and omelets. That daypart makes up 25 percent of sales. Lunch is 50 percent and dinner 25 percent.
Many fast casuals are working to incorporate drive-thru, delivery and tech-driven conveniences. How important are those elements to Farmer Boys?
KE: Drive-thru is a very important and a standard part of what we do. We're not known for having the fastest drive-thru, and it can be challenging because we cook everything to order, but it's a big part of our business. Overall, 60 percent of our sales are generated via drive-thru and carryout. Of our 92 restaurants open to date, only 4 don't have drive-thrus.
As for delivery, it's something that we're looking at and are testing with third-party providers in select markets. We also have mobile app and online ordering as part of our technology roadmap. We tried online ordering in 2012, but it just didn't resonate with our customer base, which skews a bit older. We recognize that so many more people today are not just online but on their phones, however, so having that capability is on our project list.
Farmer Boys' latest prototype communicates important branding messages while giving its farmhouse-kitchen aesthetic a more contemporary look and feel. Image courtesy of Farmer Boys Food Inc.
Has the brand's prototype evolved along with its menu?
KE: We're in the midst of a significant remodel for the chain, the first since its founding. Our original look and feel was very homey, like a farmhouse kitchen with a lot of knickknacks, curtains on the windows and a warm feel. But what the consumer is looking for is changing, and with the rise of the fast-casual segment, the competitive set has changed. We're now contemporizing what we're doing and making sure people understand our story and what our brand is all about. Our new decor communicates those branding messages while also bringing our aesthetic a little more up-to-date. It's in all new units, and we're about a year and a half away from having almost all restaurants in the system remodeled to the new look and feel.
We're also trying to find opportunities to shrink the footprint down a bit. Currently, our average restaurants measure 3,200 square feet with about 80 seats, plus drive-thru and patio seating. Our kitchens are quite large because we do so much scratch prep and cooking to order: 50 to 60 percent of the total square footage is behind the counter and back of house.
What's the split between franchised and company stores?
KE: We started franchising in the early 2000s and are now at about 35 percent company owned and 65 percent franchised. Over time, that split will probably shift more heavily to the franchised side. As we grow into new markets, we want to develop with people who know their markets better than we would, coming in from a distance. But while a lot of chains are headed toward being fully franchised, that's not the business that we're in. We'll always keep a sizeable number of company-owned restaurants.
What's on tap right now in terms of development?
KE: We're continuing to develop up California's Central Valley, where we're expanding in markets like Fresno, Modesto and Turlock. Those are agricultural areas, and our concept fits very well there. We'll also be looking to get up into the Sacramento area.
Outside of California, we've taken the brand into Nevada. We now have eight units in Las Vegas, and we see potential for more there. We're also opening our first restaurant in Arizona next year and will be developing more there over the next five years.
What's the biggest challenge to growing the brand?
KE: The No. 1 hurdle is finding real estate, whether it's land on which we can do the development ourselves, which we prefer to do, or ground leases. We're challenged, as I'm sure many are, with the lack of availability of A-plus sites. When they do become available, rents are sky high, and competition from well-funded, high-volume QSRs is tough. But we're out there looking. And because of the nature of our concept and demographic, we're able to look at some markets and location types that others would bypass. That often works to our advantage.