Solutions Center - Furnishings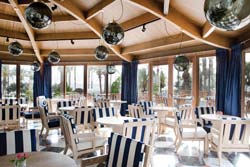 As seen installed at the Asteras Restaurant at Hotel Annabelle in Paphos, Cyprus, Globe Pendants cast a dim glow through their anthracite glass. Globe Pendants are made to order and come in several sizes and a variety of glass and attendant finishes.
The Flower chair comes in two versions, a soft touch urethane or a soft padded shell that can be upholstered in a variety of fabrics or leather. The soft-touch urethane option can be cleaned with a wide array of disinfectants. Available with several base options, including rotating column based, solid wooden legs and conical metal legs.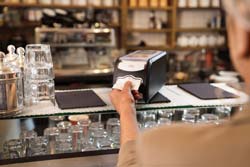 Tork Xpressnap Fit is a one-at-a-time napkin dispensing system in an enclosed dispenser. The unit's slim design saves inventory space and can help reduce waste by allowing guests to take one napkin at a time.
Chemetal Alu series of dark-aged aluminum designs emulate the appearance of weathered or blackened steel. Mill aluminum sheets are dipped in a darkening solution and then brushed by hand grinder. These sheets of thin aluminum are lighter to fabricate than steel, which can make the installation lighter. In addition to Alu, many of Chemetal's 600 Series are blackened with subtle variations for different visual effects. Available in standard sheet sizes or 4 feet x 8 feet as well as a laminate backer option for easy installation.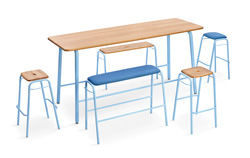 Keilhauer acquired and expanded Division Twelve, manufacturer of bent steel tube furniture. The Hectic Collection features benches, tables and stools that can be mixed, matched and moved at a moment's notice. Seats are available in white oak or upholstered; tabletops are available in white oak or laminate.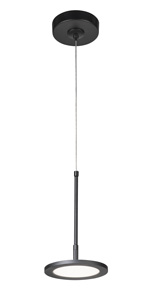 The Cirq is a circular OLED light fixture that provides a warm glow. The Cirq offers an energy-efficient lighting solution for an array of indoor spaces. A circular trim and suspended cable along with the ability to diffuse light over a large space gives designers the ability to utilize this fixture in distinct and creative ways. Available in satin black, satin white and metallic silver.
Original BTC's Stanley Pendant — shown here in a grouping of three installed over the bar in 
Ouranos, a rooftop lounge and bar at Hotel Annabelle in Paphos, Cyprus — is hand-spun in Birmingham, England. Stanley is available in three sizes in black, brass, copper or nickel-plated. Choose from three finishes: hammered, smooth and reflective.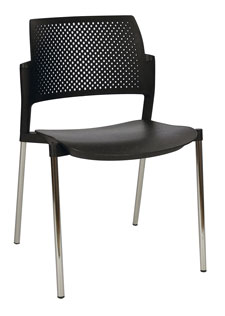 Kyro is a durable and stackable polypropylene and chrome chair appropriate for a wide range of indoor applications. It stacks eight high and is 20¾ inches wide and 31 inches high.