Solutions Center - Furnishings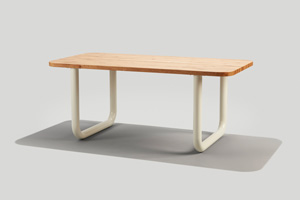 Designed by Joey Ruiter, the Frankie collection of communal tables utilizes two oversized U-shaped structural-grade steel tube legs that seamlessly intersect with a solid wood top. Available in a wide range of colors and finishes, the table ranges in length from 72 to 94 inches. 

The Versa Wall's modular design allows for simple installation of living walls, including around architectural features like doors and windows. Each plant remains in its own 4-inch pot so full-grown plants can be swapped in quickly and cleanly and walls can be redesigned at will. Featuring a patented vertical irrigation technology, the Versa Wall system cuts water waste, prevents oversaturation and boosts cost efficiency by automatically running a timed gravity-based irrigation cycle less than once a week, per the manufacturer.
Available in three sizes as well as a wall light, the Globe Pendant is available in opal, anthracite, and clear seedy or anthracite seedy glass shade, with polished chrome or brass metalwork. The Globe Pendant with opal glass is featured in the refurbished bar of the Fox & Goose Hotel (pictured).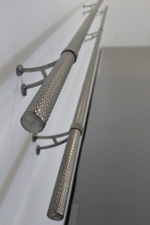 Designed for railings, bar rails and grab bars, Rigidized Metals' Rigi-Grip stainless-steel tubing is available in two diameters, 1¼ inches and 1½ inches. They can be used for ADA-compliant gripping rails. The texture adds both visual appeal and durability with its ability to hide scratches and dents.
Tarkett VCT is a new line of vinyl composite tile in 29 popular colorways. Tarkett VCT is phthalate-free, 100 percent post-consumer recyclable and constructed with 85 percent limestone.
Oahu recycling and trash bins feature a quick-change slide-in panel system that allows for a custom appearance for any space. DeepStream Designs' proprietary anodized aluminum extrusions and 316 stainless-steel components have no paint or powder coating. The open-grid liner support and no-leak plastic bins reduce the likelihood of pests hiding in them. Available with nonmarking feet, casters or adjustable feet. All parts are replaceable.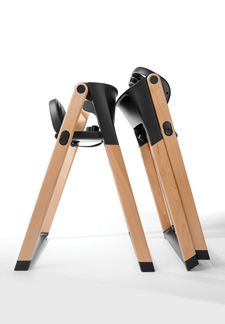 The Foodie Booster is a low-profile foldable restaurant high chair constructed from beechwood and features matte black food-safe plastic. Hidden stainless-steel hardware ensures easy cleanup and debris-free joints. It folds down with a single movement to 7 inches wide for storage and weighs 10 pounds. The Foodie Booster meets new ASTM F404-18 safety guidelines that will take effect for all high chairs sold starting in June 2019.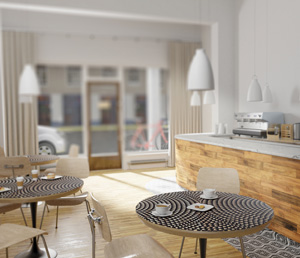 With clear midcentury modern influences, the Remi Table from 1429 Mfg is available in standard and custom sizes and features a top that can be customized in 37 different patterns. Tabletops are made from 1.75-inch-thick solid white oak, maple or walnut and available in three edge profiles.