Page 5 of 5
Johnny Rockets
Headquarters: Aliso Viejo, Calif.
Units: 215 domesitc, 69 international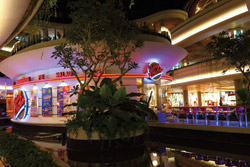 Johnny Rockets opened its first restaurant in Bali this fall. The chain plans to follow up by opening four more in Indonesia over the next five years. Last spring, Johnny Rockets opened its largest location in Santo Domingo, the Dominican Republic. Both of these restaurants are located in upscale neighborhoods and provide an all-American dining experience.
Like a number of its counterparts, Johnny Rockets identified the global opportunity early on. The company started with units in Mexico, Canada and the Middle East. Since 2008, it has pursued an aggressive and focused strategy that Steve Devine, president of Johnny Rockets International, calls "concentric circle expansion". This approach starts with a centrally placed unit and adds additional units fanning out strategically.
Devine says the company now has 16 units in Mexico, 6 in Kuwait, 2 in Qatar, 2 in Saudi Arabia and 1 in the United Arab Emirates. They are looking at the BRIC countries as well as the next 11 that make up a sub-tier of BRIC. There are also six units each in Korea and the Philippines that are doing well, Devine reports.
The No. 1 challenge is finding people to do business with that can bring an American brand into a foreign culture, Devine says, agreeing with his counterparts at other chains. He also stresses that it's important to take a patient approach to find the right partner with local savvy, know-how and staff.
Hamburgers are a staple of the Johnny Rockets' brand and are familiar to consumers in most foreign countries. However, Devine says, the flavor profile of a hamburger can differ widely. This means sourcing locally to provide the taste profile that diners are comfortable with.
In India, for instance, a no-beef culture, the menu features veggie and chicken burgers. The chain can tailor sides to the culture, as well. In Korea, rice is on the side dish menu. "We take the attitude that 'we don't know what we don't know,'" Devine says. The company relies on local partners to successfully guide menu development.
Since 2008, Devine says, he's had no negative experience with taking the American brand overseas. His main advice to other chains? Don't rush into development and be patient with the process. This will reap rewards. "It's not about getting $1 million today," he says. "It's about building a long-term revenue stream."