U.S. Chains Share Valuable Lessons Learned in Going Global
All over the world, middle-class urban populations continue to grow. Their newly attained disposable incomes provide a multitude of global expansion opportunities for restaurant chains based in the United States. Best of all, these new consumers are finding an appetite for foods beyond their native dishes. New menus, especially fast-food fare, now attract diners in almost every corner of the globe.
Technomic states in its 2012 "Top 500 Chain Restaurant Report" that 161, or 32 percent, of the Top 500 chains were operating units in international locations in 2011. Chains are targeting the BRIC countries — Brazil, Russia, India and China — but they also have significant interest in other nations. Upward mobility is occurring in the middle classes "from Indonesia to Turkey to South Africa to Mexico," the report says. This trend, along with saturation and slow growth in the U.S. market, continues to spur new plans for global expansion.
According to Technomic, international sales for the Top 500 restaurant chains increased by 12.2 percent in 2011, with a unit increase of 6.4 percent. By comparison, domestic unit growth for these chains was 0.6 percent for 2010 and for 2011. U.S. sales growth for chains with international business was 4.6 percent.

It's clear that the rewards of global expansion are significant when companies do it right. Fred LeFranc, founder of Results Thru Strategy, works with U.S. chains in an advisory capacity on growth strategies in both domestic ddddddand international markets. He has been on three trade missions with a number of companies investigating opportunities in India, South America, Southeast Asia and Indonesia.
LeFranc says that these countries love American brands. "They see America as a place of hope and optimism, where they can achieve something," he says. He points out that many countries have cultural restrictions on mobility and often people don't have the money to travel to the United States. "They still want a piece of America," he explains, "and they get this by buying an American brand."
He also explains that most countries are in different stages of development in terms of eating out. "It's like here 50 years ago," he says. "People still eat at home, but they are starting to want to eat out and when they do they want something unique and affordable." American chains provide both.
As for foreign cultures accepting American-type menu items, he draws an analogy to sushi's popularity in the United States. "When it first arrived, it was only found in a few places. Now, it's everywhere. It's the same with our products overseas."
LeFranc sees a strong, upward trend in international expansion of U.S. chains. While restaurant chains face many challenges to doing business in most any foreign country, these are the mechanics, he says, and the chain can master them. He is bullish on the ongoing opportunity for those companies that are willing to learn and execute strategically.
As long as chains pay heed to the three major challenges learned through experience by international development teams, there is a strong opportunity for growth in global markets. Not paying heed to the challenges will result in failure at a number of different levels, from locating the right real estate to the final decision on menu items. Finding the right local partners is paramount. These partners can aid in addressing the other two major challenges: local supply chain and the local culinary culture. Once these issues are resolved, U.S. chains have access to growth markets that have the potential to turn into rewarding long-term revenue streams.
The following pages contain case studies on Denny's, Rita's Italian Ice, Focus Brands, and Johnny Rockets.
Spanning the Globe: A Closer Look at International Expansion
The "big guys" hold the top spots for international market share. McDonald's is No. 1, followed by KFC and Burger King. However, a range of concepts are enjoying the successful international expansion of their brands. rd+d spoke with executives from four U.S.-based chains to identify the lessons learned from doing business overseas. We found three challenges common to all brands when establishing businesses in foreign countries. These are choosing the right local partners, mastering the supply chain, and adapting to local flavor profiles as well as understanding food taboos. Our quartet of executives weigh in on these issues and more.
Denny's
Headquarters: Spartanburg, S.C.
Units: 1,590 domestic, 98 international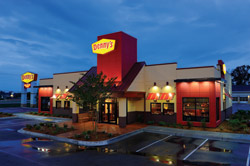 Denny's, the self-proclaimed America's Diner, will celebrate its 60th anniversary this year. Not resting on its laurels in the United States, it has an aggressive global strategy underway. The chain actually had begun international expansion in the 1970s with units in Mexico, Canada and East Asia. When the U.S. suffered economic issues during the 80s and 90s, the international strategy was put on the back burner. Two years ago, a new global initiative was launched, targeting New Zealand, Honduras, Chile and China.
"We go where American brands are accepted," says Steve Dunn, senior vice president of global development. "It's easier when the countries speak the language of foodservice." In other words, they understand all the aspects of running a foodservice operation, from supply chain to menu to marketing.
Dunn says that finding the right partner is critical to solving menu and supply-chain issues. He seeks franchisees that have done business with American companies and have an in-depth understanding of the cultural norms that affect foodservice. They don't have to be franchisees of foodservice units; in fact, the chain's partner in China is a franchisee of Hilton and Sheraton hotels. The key criterion is that the partner understands local consumers.
The important thing, Dunn says, is not to be rigid with details of the brand identity. "You have to adapt to cultural norms," he says. "That becomes a challenge, but you have to stay flexible and adaptable."
There have been some surprises culturally. For instance, Hondurans don't eat breakfast the way Americans do. This means they may not participate in an entire Denny's daypart. "They have coffee and wait to eat at lunch. They are not used to 24/7 dining. We have to be sensitive to cultural biases," Dunn says.
Denny's Grand Slam is a universal menu item, however. The Grand Slam allows a diner to select any four items from a list including bacon, eggs, pancakes, sausage, grits and more. However, internationally the choice of items is tailored to each country's palate. The menu items might include noodles or poached tomatoes. In some countries, pork products are replaced by chicken or vegetarian items. "We want to protect Denny's core traditional items," Dunn says, "but we have to be flexible."
Time zones, language and training are all issues that have to be dealt with in foreign countries, as well. "You can't dip your toe in," Dunn cautions. "It's a long-term venture and it requires a strategic commitment. At Denny's we have name recognition and we're trading on what we're known for."
Rita's Italian Ice
Headquarters: Travose, Pa.
Units: 625 domestic, international development underway
Rita's global expansion strategy has just gotten underway. The company has agreements inked in a number of countries and is investigating the feasibility in additional locations. The international team has done its homework in terms of initial development and the challenges to be faced operationally and logistically.
Rita's has one advantage over some of its chain counterparts. Italian ice doesn't come in conflict with the food taboos in international cultures that companies with protein on their menus face. "Our offerings are non-threatening to any culture," says Jonathan Fornacci, president and CEO. "They are sweet and cold. We have 67 flavors and can add any additional flavors that appeal to local palates, like unique fruits."
Rita's already has agreements to build units in China, India and the "ABC" islands – Aruba, Bonaire and Curacao. Fornacci and his team are working on expansion into Israel, Dubai, Pakistan and Nigeria. "We fit in well with countries that are hot," Fornacci explains. "Our product makes you feel cool and refreshed."
Because of the simplicity of ingredients, Fornacci has made the decision to import all products from the United States, a process that most chains shun because of cost. The chain will manufacture everything in New Jersey and ship it in refrigerated containers. The company is in the process of opening a West Coast facility for more efficient shipping to countries on that side of the globe.
here can be trade issues with custard, since it's a dairy product. China, for instance, has been known to hold dairy products in customs for 20 days rather than the usual 3.
Rita's is following the tried and true practice of finding a local partner. "If they have the right relationships, they can get things done right away." Don't try to deal with local government regulations yourself, Fornacci warns, or you'll run into trouble.
Training managers for Rita's foreign units will take place in Pennsylvania. Plus, the international team will make announced — and unannounced — visits to check on processes and customer satisfaction. When opening a new unit, the team will spend a month there working with local staff to ensure successful performance. The product is easy to make, Fornacci explains, but the company supports a strong commitment to quality assurance to maintain the brand's consistency.
Rita's will also achieve brand consistency by approving all advertising and marketing in each foreign country. While the unit can adapt communication to meet local standards, the message will have the same graphic identity around the world. "We're focused on a family experience," Fornacci says. "Customers come to Rita's for a treat. It's a celebration." He's found in his research and development that international customers "love and trust American quality."
Focus Brands (Carvel, Cinnabon, Auntie Anne's, Moe's Southwest Grill, Schlotzsky's)
Headquarters: Atlanta
Units: 2,665 domestic, 982 international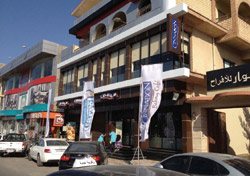 Mike Shattuck, president of Focus Brands' International Division, says the company's five concepts are in different stages of development when it comes to foreign expansion. Cinnabon and Auntie Anne's are well established globally. Cinnabon has units in more than 30 countries and Auntie Anne's is in 23 countries. Carvel has a "small but growing" international presence, according to Shattuck.
Moe's recently opened its first unit in Moscow, near the Kremlin and Red Square. The company's plan is to open 50 units in Russia over the next decade. Focus is also considering Panama, Ecuador, the UAE and Brazil for Moe's expansion over the next year
The company also opened a Schlotzsky's in Turkey. Shattuck notes that Focus is taking a little longer to expand the two fast-casual restaurant brands as the process is more complex in terms of supply chain and menu issues than with Cinnabon and Auntie Anne's.
Focus began its move into international markets 12 years ago. "We saw the opportunity then in Latin America, the Middle East and Asia," Shattuck says. He believes some companies did not recognize the value of emerging markets back then, unlike now, when taking advantage of these growth markets is a hot trend.
Like other chains, the Focus Brands companies are challenged to link to the local palate and local culture. For instance, the portion size of Cinnabon's large signature cinnamon roll was too much for Europe. There, the Minibon, a smaller version, fits the regional menu. In Asia, the sweetness level had to be reduced to appeal to local tastes.
Management of the operations and training of management and staff are both challenges, Shattuck says. However, he's found the quality of workers is generally good. "The jobs are good for them. They can support a family on them," he explains.
Shattuck's also found sourcing in the country of operation is the best solution, because of the high cost of importing and dealing with tariff rates, import duties and other trade agreement issues. He describes learning to master local supply chains as participating in a "wisdom exchange," with both sides learning from each other.
All Focus brands overseas maintain franchise relationships. Shattuck says they may consider joint ventures going forward but for now they prefer to do business with franchisees who know the culture and have local expertise.
Johnny Rockets
Headquarters: Aliso Viejo, Calif.
Units: 215 domesitc, 69 international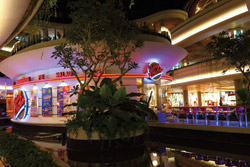 Johnny Rockets opened its first restaurant in Bali this fall. The chain plans to follow up by opening four more in Indonesia over the next five years. Last spring, Johnny Rockets opened its largest location in Santo Domingo, the Dominican Republic. Both of these restaurants are located in upscale neighborhoods and provide an all-American dining experience.
Like a number of its counterparts, Johnny Rockets identified the global opportunity early on. The company started with units in Mexico, Canada and the Middle East. Since 2008, it has pursued an aggressive and focused strategy that Steve Devine, president of Johnny Rockets International, calls "concentric circle expansion". This approach starts with a centrally placed unit and adds additional units fanning out strategically.
Devine says the company now has 16 units in Mexico, 6 in Kuwait, 2 in Qatar, 2 in Saudi Arabia and 1 in the United Arab Emirates. They are looking at the BRIC countries as well as the next 11 that make up a sub-tier of BRIC. There are also six units each in Korea and the Philippines that are doing well, Devine reports.
The No. 1 challenge is finding people to do business with that can bring an American brand into a foreign culture, Devine says, agreeing with his counterparts at other chains. He also stresses that it's important to take a patient approach to find the right partner with local savvy, know-how and staff.
Hamburgers are a staple of the Johnny Rockets' brand and are familiar to consumers in most foreign countries. However, Devine says, the flavor profile of a hamburger can differ widely. This means sourcing locally to provide the taste profile that diners are comfortable with.
In India, for instance, a no-beef culture, the menu features veggie and chicken burgers. The chain can tailor sides to the culture, as well. In Korea, rice is on the side dish menu. "We take the attitude that 'we don't know what we don't know,'" Devine says. The company relies on local partners to successfully guide menu development.
Since 2008, Devine says, he's had no negative experience with taking the American brand overseas. His main advice to other chains? Don't rush into development and be patient with the process. This will reap rewards. "It's not about getting $1 million today," he says. "It's about building a long-term revenue stream."