Page 2 of 5
Spanning the Globe: A Closer Look at International Expansion
The "big guys" hold the top spots for international market share. McDonald's is No. 1, followed by KFC and Burger King. However, a range of concepts are enjoying the successful international expansion of their brands. rd+d spoke with executives from four U.S.-based chains to identify the lessons learned from doing business overseas. We found three challenges common to all brands when establishing businesses in foreign countries. These are choosing the right local partners, mastering the supply chain, and adapting to local flavor profiles as well as understanding food taboos. Our quartet of executives weigh in on these issues and more.
Denny's
Headquarters: Spartanburg, S.C.
Units: 1,590 domestic, 98 international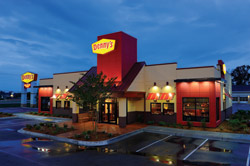 Denny's, the self-proclaimed America's Diner, will celebrate its 60th anniversary this year. Not resting on its laurels in the United States, it has an aggressive global strategy underway. The chain actually had begun international expansion in the 1970s with units in Mexico, Canada and East Asia. When the U.S. suffered economic issues during the 80s and 90s, the international strategy was put on the back burner. Two years ago, a new global initiative was launched, targeting New Zealand, Honduras, Chile and China.
"We go where American brands are accepted," says Steve Dunn, senior vice president of global development. "It's easier when the countries speak the language of foodservice." In other words, they understand all the aspects of running a foodservice operation, from supply chain to menu to marketing.
Dunn says that finding the right partner is critical to solving menu and supply-chain issues. He seeks franchisees that have done business with American companies and have an in-depth understanding of the cultural norms that affect foodservice. They don't have to be franchisees of foodservice units; in fact, the chain's partner in China is a franchisee of Hilton and Sheraton hotels. The key criterion is that the partner understands local consumers.
The important thing, Dunn says, is not to be rigid with details of the brand identity. "You have to adapt to cultural norms," he says. "That becomes a challenge, but you have to stay flexible and adaptable."
There have been some surprises culturally. For instance, Hondurans don't eat breakfast the way Americans do. This means they may not participate in an entire Denny's daypart. "They have coffee and wait to eat at lunch. They are not used to 24/7 dining. We have to be sensitive to cultural biases," Dunn says.
Denny's Grand Slam is a universal menu item, however. The Grand Slam allows a diner to select any four items from a list including bacon, eggs, pancakes, sausage, grits and more. However, internationally the choice of items is tailored to each country's palate. The menu items might include noodles or poached tomatoes. In some countries, pork products are replaced by chicken or vegetarian items. "We want to protect Denny's core traditional items," Dunn says, "but we have to be flexible."
Time zones, language and training are all issues that have to be dealt with in foreign countries, as well. "You can't dip your toe in," Dunn cautions. "It's a long-term venture and it requires a strategic commitment. At Denny's we have name recognition and we're trading on what we're known for."