Page 4 of 5
Focus Brands (Carvel, Cinnabon, Auntie Anne's, Moe's Southwest Grill, Schlotzsky's)
Headquarters: Atlanta
Units: 2,665 domestic, 982 international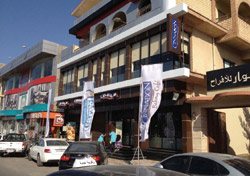 Mike Shattuck, president of Focus Brands' International Division, says the company's five concepts are in different stages of development when it comes to foreign expansion. Cinnabon and Auntie Anne's are well established globally. Cinnabon has units in more than 30 countries and Auntie Anne's is in 23 countries. Carvel has a "small but growing" international presence, according to Shattuck.
Moe's recently opened its first unit in Moscow, near the Kremlin and Red Square. The company's plan is to open 50 units in Russia over the next decade. Focus is also considering Panama, Ecuador, the UAE and Brazil for Moe's expansion over the next year
The company also opened a Schlotzsky's in Turkey. Shattuck notes that Focus is taking a little longer to expand the two fast-casual restaurant brands as the process is more complex in terms of supply chain and menu issues than with Cinnabon and Auntie Anne's.
Focus began its move into international markets 12 years ago. "We saw the opportunity then in Latin America, the Middle East and Asia," Shattuck says. He believes some companies did not recognize the value of emerging markets back then, unlike now, when taking advantage of these growth markets is a hot trend.
Like other chains, the Focus Brands companies are challenged to link to the local palate and local culture. For instance, the portion size of Cinnabon's large signature cinnamon roll was too much for Europe. There, the Minibon, a smaller version, fits the regional menu. In Asia, the sweetness level had to be reduced to appeal to local tastes.
Management of the operations and training of management and staff are both challenges, Shattuck says. However, he's found the quality of workers is generally good. "The jobs are good for them. They can support a family on them," he explains.
Shattuck's also found sourcing in the country of operation is the best solution, because of the high cost of importing and dealing with tariff rates, import duties and other trade agreement issues. He describes learning to master local supply chains as participating in a "wisdom exchange," with both sides learning from each other.
All Focus brands overseas maintain franchise relationships. Shattuck says they may consider joint ventures going forward but for now they prefer to do business with franchisees who know the culture and have local expertise.