Veteran chains continue to invest in trendy and emerging new concepts
Veteran chains are writing the next chapter in their histories with new concepts and service models. These "old-guard" companies continue to invest in or launch new concepts to find ways to grow and become more relevant in an increasingly competitive age and expanding fast-casual sector. To be clear, we're not talking about a simple refresh or even complex rebranding, but rather the partnership with or opening of entirely new concepts that will boost unit numbers and sales.
"For many of these chains, it's an issue of growth — figuring out how to keep growing across the country because at some point, they'll run out of territory with their current brand," says Fred LeFranc, principal of Results Thru Strategy, a hospitality and restaurant consultancy that has worked with countless chains throughout the years to develop strategies for growth.
LeFranc points out that restaurant chains have been launching new concepts and spinoffs for decades (Burger King franchisees investing in casual- dining chain Applebee's; McDonald's buying Chipotle; Wendy's buying Baja Fresh). The difference these days, though, is that the focus seems to be on the quickly growing fast-casual sector. A few years ago, Pizza Inn seemed to lead this new wave of fast-casual investments by opening the popular fast-casual Pie Five.
Most recently, Cracker Barrel announced plans to open a fast-casual spinoff, while Denny's launched THE DEN, a premium, breakfast-all-day, better-burger-and-sandwich concept. Rumor has it Yum! Brands is testing a Vietnamese-inspired Bahn Shop in Dallas. And Sbarro opened Pizza Cuccinova, a fast-casual pizza concept.
Maintaining relevancy plays a key role in developing offshoot brands, LeFranc says. Case in point: Joe's Crab Shack launching the energetic and trendy, 16-unit Brick House Tavern + Tap as a way to attract younger, more "in-touch" diners.
When it comes to menu flavors, Millennials want true authenticity — not just Chinese, but regional specialties like Burmese food. The use of technology in restaurants is also growing, so newer concepts are more focused on developing apps and methods for online ordering, LeFranc says.
Finally, the need to meet investor expectations and drive shareholder value continues to drive companies to develop new concepts. "Public companies are all about growth potential, so they're constantly thinking about how to develop something they can grow in the future and increasing sales as much as they can," LeFranc says.
rd+d caught up with the folks at Buffalo Wild Wings, Chipotle and Smashburger, each of which has invested in, launched or been part of a concept development company that has initiated exciting new brands. Take a look.
BUFFALO WILD WINGS: RUSTY TACO AND PIZZAREV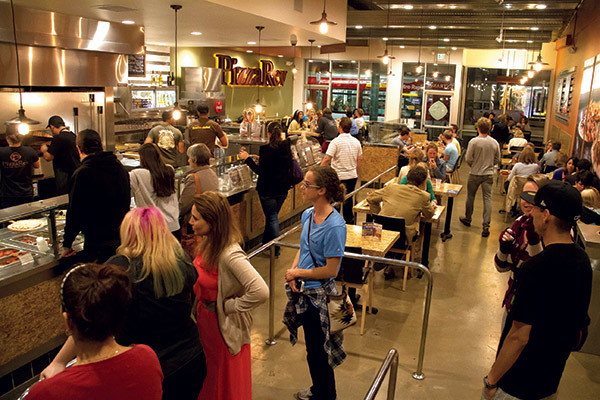 PizzaRev
Buffalo Wild Wings made two key investments in the past few years: PizzaRev, a build-your-own, fast-casual pizza concept from Los Angeles, and Rusty Taco, a Dallas-based fast-casual taco joint serving tacos and other street food in a fun environment with ten-and-growing units.
Buffalo Wild Wings execs cite scalability and the potential for physical expansion as the main reason for the investments; the heavily franchised casual-dining chain now has 1,025 units nationally and continues to build its international presence in Canada, Mexico, the Middle East and the Philippines. The chain has a minority investment in PizzaRev and a majority one in Rusty Taco.
"We look at these investments as strategic decisions aligned with how we want to continue to grow our brand," says Kathy Benning, Buffalo Wild Wings executive vice president, chief strategy officer and business development. "We want to be a portfolio of about 3,000 restaurant brands."
The other key factor? Both concepts are "easy to operate and replicate."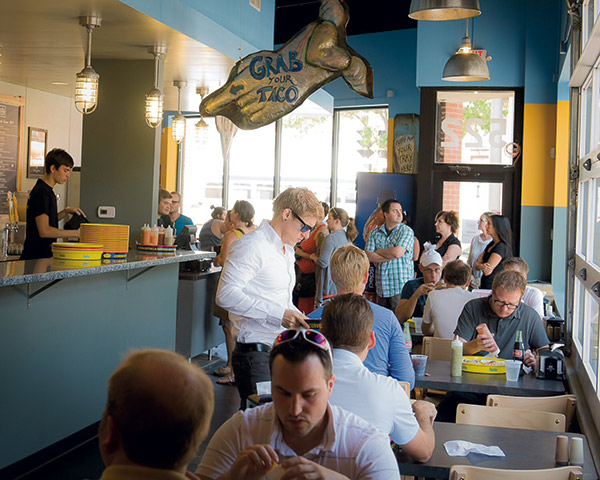 Rusty Taco
In considering possible investments, "we researched concepts that are easily franchise-able and that have a management team committed to growing the brand," says Benning, who, along with her team, looked at more than 500 brands. The team remains on the hunt. "We also wanted concepts that will work on both coasts as well as in Middle America. And we wanted concepts that weren't direct competitors to our Buffalo Wild Wings brand but that are growing very organically and that have heart."
What differentiates this partnership — a veteran chain investing in smaller brands — from a private equity company building its portfolio is the long-term restaurant industry knowledge as well as the strategic and financial resources it can provide to its sister concepts.
Buffalo Wild Wings execs worked hand-in-hand with PizzaRev founder Rodney Eckerman to offer the three-year-old brand strategic support, including helping put a franchising system in place, and streamlining processes, systems, discipline and consistency. Benning and CEO Sally Smith even sit on PizzaRev's board.
Buffalo Wild Wings also "gave us financial backing, which increased our capital structure," says Eckerman. "It's also great to have the help and long-term perspective from a major restaurant brand with a management structure that's been unchanged for 20-plus years. They gave us immediate scale and allowed us to leverage their incredible purchasing power early on."
As a result, PizzaRev quickly grew from just 7 locations in Dallas to 29-and-counting stores throughout southern California, Colorado, Texas, Minnesota, South Dakota and Utah, with stores under construction in Boston, New York and Columbus, Ohio. Eckerman expects to add another dozen locations by the end of this year and to double the units next year, thanks largely to a successful franchising program.
For Buffalo Wild Wings, the main draw was the product — and the fact that PizzaRev has become a game changer in the rapidly growing fast-casual pizza arena. "We thought the pizza was outstanding and craveable and the experience of walking through their fresh line with all the food made in front of you was really appealing," says Benning.
Says Eckerman, "We focus on a high-quality, single price point with a personal theater where you can choose all your toppings and customize your own pizza."
Though the chain started off with a strong dinner following, PizzaRev saw its lunch business increase to 50 percent of its revenues from 20 percent in relatively short order. Speed, customization and food quality seem to be the reasons.
"In this food-forward world, everything has to be really good," says Eckerman. "Every day, we make our own dough, grind our cheese from blocks, cut our vegetables fresh. I believe avoiding shortcuts like this helps us focus on the best quality. The focus on food has helped draw a core Millennial crowd but also a Gen X crowd with families looking for a place where everyone can get what they want."
Earthy tones and pastels, along with reclaimed wood, LED lighting and energy-efficient appliances paired with stainless steel and clean lines, give the chain an eco-friendly, "polished fast-casual" look and feel. Just behind the open food assembly line, a 9,200-pound, gas-fired stone façade oven creates the focal point and can fire the thinner, crispier, Roman-style pizza in lightning speed.
SMASHBURGER: LIVE BASIL AND TOM'S URBAN
Live Basil
Smashburger, the better burger chain now with more than 300 corporate and franchise restaurants throughout 32 states and 5 countries, came about as a "growth seed" in 2007 from Consumer Capital Partners, headed up by Rick Schaden, who founded Quizno's.
Now, Consumer Capital Partners is nurturing two new growth seedlings: Live Basil and Tom's Urban, both of which opened in 2013 in Denver. Live Basil, a fast-casual pizza concept, has six locations, including five in Denver and one in Los Angeles. Tom's Urban, a polished fast-casual concept, focuses on small plates and cocktails and has locations in downtown Denver, Los Angeles and the Las Vegas strip.
Like PizzaRev, Schaden saw opportunities in the fast-casual pizza sector. "When we started Live Basil, there were maybe 9 or 10 different fast-casual pizza concepts, but now there are over 35," says Josh Kern, chief marketing officer at Smashburger, who helped with the build-out of the growth seed concepts. "People are looking for better food and a better experience, but they are still time-constrained and want things fast. This segment will only grow."
Live Basil, Kern says, "is at the crosshairs of today's Millennial consumer. Everything is made in front of you, and you're able to customize and get your pizza delivered to your table in under five minutes."
As far as design, the concept focuses heavily on green colors to signify the freshness of the food; live basil even grows hydroponically on the line. A 550 degrees F gas-burning pizza oven cooks the pizzas in just 90 seconds.
"Right now, all the locations are corporate-owned, and this is still the incubation stage, where we are making sure everything works well operationally," says Kern. "But we have plans to grow more in 2016."
At Tom's Urban, the name says it all; locations are selected based on high-traffic, "exciting" destinations. As a full-service concept, the bar business is key. "We're focused on fun cocktails [and] local beers and in tune to different drinking occasions," says Kern.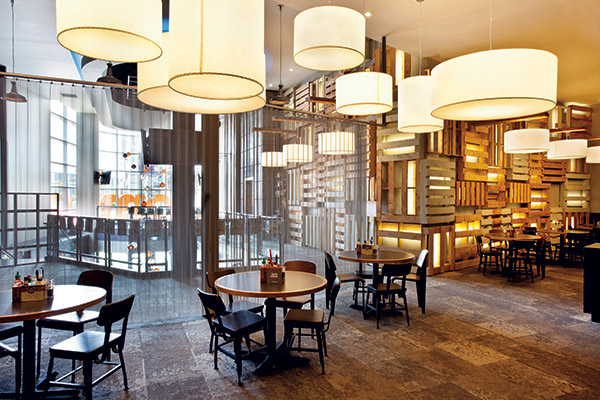 Tom's Urban
As such, the bar makes up the central focus of each space, which also features reclaimed wood, breezy indoor-outdoor windows and light colors to create a high-energy feel. Both the L.A. and Las Vegas locations have roughly 300 seats catered to social-seeking crowds.
"Even though casual dining has existed for years, we're seeing a resurgence in the segment by applying what we know about fast-casual to our polished casual-dining concept."
CHIPOTLE: SHOPHOUSE/ PIZZERIA LOCALE
Chipotle's first foray into offshoot brands came with ShopHouse Southeast Asian Kitchen, which has grown to ten locations throughout Washington D.C. and Los Angeles, with additional restaurants opening this year and next.
In late 2013, Chipotle partnered with Pizzeria Locale co-owners Bobby Stuckey and Lachlan Mackinnon-Patterson to open the pizza concept's second location — this time with a fast-casual, build-your-own platform similar to the burrito brand.
"We have thought for some time that Chipotle's success isn't necessarily the product of selling tacos and burritos but rather is tied to a bigger picture vision — our food and people cultures," says Chris Arnold, a spokesperson for the chain. "Based on that thought, we have believed that the same model that has made Chipotle so successful could be applied to any number of kinds of food. Our 'growth seeds' — including ShopHouse and Pizzeria Locale — are efforts to test that theory."
Arnold says Chipotle, though encouraged by the similarities between all three concepts, still sees its primary growth through the original brand.
Created by Frasca Food and Wine founders Stuckey, a master sommelier, and executive chef Mackinnon-Patterson, the original Pizzeria Locale opened next to Frasca in Boulder in 2011. The full-service restaurant focuses on Neapolitan-style pies.
"Steve Ells had been a guest of Frasca since the first month we opened, and when we opened Pizzeria Locale, he approached us about opening a fast-casual version," says Stuckey. "We realized that we could learn so much from them and really grow."
The second Pizzeria Locale, opened by Chipotle in Denver, features a fast-casual setup but with the same style of pizza and premium ingredients. Customers can choose toppings from an interactive service line to create their own pizzas, which are then fired in a custom-designed, dome-shaped, gas-fired pizza oven that cooks pizzas at super-high temperatures in less than two minutes, versus the seven- to nine-minute cooking time at the original location.
Denver-based Semple Brown Design looked to recreate the original location's Naples pizza parlor look with dark woods, white-tiled floors and walls and marble-accented tables. They also wanted to maintain photographs of Naples street scenes and markets by Dave Woody, a Colorado-based photographer and friend to Stuckey.
"We had to rethink the design of the kitchen completely to introduce what we call the make line," says Stuckey. "For the rest of the design, we wanted to maintain the same, authentic look from our first restaurant."
Pizzeria Locale now operates three locations: one in Denver, one in Kansas City and one in Cincinnati, which opened this fall. Like Chipotle, Stuckey says he will not franchise the concept and plans to grow organically versus aggressively.
"Every time we have a team ready, we can open another location," says Stuckey, who has leveraged Chipotle's resources in national real estate, purchasing power and even culture building.