Sweetgreen opened its first location in the Chicago's River North neighborhood on August 23. The 2,300-square-foot space features an open kitchen, communal bleacher seating and local art by Cody Hudson.
Founded by Nicolas Jammet, Jonathan Neman and Nathaniel Ru in 2007, Sweetgreen has grown into a national brand, operating 11 locations in its hometown of Washington, D.C, as well as 33 stores along the East Coast and five in California.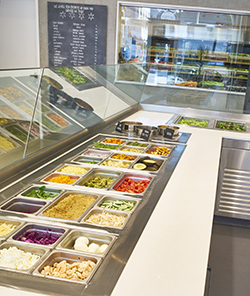 Sweetgreen prep line at its new Chicago location.
Sweetgreen has based its business on making local, sustainably produced food, and fresh, healthy dishes more accessible to the masses. Every store receives deliveries of fresh, whole fruits and vegetables every morning, and they prepare all food, drinks and dressings in-house from scratch every day. In addition to cult favorites like Guacamole Greens, Rad Thai, and the Kale Caesar, Sweetgreen will open in Chicago with a late summer seasonal menu that features the best produce — peaches, local zucchini, sungold tomatoes and green beans — from the local supply network, including Meyer Farms, Nichols Farms and Growing Power.
In addition to serving healthy, fresh and seasonal food, Sweetgreen remains committed to making an impact and to building healthier communities. In Chicago, the restaurant donated 100 percent of opening day sales to local farm Growing Power to transform an old CTA bus into a mobile market that will distribute locally grown organic food on Chicago's impoverished south and west sides.
Sweetgreen's bright and airy Chicago interior.
Since its founding, Sweetgreen has received a boost from a growing group of successful investors, including restaurateurs Danny Meyer of Shake Shack and David Chang of Momofuku as well as AOL founder Steve Case.