Legendary restaurateur Wolfgang Puck opened his latest dual concept, The Kitchen and The Kitchen Counter in Grand Rapids, Mich., at the Amway Grand Plaza Hotel.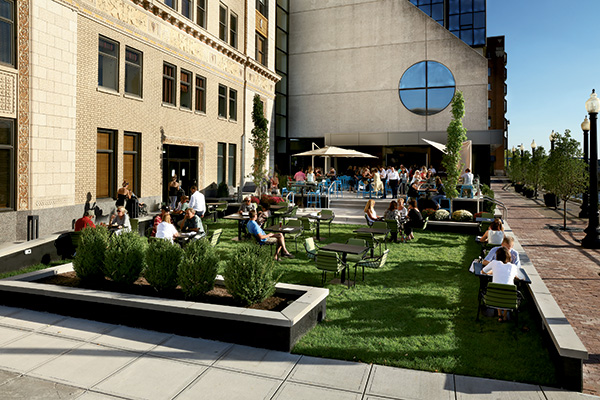 The Kitchen is a full-service, main dining option at the hotel, while The Kitchen Counter next door offers a casual space for a quick breakfast, lunch or grab-and-go option. Designed by Concept Design, a local architectural and interior design firm, along with the Amway Hotel Corporation and Wolfgang Puck management teams, The Kitchen blends a "complete and unique dining experience" with an "efficiently functioning restaurant" within the high-rise hotel, according to Stephen Fry, president of Concept Design in Grand Rapids.
Inside the main dining room, flanked by a lively bar and newly created outdoor patio, contrasting black and white colors weave throughout the space and blend with warmer accents like walnut planks and a tiled floor. Glass and stainless steel add sparkle and a crisp, clean and modern feel, says Fry.
Low level, energy-efficient lighting focuses on highlighting the food and unique fixtures, while furniture from local Grand Rapids and Michigan manufacturers was selected for comfort and practicality.
An open kitchen helps reinforce the farm-to-table freshness commitment as guests can actually see the food being prepared. Led by Executive Chef Austin Gresham, The Kitchen's lunch and dinner menus feature Puck's signature comfort food with a focus on quality, locally sourced ingredients and innovative techniques.
Outside the main dining room, The Kitchen features a variety of private dining and event spaces for up to 70 guests, including an enclosed wine cellar on the lower level, an expansive outdoor patio and lawn overlooking the Grand River.