The craft beer movement placed a big emphasis on draft, and that trend has since carried over to tap wine, craft soft drinks and cocktails. The newest iteration is serve-yourself draft taps. There are a number of permutations, from built-in units that require design integration and running draft lines to tables or a station, or drop-in units that can be easily retrofitted — just like adding a salad bar.
Public House has 12 tables with two beers and a spirit on tap at each. Photo by Matty Wolin"I have zero stats on this, but anecdotally, I have noticed more self-service taps in my unofficial attempt to survey all the great beer bars in the country," says Bart Watson, Ph.D., chief economist for the Boulder, Colo.-based Brewers Association.
Self-service taps offer a number of advantages for both operators and guests, says Watson. The self-serve taps reduce the need for direct service, resulting in decreased wait times for patrons and decreased costs for operators. And with an array of handles on offer, consumers can quickly try out a variety of beers, with operators still making a profit even on small samples. Patrons purchase by the ounce, regardless of serving size.
Removing the service element worries some. But operators with DIY taps stress that the human element remains present with staff who are trained to help with suggestions, explain the system and monitor consumption to prevent over imbibing. "A self-serve tap may contain some info about the beer, but they aren't substitutes for a highly knowledgeable server/bartender," says Watson.
Here's a look at how three operators are tapping into the trend.
DineAmic Group
Chicago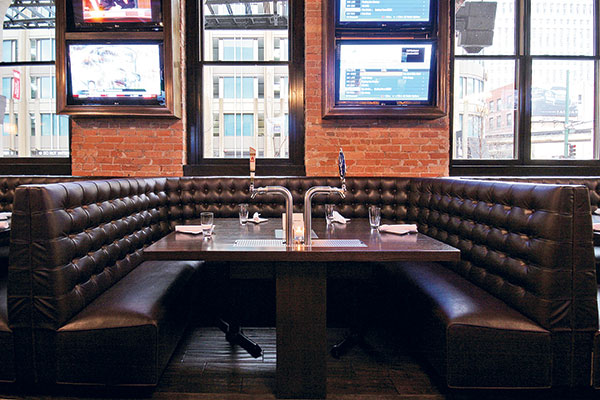 At Bull & Bear, guests have been enjoying tabletop taps since 2009."In Chicago River North, our places get busy, and self-serve helps with the service aspect. Sometimes it's difficult for servers to get to tables or guests to get to the bar, this way they can walk up to the tap wall and serve themselves," says Keegan Moon, vice president of operations for DineAmic, which operates five casual restaurants and pubs and plans to open a sixth this summer.
Two of those restaurants embrace the self-serve technology. When the Bull & Bear opened in 2009, Moon says it was the first in the city to install this type of draft system. When that proved successful, the Public House gastropub debuted in 2011 with an even more elaborate setup.
Bull & Bear offers five tables with two taps each, in addition to eight draft handles behind the bar. Public House boasts 12 tables with 2 beers and a spirits line at each, in addition to 25 draft choices at the bar. This operation also has one "premier table," which has 2 beers and 2 spirits on tap and a 1,000-square-foot private party area that features a walk-up wall with 6 self-serve tap handles.
"Guests love it — the taps are a fun novelty," says Moon. They are also an added attraction for parties and events. Guests will reserve specific tables based on the offerings at those taps. And it has made the restaurants a destination for novelty seekers.
The taps were part of the initial design, not an afterthought. The manufacturer of the system coordinated with the designer, the contractor and the draft-line installer. Tables were constructed around the faucets, and drip trays were built in.
A computer displays the types of beers being featured on tap. Walk-in coolers store the kegs, and lines run to the tables and the tap wall. Spirits require slightly different hardware.
When guests sit down at a self-serve table, a server activates the taps, allotting 24 ounces of beer or 2 ounces of spirits per guest. After they have gone through their allotment, the system automatically shuts off, and the server comes back to reassess the group and reactivate. For the wall taps, guests purchase a key fob loaded with a dollar amount and wave the fob at the sensor by the faucet to activate. Then they pour and walk away.
"Servers still have to be hands-on, because we have to monitor guest consumption," notes Moon. Certified Cicerones (the beer world's version of sommeliers) on staff at the restaurants offer customers advice and recommendations if needed.
As DineAmic expands to other markets, the company is likely to install similar beer systems in the new locations. Says Moon, "These bad boys will be in hot pursuit."
Dog Haus International
Pasadena, Calif.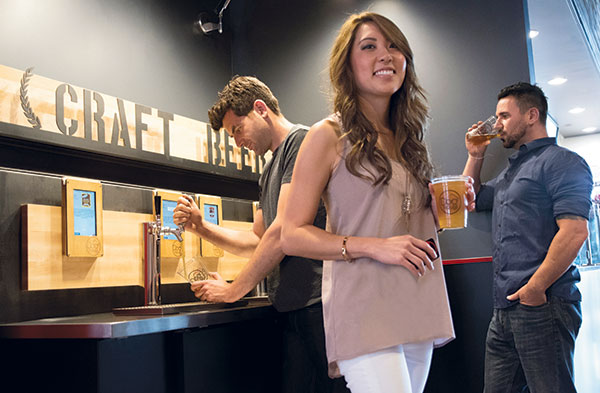 The self-serve beer station at Dog Haus includes tablets that feature descriptions of each beer."We are big fans of craft beer, and we wanted to take beer as seriously in our stores as we do our food. When we came across this self-serve concept, we instantly thought it was very cool because it's different and something nobody else is doing in our segment," says Quasim Riaz, one of the three partners at Dog Haus.
Southern California's Dog Haus is a fast-casual dining concept serving craft hot dogs, sausages and Black Angus burgers on grilled Hawaiian rolls. Guests can choose from signature Haus creations like the Grand Slam (a hot dog with smoked bacon, fried egg, tater tots and maple syrup sriracha) or customize their own from a selection of more than 40 toppings.
Dog Haus operates nine units, and the newest store in Santa Ana, Calif., is the first to offer self-serve beer. Although the beer station was just recently installed in the new store, Riaz is already impressed. "From an operator's standpoint, the system is amazing because there is almost no wasted beer," he says, noting an industry average of 18 percent to 20 percent of beer going to waste at standard draft stations.
That's because customers pay for every ounce they tap, which the system meters accurately to a tenth of an ounce. The operator gets 100 percent yield out of every keg. "The consumer wins because they are getting exactly the amount they want," adds Riaz. "They can sample a few different beer styles before committing to a pint." Although hard data isn't in yet, Riaz says he has discovered that customers who serve themselves drink more thanks to sampling — 18 or 20 ounces instead of just a 16-ounce pint.
The system also helped solve a logistics issue. The partners wanted to serve beer at the newest Dog Haus, but the small kitchen didn't offer enough space to accommodate staff-operated beer taps. The solution was a kiosk in the center of the restaurant at which guests can pour their own. The stand-alone installation is self-contained. A refrigerated unit holds the kegs. On top are the taps and drainage. Mini tablet computers display information on the beer and also control and monitor consumption.
At the cash register, customers can purchase beer in dollar amounts. The cashier checks customers' IDs and gives each a glass and a card with an RFID sticker. Guests scan their cards at the taps and pour as much or as little beer as they want. Beers are priced by the ounce.
"When you have a line out the door, which our restaurants often do, and a customer wants a beer, the person at the cash register may not be able to describe the beer in the detail it deserves," says Riaz. Dog Haus manages this by offering tablets that feature descriptions of each beer.
The next Dog Haus, opening later this summer, will sport a similar self-serve system. The partners are also considering a wall-mount unit with more taps. Says Riaz, "When it comes to beer, more options are never a bad thing."
The Great Dane Pub 

& Brewing Co.

Madison, Wis.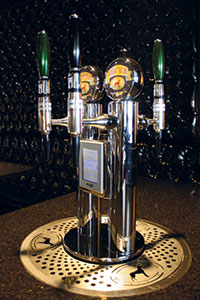 Digital displays on Great Dane's units show what's being poured."We are a brewpub, and this is one more way to spotlight our brews. Just a fancy way to serve beer — class it up," says Jennifer Schmitzer, general manager of the Great Dane's location in Fitchburg, Wis., a Madison suburb.
The Fitchburg location is the only one (of five Great Dane brewpubs) to install table taps at which thirsty customers can pour their own drafts. "We were the first in Wisconsin and don't know of another setup in this state yet." The restaurant has four such tables, each dispensing four different beers, in an upstairs section.
"People say, 'Wow, what is this? It's really cool,'" says Schmitzer of customer reactions to the pour-it-yourself setups. "They are gorgeous units — bright, shiny stainless with our logo."
The table taps are a draw for groups booking corporate functions, holiday parties, rehearsal dinners and other events. Reservations have jumped, and the tables drive traffic. "Guests who have tried the table taps before bring their friends in to show them," says the general manager.
The Fitchburg brewpub opened in 2002, but the self-serve system wasn't installed until three years ago when the upstairs section was remodeled. That facilitated installation because draft lines had to be run from the brew house on the main level to the tables through the floor of the billiard lounge upstairs. The project was a group effort that involved designers, construction crews and teams from the table-tap company and a draft-line specialist.
When guests sit down at one of the four tables, the server provides glassware and a short presentation on how the system works. The taps meter beer dispensed by the ounce. Digital displays at the tables show customers exactly which brews they are pouring — and how much. "It's like pumping gas," explains Schmitzer. The displays are hooked up to a computer behind the bar so staff can monitor how much guests are consuming.
Management never intended for the tap tables to replace waitstaff, Schmitzer notes. "Our servers are still around talking about the beer and giving good service. The table taps shut off after a certain amount has been dispensed, so servers have to check back periodically." And the system hasn't hurt tipping, she adds.
There were some initial challenges, however. The restaurant already had three bars with traditional draft stations, so installing the table taps required an additional glycol cooling unit to handle the extra load. Then one of the draft lines broke in the floor upstairs. "It was raining pale ale in the downstairs dining room," recalls Schmitzer. The restaurant contracted with a third-party company to clean and maintain the draft lines and has had no problems since.
In fact, the program has been so successful that the Great Dane is considering similar projects, including a tap table with kegs hidden underneath that could be easily retrofitted into the private dining room or a "tap wall" where guests can walk up and serve themselves.