Hiring an outside designer for a new restaurant or renovation project is like a job interview and a date rolled into one. Past experience and expertise are paramount, but so are vision and overall chemistry between the hiring restaurant and the designer.
Often, however, restaurants aren't especially prepared for the process of hiring a designer to bring their brands to life and create the type of guest experience they seek. That preparation has a lot to do with having a clear vision and being armed up-front with all of the information that a designer would need to be able to achieve the desired results.
In order to give candidates the best direction and insights, restaurant clients need to be able to clearly express what they want, or what they want to change, and why, suggests Howland Blackiston, owner at King-Casey, a design and consulting firm in Westport, Conn.
"Restaurants should know all the fundamentals like budget, location, spirit, atmosphere, what's unique about their restaurant, and what their brand stands for," adds Tom Mahaffey, design architect and senior project manager, Larson & Darby, Rockford, Ill.
rd+d asked executives from three diverse restaurant concepts that work with outside designers — Sage Restaurant Group, Slim Chickens and Cinnabon — for their takes on the hiring process. Read on to learn what works for them.
Sage Restaurant Group
HQ: Denver
10 restaurants in 6 states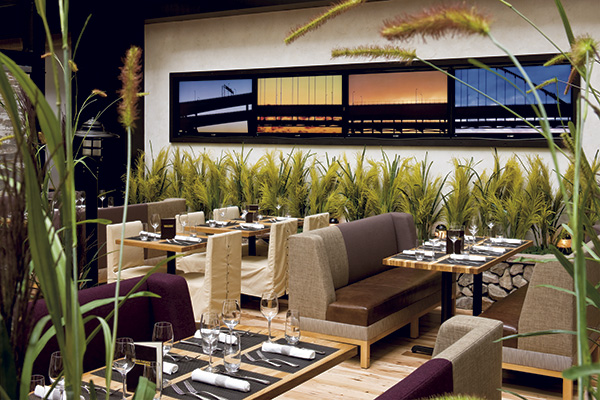 Sage Restaurant Group prefers young, undiscovered design firms for its concepts, such as Urban Farmer Steakhouse in Cleveland.Sage Restaurant Group's (SRG) operations range from casual to upscale and the company brought in outside designers for each of them, though some designed multiple SRG restaurants. While many restaurant companies seek to work with well-known, proven restaurant designers, Sage, whose concepts have a reputation for their unique interiors, takes a different approach. The multi-concept operator looks instead for young, undiscovered design firms that don't have a lot of restaurant experience.
"We don't want to hire who everyone else is hiring," says Peter Karpinski, Sage's COO and co-founder. "Younger firms have fresh thinking because they are not pigeonholed, don't have a templated style and have a lot of flexibility. It's a trade-off because sometimes they don't have the maturity and the know-how of a more experienced firm."
When looking for a new designer for a project, Karpinski interviews up to five firms. "I have them walk us through who they are and what they do and the projects they've done in the past," he says.
He doesn't prepare much in advance for those initial meetings and doesn't expect the designers to, either. "I want to meet with people before I really have a specific project in mind," he says. "My decision-making is not crowded, in that way. It's more important that we both resonate during this get-to-know-you, and the rest of it comes from there. I want to know if they'll be able to work with us when we have some difficult challenges or if they will become stubborn. It's all about a feeling — like going on a date."
It's critical to have that first meeting face-to-face, Karpinski says, primarily to see if there's chemistry between the management team and the designer. "It's important because you're going to be working so closely with them and you are collaborating with them in a lot of ways. We always have a strong vision and want them to help bring it to life."
The restaurant group needs to hear the overall scope of the project, the designer's ideas, including the budget and the timing, before it hires a designer.
Budget can always be a tricky subject, but it's something Karpinski feels strongly about establishing clarity on up front. "A lot of designers want to work off a percentage of the project cost, but that's never worked for me because it really is a disincentive for them to care about the budget," he explains. Instead, he requests a guaranteed maximum price at the start of a project. "We don't try to underpay; we want everyone to make full market value but we want to make sure there is full alignment," he says.
Karpinski adds that SRG always hires a brand specialist at the same time it hires a designer. The specialist comes from a branding firm, and Karpinksi has found if he doesn't make that hire until later in the design process it's too late. "You miss an opportunity to bring your brand to life. The brand designer can help weave the DNA of this brand into the design."
Slim Chickens
HQ: Fayetteville, Arkansas
16 units in 5 states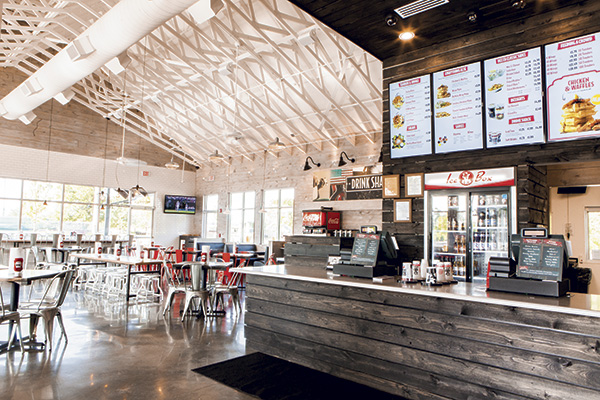 Slim Chickens worked with designer Dan Faires to develop its new look. Chemistry and proximity were key factors in his selection.Greg Smart met designer Dan Faires by chance through a friend and the timing was perfect. "I was looking to elevate our design standards and have a proper restaurant design," says the co-founder and CMO of fast-casual chain Slim Chickens. Previously, he says, the 10-year-old concept's design had been somewhat neglected while the chain focused on operations.
After that initial meeting in 2011, and after considering a couple of other designer candidates, Smart knew he liked Faires' energy, passion and focus. "We were like-minded, thinking of how the design brings value to the guests. I liked his self-starter personality, which is similar to mine," Smart recalls. So he spent some time researching Faires and his work and was impressed with what he saw. "You have to have the same vision, the same goals, and be able to tolerate each other," he adds.
Smart's decision to hire Faires was cemented once he'd read through a 50-page portfolio in which the designer detailed everything Slim Chickens should work on and tweak. "When I saw that I thought this would be a good fit and we went over money, hours, completion date, the true scope of work," he says.
That process took around six months, beginning with the initial meeting, through brainstorming sessions about the brand's culture and how to translate that through effective design, to Faires' formal engagement.
Essential to the project was proximity and Faires lived nearby. Many meetings needed to be face-to-face at that point, Smart says, so the two could read each other's verbal and non-verbal feedback. They could also sit together and look at sketches and really collaborate.
Faires has since moved to New York City, but at this point it doesn't matter as much, says Smart, since they understand each other and ongoing design work is mostly about fine tuning. But he does need to know they can get hold of each other quickly, he says, as sometimes decisions need to be made on the fly.
The actual design process for the first Slim Chickens location that Faires worked on — the ninth in the chain — took three months. "Then, over a year we discussed everything from booths to flooring to lighting fixtures to yield the design you see now," Smart says.
Of the designers who didn't get the nod to take on the Slim Chickens project, Smart says they had more of an "agency" feel. "With Dan, I knew he'd be the one point of contact and the one doing the work. I needed someone who had experience, who I could speak to on a daily basis, and not be bashful about the questions I asked," Smart says.
Cinnabon
HQ: Atlanta
1,200 stores worldwide, 704 domestic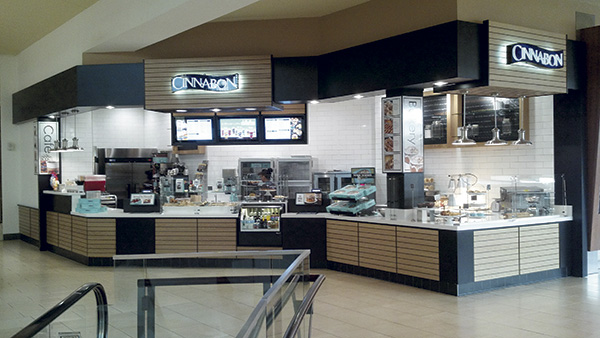 Cinnabon hired INOX Design to help develop a new flagship location in Atlanta. While the chain wanted a design that was more café-like with simple graphics, it did not provide specific rules, which allowed the designers to be more creative.It can be tricky finding designers for Cinnabon units because often they find it difficult to understand what the company needs, says director of development Katria Montepare. "It's hard for them to understand that you have to create the experience just from walking up to a counter," she says. "We need them to really embrace the confinement of smaller spaces and the dynamic of the employee and guest interaction."
To find good designers, Montepare does online research and reads industry magazines. She also uses information gathered at conventions and conferences, where she often meets design companies. And she talks to others within the restaurant industry as well as at sister brands within Cinnabon's parent company, FOCUS Brands.
For smaller projects she tends to work with design firms that Cinnabon has worked with in the past because they understand the brand. "If we're rebranding or going in a whole new direction, however, that's when we research new companies because we're looking for fresh eyes on our design," she notes.
In 2012 Montepare hired Cynthia Sours of INOX Design for a new Cinnabon flagship in Atlanta. She deliberately chose a nearby company because, she says, being able to meet in person helps each team — the restaurant's and the designer's — understand expectations and limitations. "It's easy to take things the wrong way over the phone or via email," she says.
During the hiring process for the Atlanta flagship, Montepare showed Sours photos of existing stores and "then some pictures of what we were going for — a bit more café, more simple graphics, more boutique — so they had an idea of what we wanted the look and feel to be. I didn't want to give them really specific rules so they had room to be creative."
After that, Sours presented three designs for the new flagship, which the Cinnabon team then narrowed down and refined.
For a big project, Montepare likes to have at least two, preferably three, designers in the running so she can compare their past projects, their design style, their communication skills and thought processes to determine which will best meet Cinnabon's needs. However, one of the most important things when looking to hire a designer, for Montepare, is finding one who understands the dynamics of brands similar to Cinnabon, by which she means walk-up counter foodservice experiences in malls.
Budget is also a critical factor. She makes sure to discuss it early in the hiring process so no one's time is wasted. "We have that talk right after the initial interview, when I brief them on the project," she says.
As for what really makes the difference with designers, Montepare says it's when they throw in a little extra something, such as a display cabinet when it wasn't expressly asked for. "If they've taken that extra step, given that extra wow, it shows they've been listening to what we've been talking about."