Heading into the sixth month of the pandemic, restaurant innovation and evolution has been on full display as many operators sought to minimize the impact of the steps state and local governments required in an attempt to slow the spread of novel coronavirus.
Most of the success stories center on concepts well-positioned to flourish during the transition to a time that heavily favors off-premises consumption of restaurant meals and digital sales models. Unfortunately, the full-service restaurant segment has not fared as well as its quick-service counterparts, since as a category the former was not positioned for either off-premises dining or digital sales, which became significant hurdles in the wake of mandated dining room closures.
Below are some ideas that could help full-service operations make guests feel safer while dining on premises.
Dining Room Ideas
Can't Touch This: Look to eliminate as many touch points in the restaurant as possible. This includes making doors to the restaurant and its restrooms open without having to touch a handle. Also, update sinks to use faucets with sensors, eliminating the need to turn them on and off by hand. And instead of handing out physical menus, consider using QR code readers or even posting menus on chalkboards or other forms of signage that guests do not have to touch.
Take the Inside Out: Indoor dining restrictions has made outdoor seating a necessity for any operator trying to capture some on-premises revenues. Some municipalities, like Chicago, are willing to work with operators to extend seating on to the sidewalk or even the street. Other operators have gotten creative with their parking lots. Any operator that wants to have some type of on-premises dining for the coming months will need to literally think outside the box. Weather, especially temperature during the winter, will impact the proliferation of this moving forward, but heaters should help alleviate this a bit.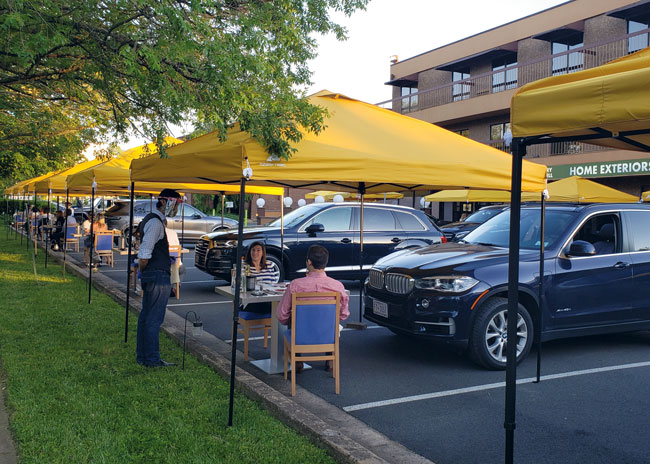 Outdoor dining spaces in parking lots have sprung up, as well as different ways to serve guests outside of the restaurant. Image courtesy of Clarity.
Put on a Show – A Sanitation Show: One trait that will make consumers feel welcome is knowing that operators take the safety of their guests and staff seriously. Prior to the pandemic, it was common to want to hide sanitation-related items. Due to the pandemic, though, it's important to not only share with guests an operation's sanitation plans but to let them see evidence of it – including staff wiping tables, etc. This can start small by placing hand sanitizer at all tables and grow into something bigger like making employee sanitation stations visible to all guests. Care to go a step further? Then consider adding hand sinks in the dining room. In fact, before the pandemic, some concepts included this feature as part of their designs. If an operator does not want to disrupt the front of house aesthetic too much, consider adding a portable unit as there are plenty on the market today. 
Rethink Front of House Layout: Consider segregating how the table placement so that each area can function like its own dining capsule, this minimizing the likelihood guests from different parties will come in contact with one another. Or consider widening the aisles to six feet or more to meet social distancing requirements. The use of more movable tables and chairs may provide flexibility as restrictions evolve. Some operators can consider using temporary walls and half-walls to separate parties when social distancing is not as easy. I visited a local seafood concept that added a wall.  The effect was that it provided me with a higher sense of separation (I call this restaurant quarantining).
Not all tables are Built the Same: Consider the table sizes more (and space they take), when it comes to seating capacity.  Maximize the "party seating capacity", by more closely matching the party sizes to the tables.  One table of 4 sits one party, while two tables of 2, sit two parties, at the same seating capacity.  I realize there is more to it than just this example, due to the space implications, but hopefully you understand the concept I am suggesting.  In full service, most groups come in parties of 2 before the pandemic and likely more so now.
Go with the Customer Flow: Grocery stores have become adept at placing arrows on the floor in an attempt to guide customers safely through these spaces. Restaurants, both full-service and limited service, can do the same in many cases. For example, where possible, invite guests to enter through one door and exit through another.
Off-Premises Service Ideas
Focusing on this area becomes critical given that on-premises dining restrictions will likely remain in place for months. In the interim, the more off-premises sales a restaurant can get, the fewer sales the business will need in the restaurant to get back to prior sales levels. Here are a couple of ideas that can help existing restaurants support off-premises sales.
Pick Me Ups: Some operators are adding drive up or walkup windows. Shake Shack is looking to add walk-up windows to as many of its locations as possible. Starbucks, for example, plans to build 50 pickup-only locations in the coming year. While that's not possible for most full-service concepts, it should serve as a reminder cashing in on off-premises opportunities will remain critical. Starbucks also plans to make curbside delivery at up 1,000 of its locations. Offering curbside or adding a walk-up window and making it more user friendly for the guests can serve as a key strategy. One significant advantage of off-premises business is that it theoretically should take less in-store labor. The lack of inside service requirements can provide for the opportunity to deliver higher profitability. This is a dynamic that quick-serve restaurants have experienced during the pandemic. 
Operations and Back-of-House Design Ideas
Ordering from the Outside Before Dining Inside: To make the experience flow more quickly and safely once inside, some operators can offer guests the chance to order their meals before actually being seated at the table. This could be done via their smart phone, or even having employees come outside and go car to car taking orders before guests enter the premises and send the food to the kitchen via QR code readers as they are seated.
This digital option can extend to the rest of the experience inside, including adding additional items, communicating with servers (like virtual assistant systems) and paying for the order. Maybe the customer can be asked if they want a digital or employee experience on the way in.  Do you remember the old adage "is it live, or is it Memorex"?  I am dating myself now.
How will offering different service options impact restaurant design?  What is the design impact of pre-ordering in the lobby, as customers wait to be seated and at the table?  Maybe the digital experience customer will want an area that is more isolated, while the non-digital customer is fine with less isolation.
Produce Production Cells: Safety issues, including social distancing, are just as important in the front of the house as they are in the back of the house. Here are a few ideas to help in this often-overlooked area. The use of individual and flexible production stations can help make better use of existing space. Also, develop a segregated production schedule that limits how much employees have to overlap with one another. Even consider menu updates favoring items that require less crossover between food items and makes more efficient use of labor.
Closing Time. Or Is It?
While facing some considerable challenges for the foreseeable future, full-service concepts can survive the current crisis, maximizing sales potential, and position their businesses to thrive when the pandemic subsides. With appropriate operational and design planning, operators can apply most of the ideas offered here in existing locations, at a low cost, resulting in close to equivalent sales and higher profit, even at reduced inside seating capacity.
But as you embrace some of these ideas, be ready for the time when you have to undo some of them, as the pandemic subsides, to get back the pre-pandemic dining room capacity.