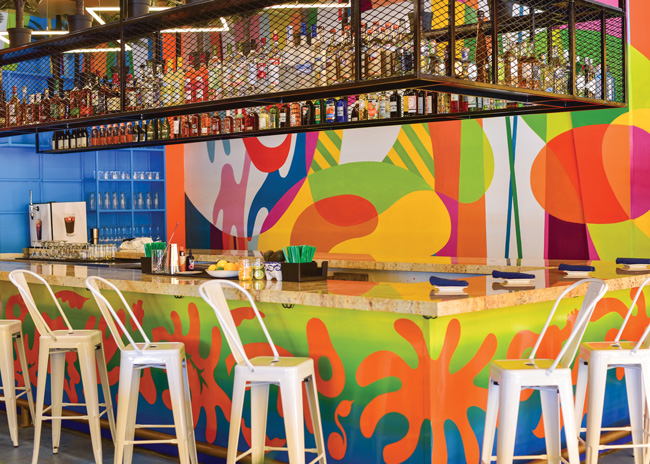 Image courtesy of Avocados from MexicoIt would be nearly impossible to have missed the explosion in popularity of avocados. The ubiquitous fruit has taken menus by storm. And Avocados From Mexico (AFM) supplies 84 percent of the U.S. avocado market. To celebrate, the supplier has launched AvoEatery in Dallas, a restaurant concept that serves as a promotional tool for avocados and also as an incubator to test inventive uses and apply lessons to validate consumer interest and share with restaurants.
"With the opening of AvoEatery, we are moving beyond brand marketing to experiential marketing, where we will be able to inspire consumers with the versatility of this super fruit while learning directly from those same consumers about what they crave," says Alvaro Luque, CEO of AFM. "There's so much more than guacamole — you could come into AvoEatery every day for almost a whole month and try a new avocado dish each time!"
The menu provides avocado lovers with new twists on old favorites including a guacamole flight and six different avocado toasts. Adventurous eaters can try innovative avocado dishes such as an avocado chocolate mousse served in an avocado-shaped 
chocolate cup. The menu extends to the full bar, which features 10 avocado cocktails.
At AvoEatery, even the decor draws inspiration from the super fruit. For example, lighting is encased in avocado harvesters and modern artwork celebrates the — you guessed it — avocado. The bright, upscale design offers a cheerful place to sample the avo-goods.
AFM partnered with Trinity Groves, which owns and operates the restaurant out of its mixed-use complex in Dallas. Trinity Groves is known for its Restaurant Concept Incubator program that encourages chefs and restaurateurs to create and present unique dining concepts to a team of experienced restaurateurs who will then support them to bring their ideas to reality. This is the first time they've taken ownership of a restaurant concept in this program, however.
While this is the first restaurant from AFM, the organization launched avocado-centric concession stands at the American Airlines Center in Dallas (AvoEats) and Hard Rock Stadium in Miami (Tacos Por fAVOr) in 2018 and 2019.