There's a new burger joint in Washington, D.C., and it's doing things a little differently. Traditionally, burgers are piled — often high — with condiments on top, but at Eat Brgz, everything is mixed directly into the patty.
Chief Development Officer Jon Siani, who oversaw the design, wanted to reimagine the dining experience typically associated with hamburgers. "That means getting away from the dark and dingy burger bars and overtly bright color palettes of fast food restaurants. We chose a bright and natural palette to communicate the idea of freshness and authenticity that we showcase in our food."
What was your goal in designing Eat Brgz?
JS: The goal was to redefine how people experience a hamburger restaurant in the same way that we set out to reimagine the American classic [burger] itself. We wanted our space to be welcoming, comfortable and inviting to those who had time to stay and eat but also provide the option for those on-the-go.
We took inspiration from coffee shops, cafes and spaces typically associated with a slower, more comfortable experience.
You created "moments of distinction across the space." What are they?
JS: We used texture and pattern to call attention to certain elements. For example, the ribbed detail of the order counter plays with light, rhythm and materiality in a way that's set apart from the rest of the space, though it's painted in a similar tone. It's appreciated differently when one is physically at the counter versus when viewed from further away.
The natural palette also allows for moments of color to pop in the space. Spices, signage and plants really pop against the bright and light palette. This design approach allows for people and our food to be the focal point of the restaurant. The space itself, therefore, provides a refreshing backdrop for our ingredients, customers and their food to come together.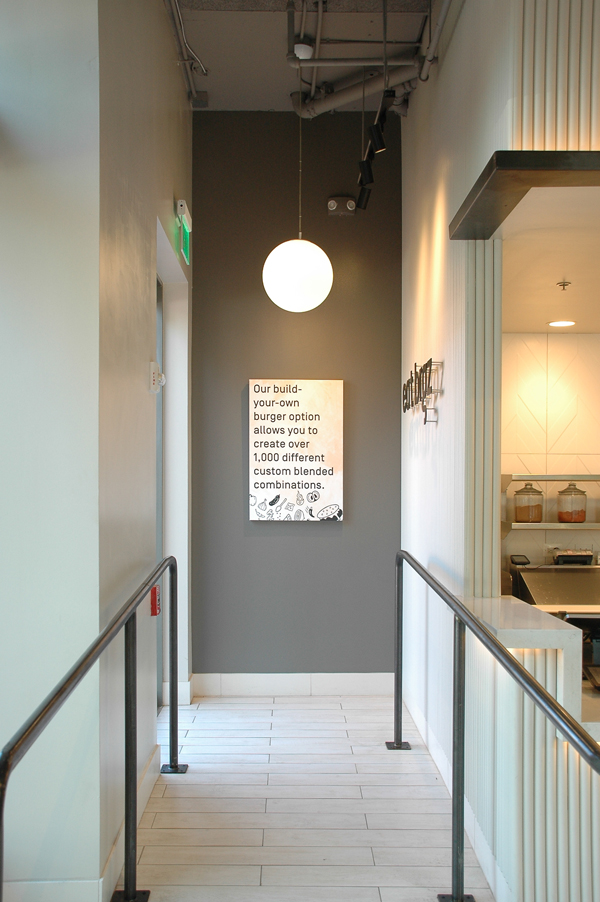 The sign says: Our build-your-own burger options allows you to create over 1,000 different custom-blended burger options."
How are customers directed through your space?
JS: Our space is quite tight, but it's very efficient. Upon entering, a customer is presented with a menu board above order kiosks that allow for faster ordering and take-away. At the order kiosks customers can recall recent orders and make adjustments to them, as needed. For those who choose to order at the counter, they follow the directional floor pattern signifying the queue.
Once at the counter they'll, one, choose a signature menu item or build their own; two, select their protein; then, three, pick their bun. As they walk down the line, they see their selections mixed together with their choice of protein, formed, and put on our timed grill. They pick up their order at the end counter, along with their fries, beverage and shake.
Online orders can pick up at our pick-up station, which is at the end of the line and adjacent to the beverage/topping station that supplies sodas, lettuce, tomato and ketchup.
We offer a variety of indoor and outdoor seating. We worked with Aria Group to provide banquet, movable two- and four-top tables, and bar seating. We have approximately 40 additional seats outside.
Is your kitchen completely visible? How did you go about designing it?
JS: Almost all of the kitchen is completely visible. We have a small area in the back for a refrigerator, dishwashing and prep. Otherwise the food is prepared and served right in our open kitchen. We believe transparency and freshness are things customers are looking for, and they're at the core of our business.
We worked closely with our chef (Robert Kabakoff), architects (Aria Group), and kitchen consultants (Profitality) to understand our food preparation and order process. This was an iterative process and was a fluid discussion that centered around efficiency, which we're still tweaking as our business matures and our customer base grows. Fortunately, due to the foresight of our team, we were able to anticipate most of these adjustments and build in flexibility to our line.
Was it important to design the initial Eat Brgz so it can be replicated? Did this bring any challenges?
JS: First and foremost, we wanted to create a space that was unique in the market, on budget, and could be delivered rapidly. For this design to be replicated or easily translated into another space, that means using readily available materials and common construction techniques. It also means being smart about recognizing what elements are important in the space, and therefore where we could spend a little more money on quality details. We worked closely with Aria Group to establish what these elements are. The most important elements are those customers interact with or physically touch while in the store, such as the order counter and furniture, as well as intangibles that help support the experience of a customer's visit, such as lighting and acoustics.
What were some of the challenges you came across in designing Eat Brgz?
JS: We are situated on a building corner with two glass storefronts. This was extremely challenging in terms of a layout, because it squeezes all of the back-of-house elements to a single corner. It gives us confidence moving forward as we have built up a knowledge base and can design in flexibility when we look for other locations in the future.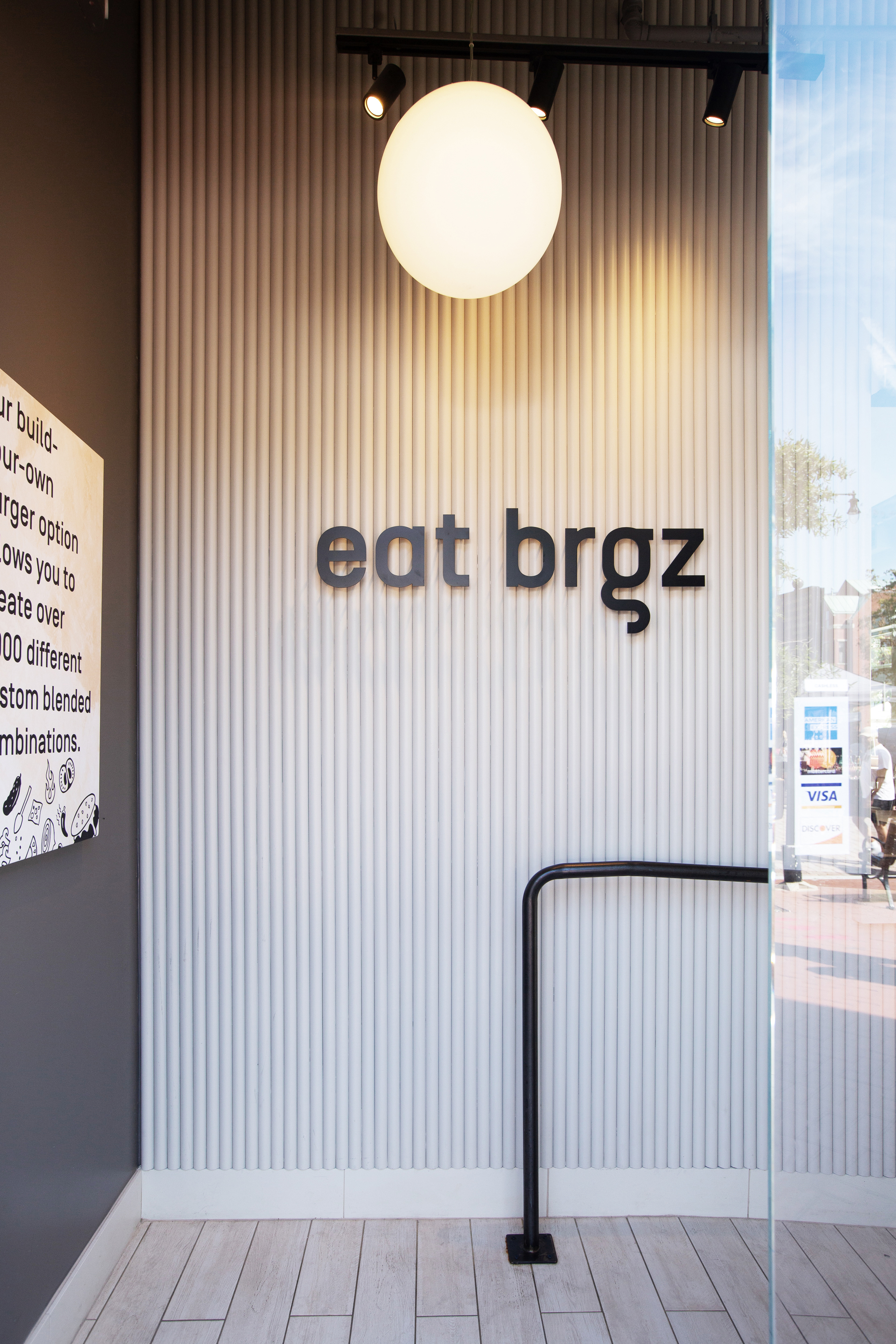 Eat Brgz exterior entryway.
What was behind your design of the exterior?
JS: For the exterior, we wanted to bring the experience on the inside to the outside. We used durable furniture and painted it to match the bright palette on the interior. We made planter boxes for flower beds to bring freshness and welcome customers to our restaurant. Signage was key and we worked with our brand consultant and illustrator to signal the well-crafted yet playful character of our brand identity to the neighborhood.