Peter NewlinIt's a sign of the future: Birdcall is a new restaurant chain in Denver that doesn't have traditional front of house staff. Instead, this fast-casual scratch-cooking chicken-focused concept uses kiosks for ordering.
The first restaurant opened last summer and was soon followed by a second, this one within Whole Foods. The third outpost opens this spring and will be the first with a drive-thru. Each location has three or four kiosks. Any more would overwhelm the kitchen, but there are enough to ensure there's not usually a wait for customers to order. Most customers get their food within five minutes, according to owner Peter Newlin.
"We want to be the future of fast food," says Newlin. Here, we discuss the concepts with him.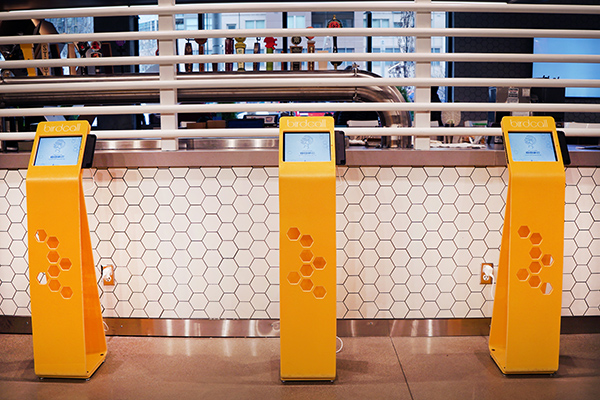 Where are the ordering kiosks?
PN: In the first restaurant we made them moveable, so they can go inside or outside the restaurant. They are Apple tablets on custom-built bright yellow Corian kiosks that are about four feet high, built by a local furniture builder. When the weather's not good we bring them inside — they are very easy to move, weighing about 15 pounds.
In the second location, which is inside a Whole Foods, they're just outside the restaurant, in the grocery store. In our third restaurant, we're hanging them from steel pipes by garage doors and they'll be able to pivot to face outside, when the doors are open for walk-up business, or inside. Either way, we have a perfect design flow. It's not that there's anything wrong with the current kiosks but we want to be innovative.
Why did you choose to have customers order via kiosks?
PN: The whole idea was to deliver efficiencies in the kitchen and the dining room. In the middle of a rush we can serve a lot more people faster. When you have a repeat order a customer can log in and be done within seconds. We also wanted to experiment, but more than that, we wanted to keep costs low. Our real dream is to make all-natural food more accessible. We've been passionate about keeping prices as low as possible.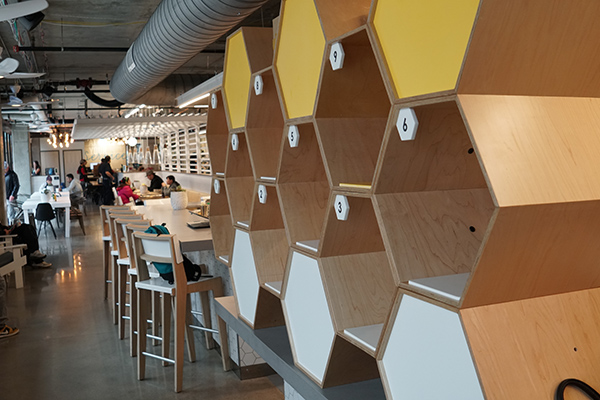 Do you have any front of house staff?
PN: Yes, we have one person that floats around to help people. Ninety-nine percent of customers are okay with the technology, but if not the "floater" can take their order or can help them. That person's job is to welcome people, educate the guests and help them have a good experience.
Are the kiosks a focal point or do you camouflage them?
PN: They are a focal point. Being bright yellow they catch your attention and you want to go and look at them. We have our logo laser cut into them so they're part of our design. We built something easy to use and put it in an attractive stand that makes the Birdcall experience fun and unique. It was important what the kiosks looked like, so that's why I went with a local furniture designer.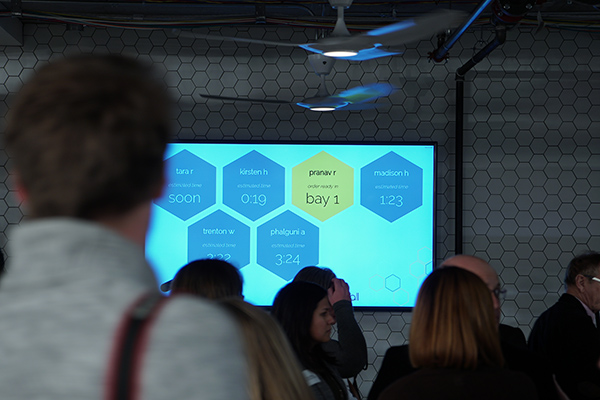 How do the kiosks work?
PN: You swipe your card and it recognizes you and brings up your previous orders, so you can quickly reorder, or you can look at the store favorites and select one of those, or you can see the full menu. When you place your order, you get a text to say your order has started and a screen in the store shows a countdown to when your order is ready. Then, when it's ready it tells you where to pick it up. You also receive a text when your food is ready.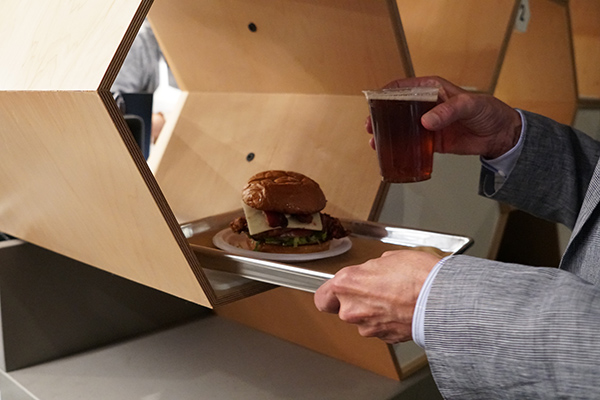 Are there other advantages of the kiosks?
PN: We're eliminating errors that can happen when orders are taken. It also means we're less focused on "Do you want tomato?" and more on "Did you win your basketball game today?" We can focus on building relationships.
What is the overall ambience of your restaurants?
PN: Each restaurant features community artists and unique graffiti — we have huge murals on the exterior and others, which are more playful, inside. All the locations will continue to be unique and connect with local artists and vendors.
Inside, they're designed to feel like a kitchen — we have lots of metal and added wood to warm them up. Our newest location, which will be the first on a main street, will have a nine-foot-high chicken pylon outside, featuring just our logo. We want people to relate to the brand just through the chicken.