They say everything's bigger in Texas — and it's not just a saying at Ferris Wheelers Backyard & BBQ. The restaurant's owners, This & That Concepts, created not just a barbecue joint but an outdoor space filled with games, activities and, yes, a working Ferris wheel for guests to ride.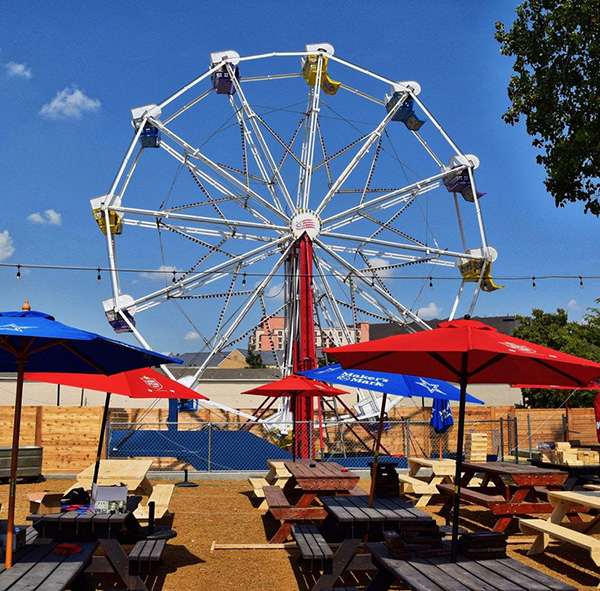 The operation is located in Dallas' Design District, an up and coming part of the city that has plenty of locals and out of town visitors, says Phillip Schanbaum, a partner with This & That. "Fortunately, the Design District has much bigger lot lines than some of the other surrounding bar areas. When we looked at the patio we realized we had room to play with. We wanted to have something that would create itself as a landmark."
The company hit upon the idea of Ferris wheels and found them surprisingly easy to procure. Though the unit they purchased needed restoration, Ferris Wheelers' main attraction is installed and should be open for rides this month, Schanbaum says.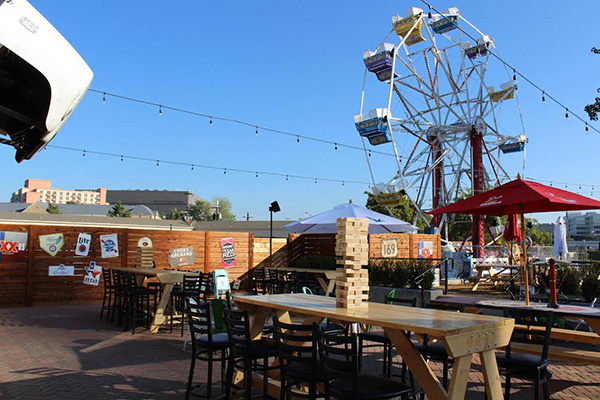 The Ferris wheel isn't the operation's only attraction. The restaurant's "backyard" measures 7,000 square feet and has two main sections: A paved patio near the outdoor bar and a larger section covered in crushed granite and filled with picnic tables and umbrellas. The paved area uses distressed metal furnishings that give the space an aged look, along with several Instagram-able art pieces, such as a Walker, Texas Ranger mural. To keep guests entertained, Ferris Wheelers also offers plenty of outdoor games, such as cornhole, giant Jenga and giant Connect 4.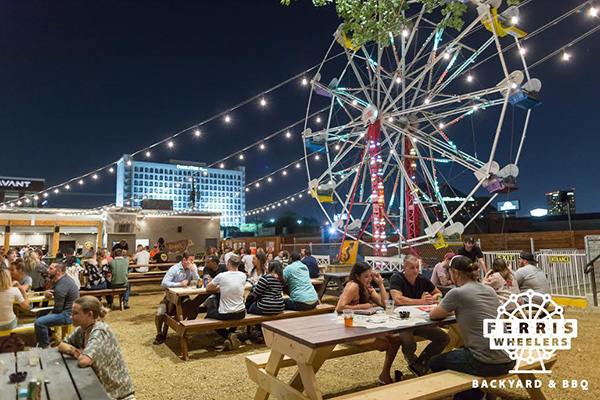 The outdoor area has a fun, almost carnival feeling at night when the Ferris wheel is lit up. More lighting is provided by string lights, which run from a mature tree in the center of the patio and also provides much needed shade. Many of the picnic tables, meanwhile, are hand-painted with everything from sunsets to the Texas flag to Beer company logos.
The area also features a stage for live music. The space is large enough to host acts with strong fan bases while remaining intimate. To support large crowds during these concerts, the restaurant installed a small satellite bar, covered in barn wood, toward the back of the outdoor space.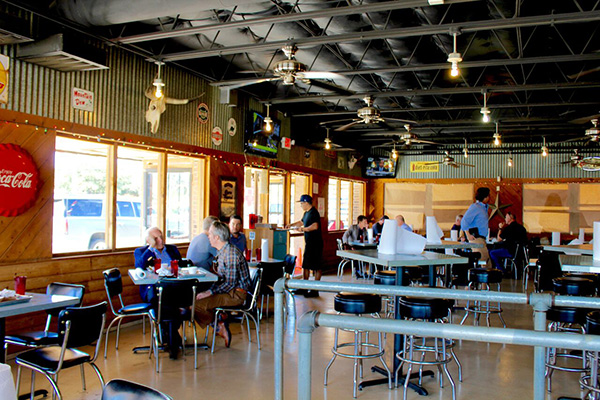 Notably, Ferris Wheelers' service model changes from inside to out. While the backyard is full-service, the inside is more QSR, where guests place their order at the counter, then sit at distressed metal tables while waiting for table runners to bring their food. This approach, Schanbaum says, helps the chain appeal to those who may want a quicker experience, perhaps during the workday, and perhaps not. "It's a true rustic venue, illuminated with local beer signs, craft beer signs. You can imagine Tom Petty playing while eating barbecue and drinking cold local beer," said Schanbaum.
The outdoor section, though, is the true heart of the operation. With its namesake landmark and regional signature cuisine, it's a place designed to appeal to locals and out-of-towners, added Schanbaum.
"When people fly into Texas, Texas being what it is, they want that experience. People want barbecue, they want southern-inspired meals, and they want that energy with the country and southern rock music. Ferris Wheelers is a place where they can get the Cliff Notes on the state itself. For people in town, we want to create that staycation mentality. They can venture out from their everyday bar/restaurant and find a new experience here."