It's a small but growing practice that's satisfying some chains' need for speed and uniformity.
In the highly competitive, fast-paced business of premium coffee and tea beverage restaurants, service efficiency and quality control reign supreme. When customers cue up at The Human Bean, a 52-store drive-thru chain in the western United States, for their espresso, latte, specialty tea or smoothie, they expect fast, flawless service.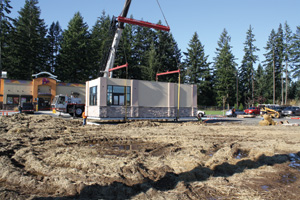 Human Bean wall placementConsistent barista performance plays a vital role in keeping customers stopping by before work or at lunch each day for their favorite beverage. A standardized design template at each Human Bean location, right down to the size and shape of cabinets, plays a critical part in supporting consistency of service.

Uniformity ensures franchisees and service associates, who undergo intensive training before they sell their first cappuccino, will be able to easily translate their skills to any location.
"Everything has its place in the building's footprint," says Dan Hawkins, founder and owner of the Oregon-based chain. Extensive planning goes into the interior design of the 13-foot by 36-foot buildings to maximize efficiency and quality of service. "The floor drain is always within a few feet of the smoothie machine," Hawkins notes. Thus, allowing staff to quickly clean spills.
Increasingly, The Human Bean uses modular construction as a strategy to foster consistently built units. About a quarter of the coffeehouses are modular structures, a percentage that will rise as the chain expands, Hawkins notes. "Building modular using a preferred contractor makes it easier for us to control construction as opposed to setting out plans and getting a local contractor to site-build it," he says.
Human Bean roof placementConsistency of design is one of several potential advantages that QSR chains, including big names like McDonald's, Taco Bell, Starbucks and KFC, try to achieve through modular construction. Some of these large chains just recently kicked the tires on using modular. If the benefits materialize as expected, modular construction could become a more popular choice over the next few years for many restaurant construction projects.
What is Modular Construction?
Prefabrication — constructing major building elements in a factory — has been part of the restaurant business for decades in the form of, say, the old fashioned diner. Those structures differ from the new modular concept in that they were constructed as single, self-contained units. A modular building today, by contrast, usually includes two or more building sections. Modular units are prefabricated almost entirely in a factory and transported by truck for on-site assembly.
Many think mobile home or temporary classroom or office when hearing the term modular construction, with the notion that these structures are inferior in quality to traditionally constructed buildings. When skilled contractors manufacture these structures, though, fans say modular buildings are on par with or even exceed the quality of stick-built structures.
Designers and contractors now find that prefabrication of building elements such as curtain walls and bathrooms shortens the construction schedule on commercial projects and, if done right, boosts quality. Prefabrication of modular structures yields complete or near-complete building sections, including mechanical and electrical systems, finished walls, floors and ceilings, and sometimes even finishes. Once they arrive at the job site,
a crane puts the pieces in place and the construction team assembles them like giant Lego blocks.
"Modular construction accounts for 1 percent to 2 percent of all new construction starts for non-residential projects in the U.S.," says Tom Hardiman, executive director of the Modular Building Institute. That percentage could soon rise, he says. "Perhaps because of the recession, many owners, developers and architects are demanding more efficiency from their contractors. This, in turn, is forcing contractors to re-examine previously ignored methods, such as modular."
Compelling Advantages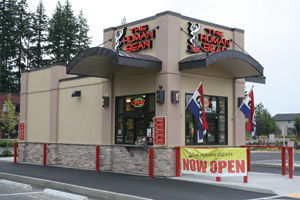 Human Bean openThe potential for a faster construction schedule may be the biggest plus for restaurant chains considering modular construction. "Our clients are always looking to save time on the construction schedule," says Gary Sadler, principal/owner of Upland Architects, Norton, Mass., a design firm that serves regional restaurant chains. Simply put, the faster the restaurant construction the quicker it can open and start producing revenue.
Conventional construction projects feature linear schedules. It begins with site preparation, followed by construction of the foundation, then framing and so on. Modular construction allows contractors to work in parallel, building the structure even before site work begins. "You can have the building on-site and ready to go just as the concrete has cured," Sadler says. Constructing the building in a sheltered, climate-controlled factory eliminates delays due to inclement weather, another time-savings attribute especially in cold weather regions, he adds.
Manufacturers claim modular construction can cut the construction schedule by as much as 6 to 12 weeks compared to comparable site-built projects.
The Human Bean enjoys a speedier permitting process as a result of using modular construction, Hawkins adds. "If it's a state-approved building, the local jurisdiction will typically accept the plans without review," he says. Thus, using the same design in multiple locations within a state reduces permitting approval requirements.
The bulk of the time savings results from the assembly-line environment of prefabrication. For example, plumbing and mechanical systems with the same dimensions in multiple buildings can be cut and assembled en masse. Workers can put together complete sections of HVAC ductwork on the factory floor. By contrast, at a traditional work site, mechanical trade personnel often have to install ductwork and piping in smaller sections, requiring more on-site cutting and measuring — spending more time scaling ladders and retrieving tools.
"If you're rolling out 10 to 15 buildings at once, the money and time savings really adds up," Sadler says. "You could even store some in a warehouse and roll them out when you need them."
The ability to move some modular structures provides additional benefits to QSR chains. In general, the smaller the structure, the more feasible it is to move it. For example, if a modularly built restaurant struggles at one site, the operator can elect to move it to a different location with heavier traffic that could boost business. Modular buildings also offer a tax advantage in some cases. Tax codes allow companies to depreciate the value of mobile buildings over time like it was a piece of factory equipment.
Yet another way restaurant chains can benefit from the modular concept is to prefabricate portions of a structure and use them on a traditional site-built project. In recent years, college dormitories have successfully employed this strategy with prefabricated bathrooms, and hospitals have used this approach with patient room headwalls with built-in electronics and oxygen supply capability, saving time and increasing construction quality. The same principal could translate to the restaurant sector, though it has yet to be widely tested.
"Prefabrication in the back of the house would have the most benefits," Sadler says. "Because kitchen construction involves a lot of trades to coordinate, it can get tricky. Piping, tiles, flooring all can be done in a factory very easily. Then you bring in the modules and it's just plug-and-play."
Drawbacks Complicate Decisions
Although it does offer potentially significant advantages, modular construction can have some drawbacks, as well. Despite the potential to reduce construction costs, modular can actually be more expensive depending on a few factors. The larger the structure, the more modules to ship, thus adding cost. Often it is necessary to ship the modules as oversized loads and expenses mount as the shipping company must take measures to ensure safe passage. For instance, it might need additional trucks with flashing lights and/or signs to warn other drivers of the unusually sized load.
Checkers prototype Shipping distance factors into the equation, as well. The cost of shipping across town may be modest, but shipping a structure from Oregon to Las Vegas, as The Human Bean has done, is no small expense.
Some chains have used modular construction techniques but then abandoned the style after changing design strategies. Tim Horton's used modular on about 30 projects, but reverted to site-built exclusively about 10 years ago as the coffee and donut chain's buildings' size expanded. "It was more expensive to produce modular over traditional construction on larger footprints," says Alexandra Cygal, senior manager, public affairs for Tim Horton's Inc., based in Oakville, Ontario, Canada. "We still have about 20 to 30 modular buildings in our system."
Modular was the primary construction method for delivering more than 500 restaurant projects for Checkers, a 25-year-old drive-thru burger chain. The company's modular structures feature stainless steel walls, neon, red columns, and black and white checkerboard tile.
"Because the fabrication needs to be road worthy (more sturdy to ship) we have found that the cost to build in this format has been more expensive," says Jennifer Durham, vice president of franchise development for Checkers, which also franchises Rally's, a similar drive-thru brand. On a new design concept, Checkers' buildings would have needed more structural framing and sturdier exterior finishes if constructed using modular methods than with a comparable site-built structure, so the company has phased out modular on new construction to save money.
The need to ship prefabricated elements also poses possible limitations. "From a design standpoint, you are limited to what can be carried on a truck," Sadler says. The height of a ceiling, for instance, is limited on a single module, although a higher ceiling can be created by stacking units. "You can do anything you want in modular, but that may mean more shipping and more craning on site," Sadler points out. While operators can combine prefabrication and site-built techniques to realize some benefits from prefabrication, "you get the biggest bang for your buck if you can do it all in the factory," he adds.
Ensuring high-quality construction represents another concern for those considering modular construction. In recent years, modular contractors have made quality advances, but old perceptions die hard. "There's still a stigma," Sadler says. His extensive experience on modular projects has convinced him that the technique does produce high-quality buildings, but, he says, "some factories may not produce the highest quality."
Evaluating Modular
For restaurant chains, whether to use modular construction depends on several factors including market strategy, square footage and height of the building, site location in relation to the modular contractor, number of sites under construction, and whether the building may one day have to be relocated.
Checkers proototype at nightCheckers decided to discontinue new modular construction partially because some of the advantages it was seeking through modular are less important today than when the QSR was in a high-growth phase. "Initially, in the early '90s, the speed of development, cost savings and brand consistency were the most important factors to our choice for modular fabrication," Durham explains. "The tax benefits of accelerated depreciation didn't hurt either."
With development speed not as critical, and no cost savings materializing, Checkers abandoned its modular heritage, though the new design does echo the aesthetics of the old modular buildings. The chain will repurpose some of those legacy buildings, though.
Hawkins expects the benefits of modular construction will continue to outweigh the drawbacks for The Human Bean. "I see our company doing more locations modularly," he says. "We'll look at all the factors and cost it out." On franchised sites, the modular- or site-built decision is up to the franchisee, but corporate will encourage modular units. "We would recommend the consideration of modular because of the speed to construct, consistency and good quality."
Chains in high growth mode that have sites with a small footprint and want consistent construction quality appear to be the sweet spot for modular construction today. To get the most out of modular, each company has to decide where and when it makes the most sense. Judging from recent industry trends, however, it appears that modular construction will receive stronger consideration by more chains in the future.
Considering Modular?
Dan Hawkins, a fan of modular construction and founder/owner of the 52-unit The Human Bean coffee shop chain, offers some quick advice for restaurant executives considering modular:
Look for contractors large enough to provide consistent scheduling. Find those who do modular on a regular basis, not just once or twice a year.
Tour the manufacturing plant. Look for enough capacity that shows the contractor can complete the project on budget and on time. Also ask if they have space to stage items.
Look at the site work they have done. Talk to customers. Ask about any hiccups that may have occurred through the construction process and how they were resolved.
Ask if the contractor has an architect and engineer on-site so they can make changes quickly. For example, if the local health board requires a certain grease trap, can they quickly make an adjustment?
Find out if the contractor has a good relationship with state licensing boards.