The way guests interact with restaurants has changed dramatically in recent years, and customers clearly like it. The convenience of skipping the line thanks to mobile ordering and the love of food delivery just can't be denied.
When markets shift, though, successful businesses can be built by filling in these gaps. Charlotte, N.C.-based Summerbird is working to become one of these businesses.
This one-unit chicken sandwich concept was founded by Silver Falcon Capital, a private equity group led by Brian France, the former chairman and CEO of NASCAR. The restaurant's owners have aspirations to grow Summerbird into at least a regional powerhouse on the back of a couple of key insights, says Katie McKay, Silver Falcon's director of brand development.
"In the fast-casual space, there is a huge opportunity to bring hospitality back to the industry when so many are moving toward reduced labor through things like tablets for your order and [the lack of customer interaction] in third-party delivery," she says. "There's also the chance to have one central place where the healthy eater and someone who is looking for something more indulgent can both go together and feel very satisfied with what is on the menu. There is no ability for a veto vote on our menu. We felt there was a big gap in the market where there was not one brand doing both sides of that coin very well."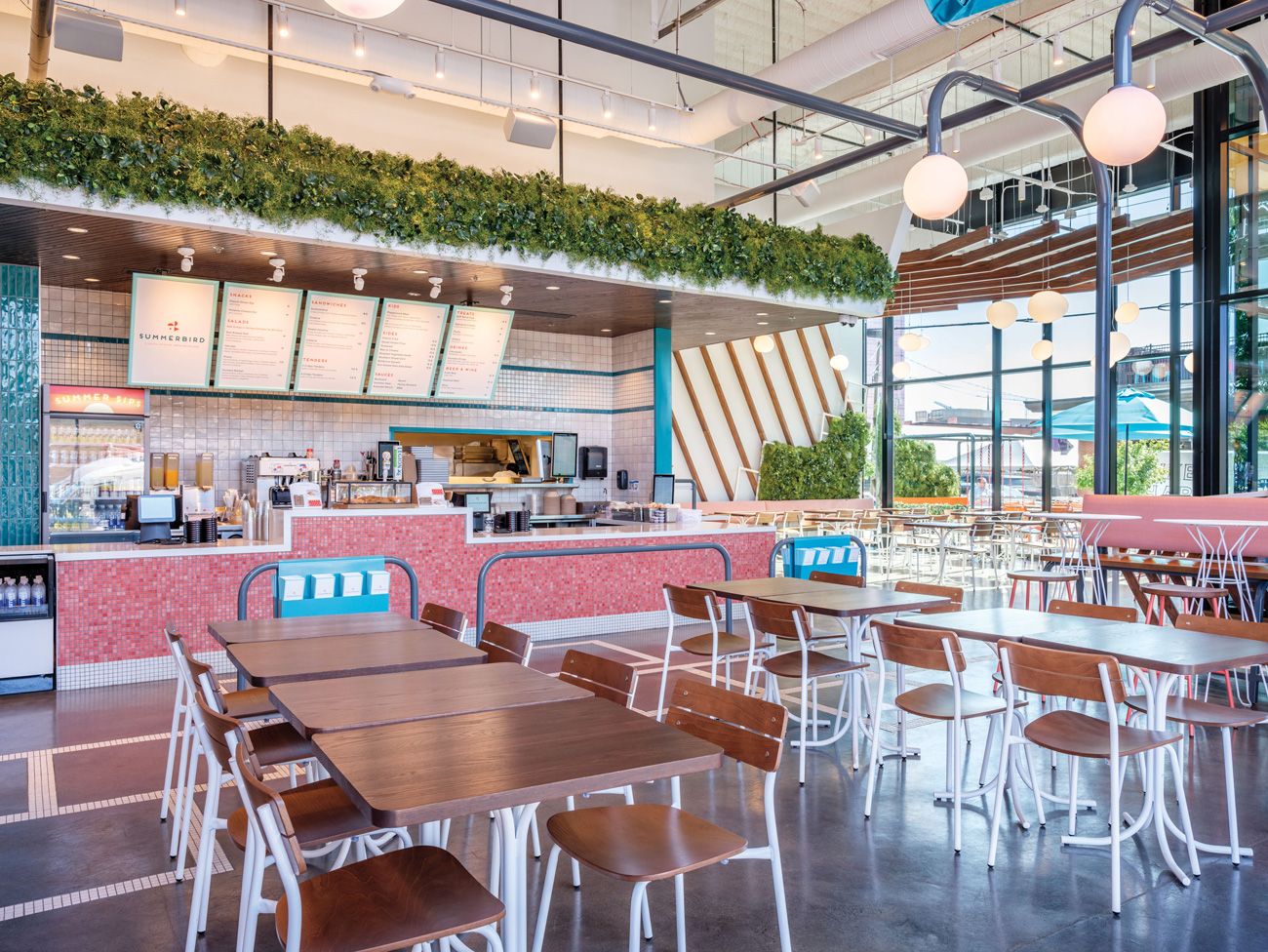 The POS station's drop ceiling element includes an angled end, reminiscent of an outdoor concession stand open for business during the summer.
Creating the Experience
Aspiring to offer an elevated experience with elevated food for everyone can be the start of a concept, but certainly not the finish. Summerbird is designed around the idea of nostalgic summer memories. Everyone on the Silver Falcon team, says McKay, feels this nostalgia, leading them to make it the core inspiration for the guest experience.
You can see this inspiration in Summerbird's menu. The brand, which operates in the fast-casual space, has a menu reminiscent of summertime cookouts and potluck picnics. That means guests can enjoy chips and dip snacks, crispy and grilled chicken sandwiches, entree salads, sides from french fries to mac and cheese, and desserts including shakes and rootbeer floats.

Nostalgia for summer, of course, directed the look and feel of the restaurant's first store.
The designers created street light-inspired lighting in the area near the garage door, where overhead pendants could not be hung. Images courtesy of Summerbird
Summer is a broad category. To help winnow this guest experience into something tangible, Silver Falcon worked with Core Architecture + Design. The Core team was led by Allison Cooke, director of hospitality design and one of the firm's principals.
According to Cooke, the team developed several mood boards and color palette options inspired by summertime. The group considered themes like "lakeside with a dock" and "a summer fair with a Ferris wheel." In the end, they chose another option.
"The design concept needed to be very egalitarian. It couldn't be, 'I always go yachting in the summer.' Everybody has such different associations with summer and what it means to them," Cooke says. "That's where we started in the visioning process with Silver Falcon Capital. [We selected] the idea of parks and vibrant greenery. Fireflies at night. Municipal pools. Those common things that people think of when they think of summertime. The cues came and evolved from that. We have specific elements that hearken back to those in an abstract way."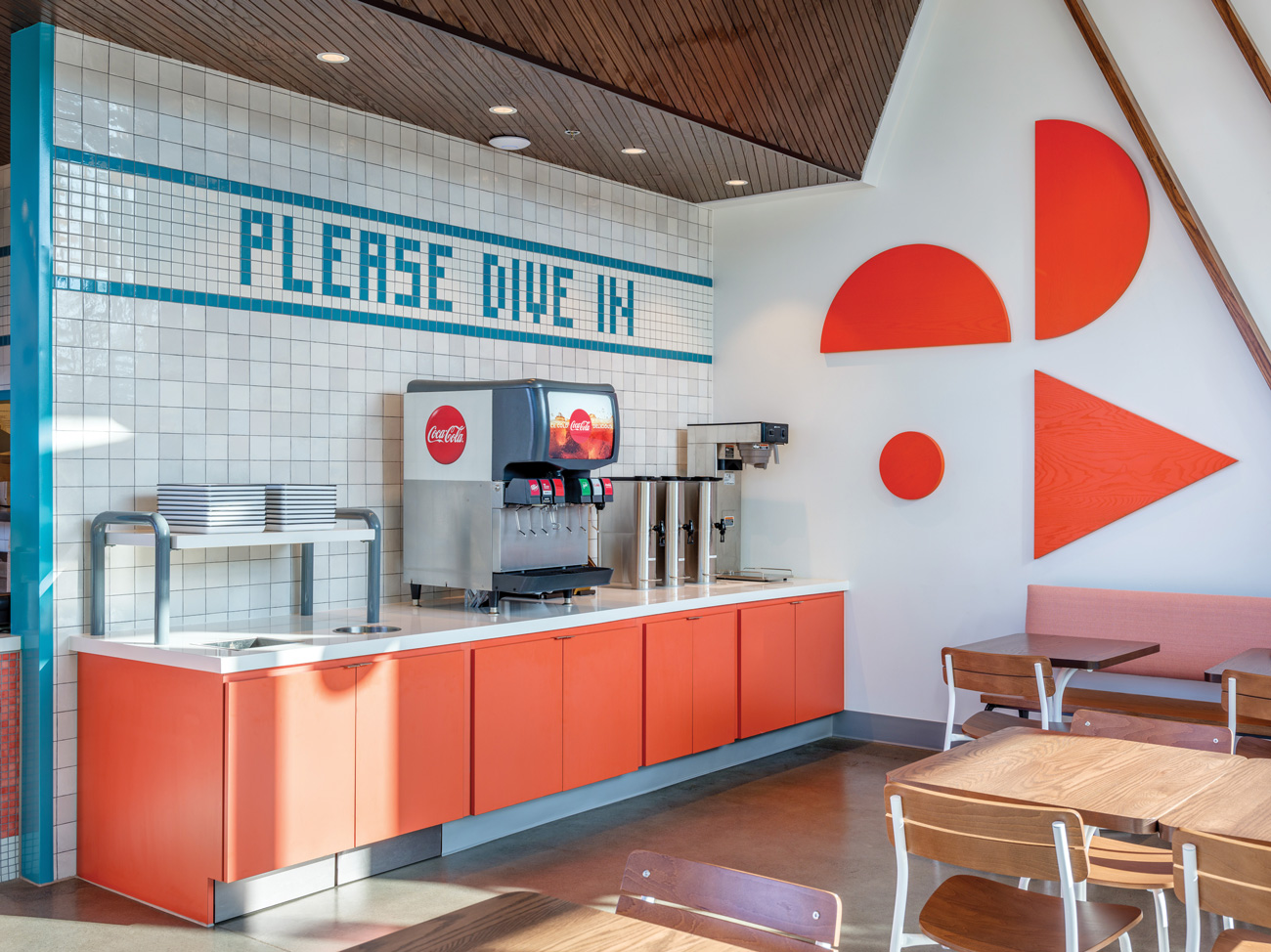 Tiles above the drink station evoke the kind found at municipal pools in summer.
Summer Nods
Keeping the summer-inspired design element more abstract and less literal was very important to Silver Falcon, says McKay. They didn't want the restaurant to be kitschy, with elements like lifeguard stands. "We wanted it to be more subtle and have hints of the nostalgia piece," she says. "I think so many people have that summer memory."
The subtle theme in Summerbird's design comes through clearly, though. The restaurant is bright and energetic, partly thanks to the large windows and a garage-style door leading to one of its two patios, partly due to the color palette. The design features oranges and teals, along with whites punctuated with high-contrast black.
Upon entering the restaurant, guests first encounter one of the clear but subtle nods to summer. Inset in the sealed concrete floor are tile squares reminiscent of a game of hopscotch. These squares are used for wayfinding, leading guests to the queue. "[Queuing] is a pain point we see in a lot of fast casuals. [The hopscotch tiles] shepherd you through the experience versus walking you through stanchions or something like that, which are less aesthetic," McKay says.
While in line, customers pass another clear nod to summer in the form of the to-go shelving. Instead of using standard shelves, Summerbird's is made of diving board platforms situated in a steel frame. It's not an in-your-face element, says Cooke, but many guests will likely make the connection after a few visits.
When guests finally arrive at the POS counter, they'll find a space with a solid surface countertop and a reddish orange tile face. These tile colors are mottled, which is meant to evoke swimming pool tiles. Another thematic touch is the dropped cloud element over the POS area. The top of the element is covered with artificial plants, while the end, instead of coming to a halt, tilts upward.
"The ceiling element was really inspired by abstracting the idea of a drive-in movie theater. It's like a concession stand where they swing the door up and open for the summer. We really liked the idea of something that feels a little concession stand-ish in its inspiration but was obviously a little more modernized," says Cooke.
After placing their orders, guests can move to the beverage station, just around the corner from the POS area. Here again, Core designed a relatively subdued space so that it contributed to the brand. In this case, the chain used a tile mosaic on the back wall inviting guests to "Please Dive In."
After filling their cups, guests who order in-store but are taking their food to go can wait by the end of the POS counter. This space was left open, so to-go customers wouldn't inch into the dine-in area. Guests who are dining in can choose indoor seating or one of the two patios.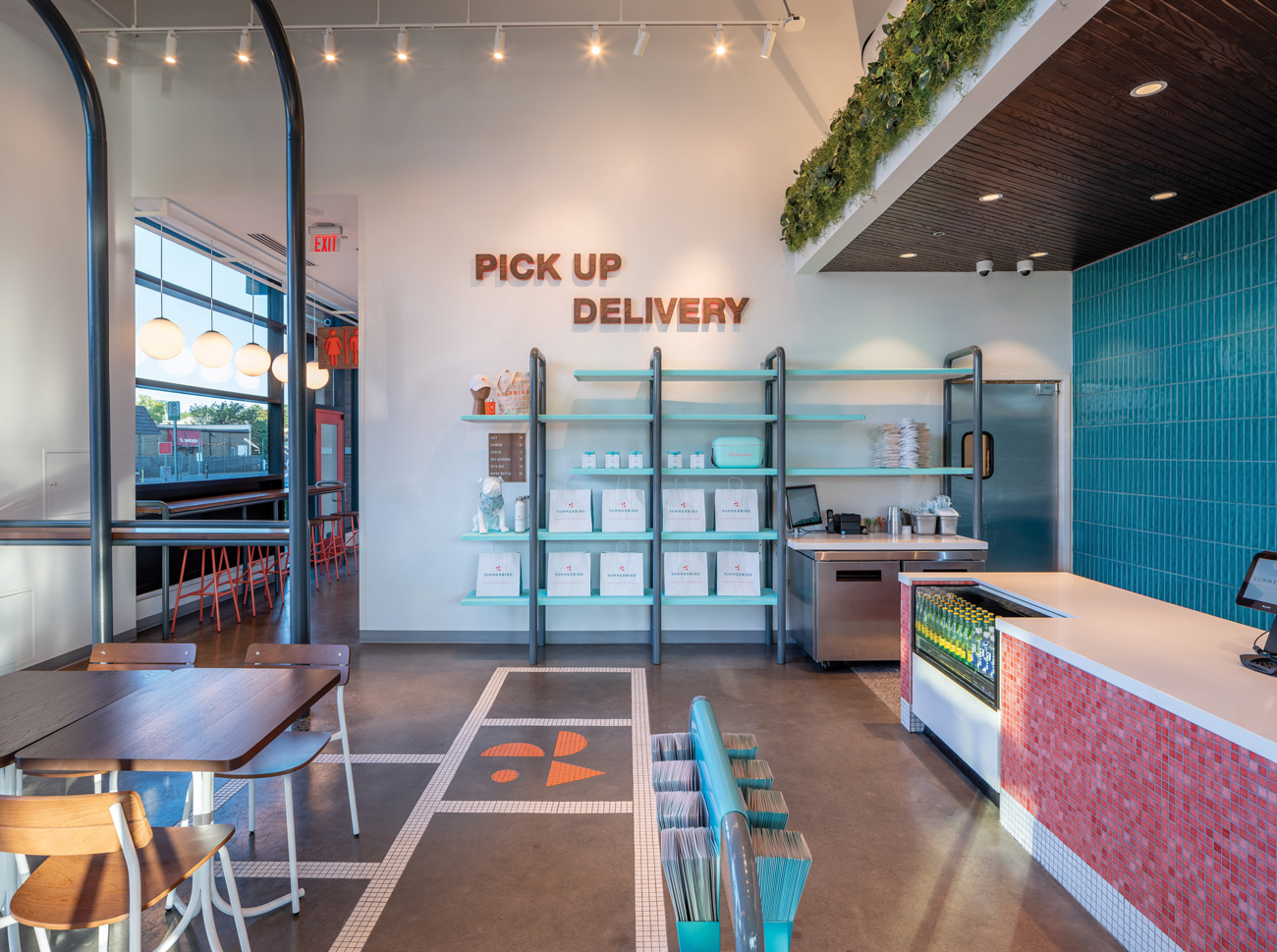 The pick up area shelving is made from repurposed diving boards.
Elevated Finishes, In and Out
In all these spaces, the company specified high-quality materials, such as hardwood tables, woven fabric upholstered banquettes and durable outdoor umbrellas. For the interior, the lights are made to be dimmable to set different moods in the restaurant. These choices, says Cooke, are meant to help the concept do a brisk dinner business.
"They felt if they were only a breakfast or lunch spot, that would be one thing, but if they were going to try to do some dinner business there, then the lighting and furnishings needed to be appropriate for a casual dinner," Cooke says. "That's why we took such care with the lighting. They have control over dimmability, so they can create that atmosphere at night. The furnishings always feel they are at a quality level where you would want to spend your money and have dinner in the space."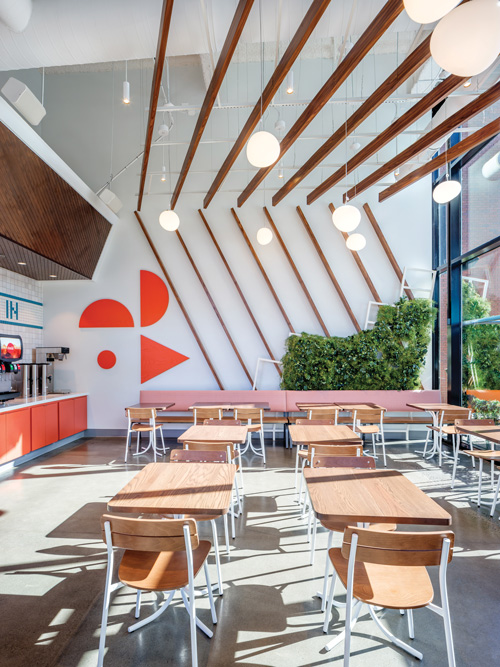 Angled trellises and wall elements give the main dining area a feeling of energy and movement.All the dining areas feature elements meant to accommodate Summerbird's indoor/outdoor feel. With the fresh air and sunlight, the space by the garage door is a prized seating area. Since the door itself prevents the use of hanging ceiling lights, the designers created outdoor-style light poles that shine down on diners.
The outdoor seating area by the garage door, meanwhile, is filled with park-inspired all-in-one table/stool units, complete with umbrellas. This is the smaller of Summerbird's two patios. The designers specified bar-height seats and tables, which add a bit of separation from the sidewalk and can be placed in tighter spaces without making guests feel crowded, Cooke says. These table/chair units are bolted into the ground, which prevents customers from moving chairs in a space that can't accommodate flexible seating. It also ensures that the garage door is never accidentally closed on a seat.
Summerbird's indoor dining area away from the garage door was designed with a feeling of movement. The space itself has very high ceilings. To bring it down to scale, the Core team designed an overhead trellis that features angled lines, adding some energy to the space.
One of the key features of this section is its undeniable indoor/outdoor feel. The space features floor-to-ceiling windows that fill the area with natural light. It also connects to the larger of two outdoor patios.
These two spaces are unified by a pair of trellises with faux greenery, one placed against an indoor wall and running into a window; the other aligning with it outside.
According to Cooke, the different environments required different greenery. The interior faux plants needed to be more fire resistant than the outdoor, while the outdoor plants needed better lightfastness in order to maintain their look over time. Finding matching greenery for both applications was a specification challenge, she says.
On the patio, the trellis/greenery serves a dual purpose. "The adjacent restaurant tenant has their foodservice exhaust discharge right by the trellis, and there is an egress door from the building [in that space]," says Cooke. "We really needed a buffer between what is going on over there and our outdoor patio. That was some of the functional inspiration behind extending that green wall and trellis. It creates a little bit more privacy and a nicer environment by bookending their patio." This area has some elements that highlight the restaurant's summer nostalgia inspiration. These include rope lights on the patio railing and, especially, a table with a porch swing-style seat.
"When we designed [the swings], we thought how great those activations would be for children," says McKay, "but it is really fun to see teenagers, adults, people of all ages enjoying those really cool moments. They're getting their picture taken there. It resonates and speaks to exactly why we wanted to create this concept."
"An Emotional Response"
This sort of embrace of the Summerbird concept has made Silver Falcon bullish on the brand's future, and the company is now actively looking for new locations in the Carolinas.
Designing these new locations will, naturally, come with some new challenges. According to Cooke, one will be adjusting the design to different spaces. With its tall windows and outdoor patios, the first restaurant was an excellent fit for a concept based on the idea of summer. Making the design work in spaces without such natural advantages will be an important part of Core's future work with the brand.
And of course, the designers will work to drive down construction costs without compromising the brand, according to McKay. After all, she says, while Summerbird sells sandwiches and shakes, the brand can't compromise on the experience it offers and nostalgia it evokes. Those, she says, are its real products.
"We have seen a lot of people enjoying the dine-in experience, which is exactly what we wanted for the concept," McKay says. "When people walk in the doors, we want them to have an emotional response to the environment."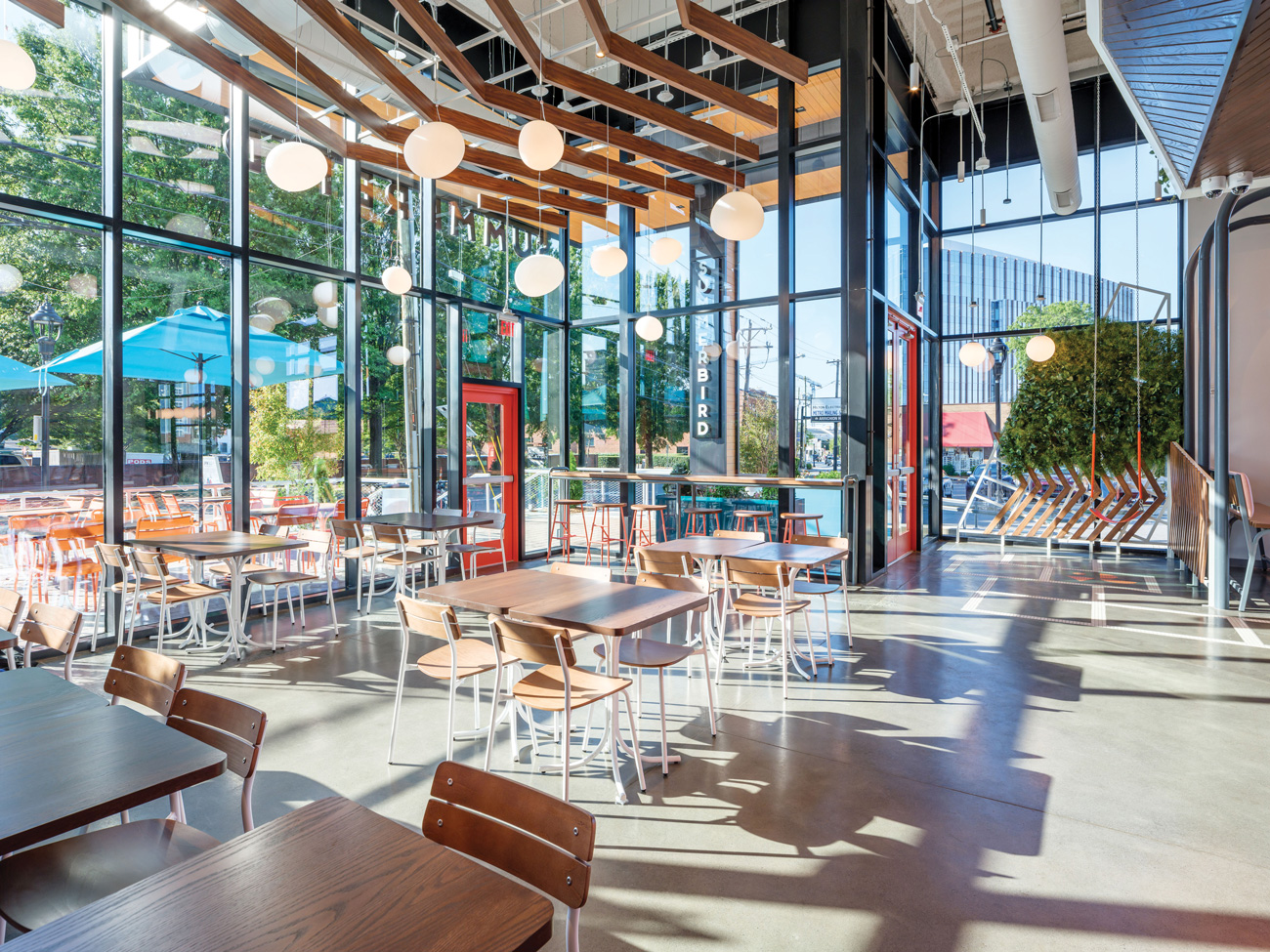 Summerbird is designed around the idea of nostalgic summer memories.
Project Team
Project lead: Allison Cooke, principal, Core Architecture + Design
Architect: Core Architecture + Design
Kitchen supplier: TriMark
Interior design: Core Architecture + Design
Kitchen design: Synergy Restaurant Consultants
Snapshot
Headquarters: Charlotte, N.C.
Concept Owner: Silver Falcon Capitol
Concept: Fast-casual chicken sandwich concept with elevated interior inspired by nostalgia for summertime
Unit count: 1
Location of new prototype: Charlotte, N.C.
Opened: August 2022
Size: 2,840 square feet
Real estate: Endcap
Design highlights: Indoor/outdoor faux greenery, angled trellises that convey movement and energy, hopscotch-inspired wayfinding