Page 2 of 4
Charcoal Restaurant, Denver
Display type: Freestanding divider wall
Bottles held: 70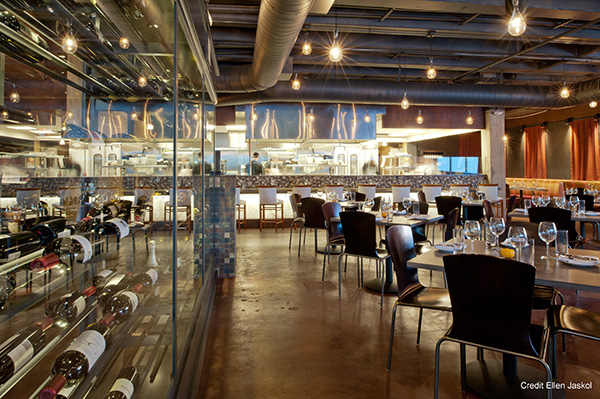 This "fine dining at affordable prices" restaurant has a large freestanding wine wall that separates the bar/lounge area from the dining room. The wall is used as a showplace for the restaurant's favorite wines. It holds around 70 bottles and is temperature and humidity controlled. Both red and white wines are on display, reminding diners that wines are available to enjoy with their meals. The racked bottles are not accessed by staff during service; rather, they're simply for display and suggestive selling while orders are filled from inventory held in back.
Charcoal's wood-and-glass wall is functional, acting as a divider, but also holds visual appeal, as it is transparent. It is lit internally with clear LED bulbs. The wall was built into the design of the original space, says Davis, who worked with owner Gary Sumihiro to create the display.
The restaurant aggressively promotes its wine program as accessible and affordable. Guests can order a flight, half pour, full pour or bottle and a custom-designed wine dispenser lets them sample many wines by the glass. Wine pairings are suggested with signature menu items as well.
Denver-based Charcoal Restaurant, also seen on the opposite page, uses a glass-enclosed, freestanding divider wine wall to separate the bar from the dining room.