Charlotte, N.C.'s upscale, award-winning dining venue, Peppervine, became an overnight sensation when it opened its doors last March in the city's SouthPark area. Getting those doors open, however, took time, proving the power of both patience and committed partners in development projects.
The idea for the restaurant sparked nearly 15 years ago following a particularly exceptional restaurant experience, according to Co-Owner Robert Lackey. With his son Robb, Lackey owns Imagine One, a branding, marketing and development firm whose portfolio includes multiple retail and consumer products companies, as well as Café Rule & Wine Bar in Hickory, N.C. Lackey had dined at Artisanal, a high-end, farm-to-table restaurant that operates May to October in the mountain town of Banner Elk, N.C. It's helmed by Chef Bill Greene and his wife, Anita Greene.
"We were astonished at the quality of food, service and experience at Artisanal," Lackey says. "We followed them for years and about five years ago approached Bill and Anita to suggest doing a project together. Imagine One had begun to invest in restaurants, initially buying into existing operations and, more recently, creating our own concept with Café Rule. We felt we were ready to do something world-class in Charlotte and that Bill and Anita were the right partners for such a project, and they agreed."
Partnership parameters were struck: Imagine One and the Greenes would be equal owners of Peppervine. Imagine One would provide the financing and manage marketing, legal and finance out of its corporate office in Hickory, while Bill Greene would oversee the kitchen and culinary development and Anita would serve as general manager. The couple would agree to spend roughly 50 percent of their time — together or separately — at Peppervine.
Hammering out those details was relatively easy. Much tougher was finding a desirable and affordable site in Charlotte's ultra-competitive real estate market. The team spent the next three years searching for a space, eventually landing on one in SouthPark's Piedmont Town Center, an area characterized by upscale hotels, retail and higher-end chain restaurants. Measuring 7,600 square feet, the space was just five years old and had previously held a short-lived Asian restaurant.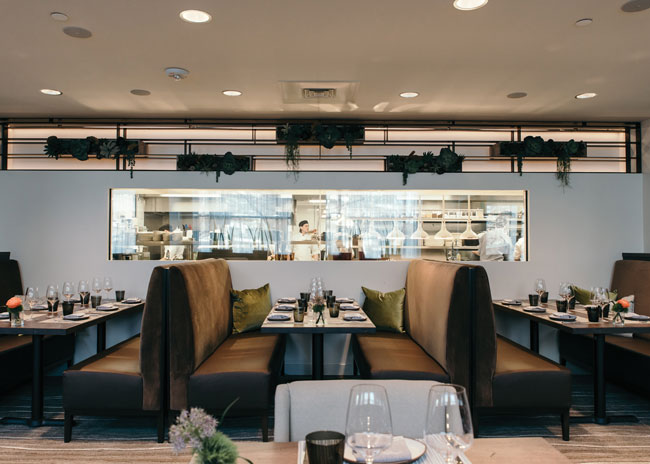 A long, rectangular window into the back of the house adds energy to the dining room and gives guests seated in booths along the wall a birds-eye view of the kitchen staff at work.
"It had all of the architectural interior structure we needed to build out something special — very high ceilings, lots of glass and the potential for great acoustics," Lackey said. "And we fell in love with the mezzanine and the stairway leading up to it. But it was very rundown and dark inside. We completely gutted it and invested about $4 million in the renovation when all was said and done."
Charlotte-based architecture and design firm LS3P Associates was commissioned to handle the redesign, working in close collaboration with Lackey to transform the space into an upscale-yet-approachable venue in which Chef Greene's artful, highly seasonal cuisine could shine. It's now comprised of main dining room, bar/lounge, outdoor seating area, private dining room and mezzanine, providing additional space for private and special events.
Beyond taking virtually everything down to raw concrete, challenging first moves included dealing with the large expanses of glass windows and with a tiki-style bar that extended from the center of the restaurant to an outdoor dining area. "I bet we spent three months trying to come up with a strategy for dealing with so many windows, which created a tremendous glare problem and took away from the comfort of the space," Lackey says. "Ultimately, we decided to wall up a portion of the glass on one side and put a beautiful bar and back bar where some of the windows had been."
Several months were also spent working to reconfigure the kitchen layout and bring in new equipment. "What was there was in very poor condition. They'd hoped to be able to salvage some, but quickly realized that it wouldn't support Peppervine's high-end menu," notes Cameron Wilson, LS3P principal and design lead on the project. Greene and consulting firm Camacho reworked the kitchen's layout and replaced almost all of the equipment. Meanwhile, per the chef's request, Wilson's team designed a long, rectangular window to provide views into the kitchen, selecting finishes and lighting to ensure an aesthetically consistent transition from front of house to back.
Custom paper lantern shades and artistic carpet add drama and warmth to the main dining area. All art and accessories change seasonally to keep the experience fresh.
A Principled Approach
For the restaurant overall, Imagine One's vision was to build Peppervine's design around six key principles to create a fresh, modern fine-dining experience. It would be artful in design, adaptable to multiple occasions, environmentally sustainable, organic in nature, approachable in aesthetics and memorable in experience.
The color palette was strategically selected to provide a soothing, neutral backdrop with color, texture and vibrancy coming from the food but also from the artwork and accessories, all of which change seasonally — from pillows, to staff uniforms to colors and styles of flowers on the tables.
"We wanted to create a memorable experience and also one that's not static, as so many restaurants are," says Wilson. "Chef Greene's food is highly seasonal, so we extended that core principle to the decor. We partnered with a local gallery to showcase artwork that changes seasonally, and extended the idea further to the accessories in the space. Each time you come in, you're likely to see something different and fresh. Imagine One even changes up the look of its website every three or four months."
Wine displays, too, serve as important decor and merchandising elements, adding color and interest and helping to promote Peppervine's extensive selection. One is built into a curved wall beneath the mezzanine and a second runs along the back wall of the private dining room. The displays, which together hold nearly 3,000 bottles, are lit from within and serve as their own form of art.
In the future, Peppervine's focus on wine will get even stronger, according to Lackey. That's in part because high-end internet streaming technology has been installed in the mezzanine and private dining room that will enable guests to interact in real time with wine makers in prime wine-producing regions throughout the world. "We're already testing it in our Hickory restaurant," Lackey says. "We did an event in January featuring a wine maker in Napa Valley. It's very cool. You can sit there during dinner and talk to the wine masters while drinking their wine. It's a great way to bring another aspect of entertainment to the experience. We're looking forward to introducing it at Peppervine in the next year or so."
The 25-seat private dining room, located at the rear of the restaurant, can be left open or separated from the main dining area by a retractable steel door system fitted with Flemish glass panels that creates a comfortably private environment when the doors are closed. Careful attention was paid to acoustics in the private dining room, as well, with high-end acoustical material used to cover the ceiling above a free-form architectural grill with concealed, dimmable lighting.
Eye-catching shapes and forms come into play in several key aspects of Peppervine's interior, bringing the team's guiding design principles into sharp focus. Working with local artisans, the team integrated two signature features that add enduring drama and interest.
One is a flowing wooden screen by sculptor Alex Pate. Designed to create a veiled pathway, it guides guests from the main entrance into the dining room without them having to walk through the bar/lounge. Made from steel sections at its base, for safety and stability, and various lengths of North Carolina poplar above, it's a soaring, kinetic sculpture that rises up from the floor, leading at one end to additional sections suspended from the lounge ceiling behind.
Hand-crafted pendants are another permanent and dramatic design feature. In the dining room, several drum-like shades add a warm glow and intimacy, bringing the 20-foot-high space down to scale. Local paper sculptor Jocelyn Chateauvert created the lanterns from acid-free paper sheets, which she cut, molded, layered and sewed into shades.
"We wanted something interesting, organic and timeless for the light fixtures," Wilson says. "They needed to look good from below but also from above for guests seated in the mezzanine. They're done in different lengths, forms and heights and we staggered them throughout the dining room. They're the main celebration in that room."
Simple and Timeless
Like Peppervine's neutral color palette, materials and furnishings were carefully selected to create a sophisticated-yet-approachable aesthetic and a sense of timelessness. Walls are simply painted, the better to showcase artwork. The ceiling above the main room consists of brown-painted, 3-inch-thick acoustic tiles, ensuring a quiet, comfortable experience for guests. Seating has an unfussy "Northern California modern" inspiration. And flooring — wood-look porcelain tile in the entry, bar and lounge and carpet in dining areas — was chosen to reflect natural and organic elements. The dining room carpet adds design pizzazz as well.
"I wanted the carpet to be very artistic and unusual, and the tile to really look like wood," Lackey says. "We had to battle a little bit with the subcontractor to get our grout lines down to one-sixteenth of an inch for a natural look, but those kinds of details are very important to me and to the end result," Lackey says.
Peppervine's 10-seat bar is topped with durable, Carrara marble-look solid surface material and clad below with under-lit copper panels, a material chosen both for its warm aesthetic and organic character. Clusters of pendants above the bar, made from repurposed cardboard, also fit well with the restaurant's neutral, organic and artistic aesthetic.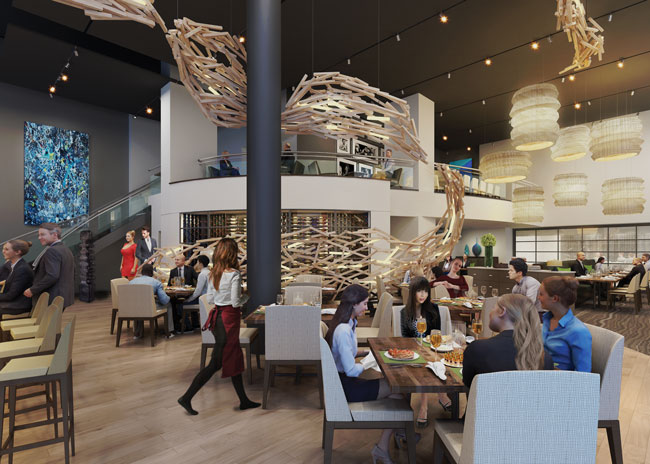 A wooden screen by sculptor Alex Pate serves as both a defining visual element and a guide for guests, drawing them naturally from the main entrance into the dining room without passing through the bar and lounge.
Behind the bar, custom millwork, an antique mirror and plenty of greenery lend a comfortably upscale look and feel. "The millwork in the back bar is finely crafted and has a timeless appeal," Wilson notes. "And it's cleverly designed. The center section has a door that comes down at night to lock in the liquor bottles. At the push of a button, it opens up again for the next shift. And there are doors for the side cabinets that retract into the millwork. They also can be closed and locked for security. Even when the back bar is locked up tight, it still looks beautiful."
In the end, and despite its lengthy development and design timeframe, Lackey says his team's goal of creating a fresh and modern fine-dining experience, one built on exceptional cuisine, service and design, was accomplished. "When you couple the fact of building in a very busy Charlotte market with the level of detail that we demanded, plus inevitable delays along the way at every level, it all just took a lot of time," he says. "But the end product is just what we'd hoped for."
Snapshot
Location: Charlotte, N.C.
Opened: March 1, 2019
Concept: Upscale, seasonal, locally sourced, small plates
Size: 7,600 square feet
Seats: 135 inside, 30 to 40 outside
Project type: Full demo conversion
Active project duration: 3 years
Average check: $50 to $75 per person
Design highlights: Wood sculpture screen; hand-crafted paper light shades; neutral color palette; wine displays; glassed-in stairway to mezzanine; seasonally changing artwork, uniforms and accessories; partially exposed kitchen; outdoor seating with firepit
Project Team