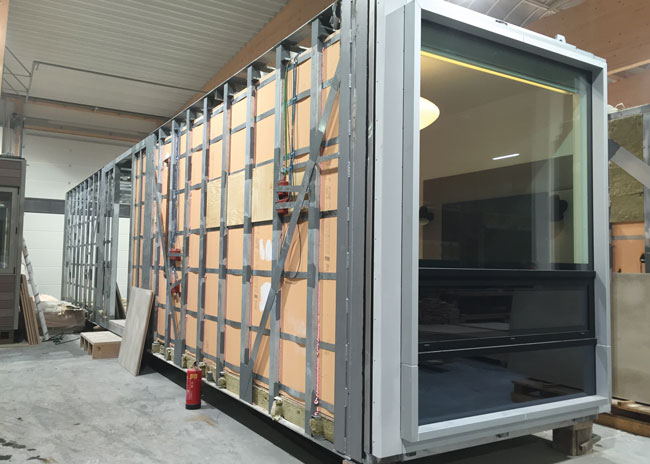 Netherlands-based hotel chain citizenM built the tallest modular structure in the world with their New York flagship location. Images courtesy of Stephen B Jacobs GroupIn addition to quality food and a top-notch experience, consumers crave convenience. It's an Amazon world, after all, one where we can get what we want where and when we want it. That most certainly applies to restaurant quality food, which explains the solid growth of off-premises consumption in recent years. In fact, three out of four operators said off-premises sales represent their biggest growth opportunity, according to the National Restaurant Association's 2020 State of the Industry Report (and that was fielded before the COVID-19 pandemic). As a result, a majority of operators planned to dedicate more resources to supporting this trend. Given that dining room closures aimed at slowing the spread of COVID-19 made off-premises sales an operator's only option, it would not be surprising to see restaurants focus any investments on this fast-growing aspect of the business.
When it comes to making food accessible to consumers in a timely manner, container-based and modular restaurants can become key pieces of infrastructure to support this strategy. Oftentimes container-based and modular operations take up less space than a traditional restaurant, which may translate into the need for less labor. In addition, the smaller footprint allows operators to pick locations they might otherwise not consider. This brings operators and their food closer to customers, cashing in on consumers' cravings for convenience.
What's the difference between a container-based restaurant and a modular one? The case for one should not discount the use of the other when it comes to foodservice. Both have their merits, many of which overlap. When making the decision, let efficiency be your guide.
"The only difference between containers and modules is that, with modules, you have a little more flexibility in terms of defining the dimensions within the box," says Isaac-Daniel Astrachan, chief architect and principal at New York-based SBJ Group. Astrachan was the lead designer on Netherlands-based citizenM New York Bowery Hotel, current tallest modular structure in the world.
"With containers, you're more limited because you're taking something that already exists and refurbishing it for your own use," he said. "Those dimensions are set already."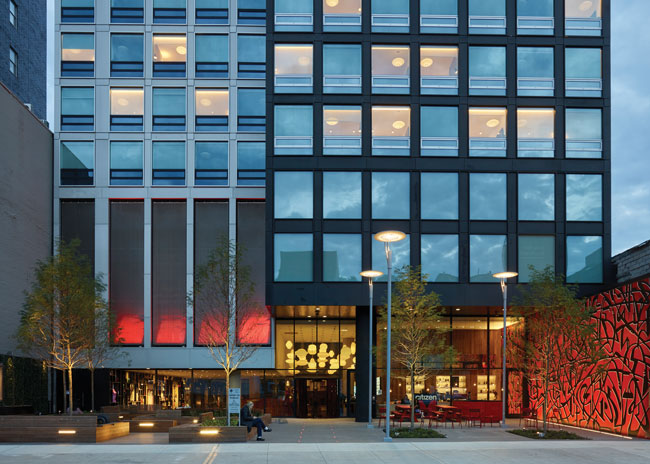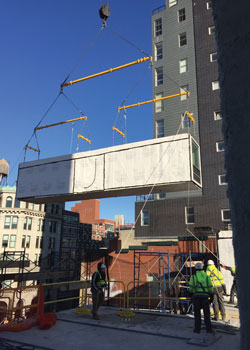 Inside and out, the citizenM New York Bowery Hotel took advantage of the benefits of modular construction. Two things operators have to think through before making any final decisions are cost and location.
"If it's a one-off location, a container is more cost-effective. But, if you're a brand and you're doing standalones and repeating them, then it would make more sense to do modular construction," Astrachan said. "With the [COVID-19] crisis that we're going through now, you could easily imagine manufacturing hospital rooms modularly with all of the equipment put into it in the factory and then just shipping the module to whichever hospital needs additional space. If this is our new normal, you also can imagine these types of rooms being stored somewhere and already manufactured, so you can get them where they're needed to be when required."
The only caveat: Modular designs may be more utilitarian and can lack certain design aesthetics restaurant diners have become accustomed to seeing. This is because each module is manufactured in a factory with little to no designer or architect input.
"A lot of modular constructions have been temporary or extremely low-cost, and not really designed in any way," Astrachan says. "So, that's another part of what the industry can produce. It's nice from an architecture and design point-of-view to have more aesthetics built in."
During the design phase for construction, the more people operators can get involved in the process, the better.
"For restaurant operators, get your architect involved in the project," Astrachan says. "For architects, modular design has tons of potential. In a way, it's a little counterintuitive because you have to work within the limitations of the system you have, but you have to be OK with that to be as efficient and cost-effective as possible. You can be very innovative and come up with great designs, but you also have to understand the limitations of the box. If you push too much the boundaries of the box, it doesn't make sense to use the box anyway."
Containers and modules, regardless of limitations, have most recently been used to create eatertainment parks and outdoor bars, and to scale brand awareness.
Prior to COVID-19, Brain Storm Shelter Restaurants found success with rehabilitated containers for its Texas-based Truck Yard concept. Known as an "adult playground," the concept features a rooftop patio, bar and karaoke lounge made out of shipping containers. The containers help create unique spaces that separate one area from another.
Texas-based Truck Yard, an "adult playground," found success using rehabilitated containers to create a coherent mix of spaces. Image courtesy of Truck Yard
Meanwhile, Checkers and Rally's introduced a new modular design in 2018 to provide a streamlined and cost-effective process for new builds. Known as "Modular 4.0," the concept features four modules, built in manufacturing facilities in Birmingham, Ala., and Killeen, Texas. The modules can easily be transported to locations across the United States and installed within a matter of days.
While specific numbers were unavailable year-to-date, the company planned at least 30 new modular locations to open in 2018 as part of an expansion plan that included 70 new restaurants for the same year. Between 2018 and 2019, the concept opened 80 new locations nationwide, with a portion of those being its new modular format. The company also ended up closing out 2019 with 900 locations across 28 states.
The design of Netherlands-based citizenM hotel in New York embraces its Dutch roots.
Their shift to a new modular format paved the way for Checkers/Rally's rapid expansion. And through partnerships with equipment manufacturers, modular construction can become a one-stop shop for operators, who can install a company's full-line of equipment or package equipment installation into modular construction deals. This also helps with permitting because everything is done in-house and can be adjusted to meet permitting specifications prior to build.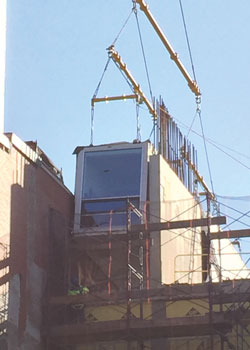 Under construction, modular pieces fit together like a 3D puzzle.Some operators have opted to use all-electric cooking equipment in their modular and container kitchens paired with one-piece walk-in coolers with condensers on the backside. Meanwhile, ventless equipment and other ventless exhaust options eliminate the need to cut through ceilings go through the roof to install. The use of ventless equipment may pay multiple dividends. First, not having to vent out of the top of the unit may alleviate some height constraints. Second, using ventless may impact the operation's utility usage and maintenance. Of course, all of this varies by municipality, so it's important to understand what local codes will allow before making any decisions.
In terms of dimensions, modular operations typically range from 8 to 14 feet in width and are approximately 50 feet long. Containers, on the other hand, have a varying range of dimensions that make them more difficult to transport. That's why Astrachan says containers are better in either urban environments or for brands not looking to scale.
"Whatever the dimensions of your module or container, you still need to get them on a truck and within any transportation limitations," Astrachan says.