Sustainability affects every aspect of modern restaurants. Whether it's repurposed materials used as front-of-house decor or kitchen equipment that conserves water and energy, sustainability has become a consideration in almost every purchase decision, both in new construction and in renovations.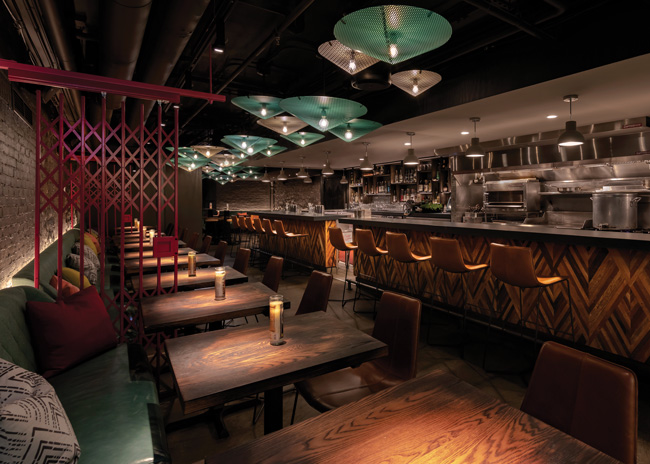 Natural materials, including reclaimed wood lath, were used throughout Bar Sotano in Chicago designed by Aria Group. Image courtesy of Emilia Czader
Sketching it Out
To many designers and consultants, sustainable restaurant design is a combination of the aspirational and the practical. Joe Junius, associate with the Aria Group architectural firm in Oak Park, Ill., is one who comes down more on the practical side. "Restaurants use a lot of energy for cooking," he says. "I think sustainable restaurant design would be a restaurant that strives to offset that through reuse [of] furniture, equipment and/or materials." Tarah Schroeder, executive principal of Ricca Design Studios in Greenwood Village, Colo., says that, "it's almost easier starting with what sustainability is and talking about how it relates to restaurant design. Sustainability is really making decisions and thinking about future generations."
But sustainability goes beyond simply purchasing recycled materials or buying energy-efficient equipment. It necessitates a change in thinking, says Rives Taylor, regional sustainability leader and principal for the San Francisco-based Gensler design and consulting firm. "It is definitely a mindset change," he says. "Even the materials conversation is complicated by questions of durability, the way you procure it [and] how you maintain it. We need to do it in a way that's not wasteful." Schroeder says that sustainability can be thought of as part of a restaurant's brand concept. "What do you want your brand to be? Do you want it to be innovative, enduring, smart? Sustainable can be one of those," she says.
Obviously, sustainability hasn't yet become an essential part of every operation, because sometimes it never makes it past the drawing board. Just how much sustainability enters into the early design phases all depends on the client and the budget, says Junius. "We see people who come in and don't mention sustainability. And we see people who say from day one, 'I want to do as much as I can,'" he says.
So, who, exactly, is going sustainable these days? In many cases, it's the noncommercial or on-site segment that seems to be going full steam ahead. Colleges and universities have been early adopters of sustainable practices, which Taylor credits to the organizations devoted to sustainable college foodservice. "With students as a captive audience, [sustainability can be] a competitive advantage" as well, James Camacho, president of the Camacho Associates design and consulting firm in Norcross, Ga., says. "We see it in public buildings, in healthcare and corporate. They can afford to do it."
Costing it Out
As Camacho noted, cost — and the availability of materials — are two of the biggest factors that affect sustainable restaurant design. Junius says that increased demand has brought prices down in some categories, such as low-flow toilets, carpets and wall coverings. Still, he says, "on average, there is a slight premium for going with sustainable options." Schroeder notes that sometimes price resistance can be an awareness problem on the part of decision makers. "There's a perception that if you go down the road of making decisions with sustainability in mind, it's going to cost more money," she says. "That's not always the case. It just might mean making different choices so that you can still include that as one of your decision factors."
That extra cost for sustainable materials often has to be justified to the client, says Camacho. "If there's something that's going to cost more money up front, sometimes we have to provide them with an ROI: You'll get a payback in a year, two years or four years. Then they can see what the value is." And, as Junius says, success in getting sustainable materials takes buy-in from the entire group of project stakeholders. "We have conversations with the whole team — client, consultants, contractors. Understanding the client's vision and budget help dictate our sustainability path on any given project," he says.
Although still not equal to the quantity of traditional items on the market, the number of sustainable or recycled items available to designers has been steadily increasing. For example, Camacho says that, "of the flooring we're recommending people use, one of them is [made from] recycled PVC pipe; another one is a recycled roofing material." Schroeder also points to flooring as one of the categories that's seeing an increase in sustainable choices. There are sustainable flooring options now that are not only made from recycled content, she says, but are easy to replace, can withstand high heat and are ergonomically functional.
Another concern clients often have is whether the sustainable material will hold up as well as its traditional counterpart. The answer to that, Junius says, is that, "it really depends on the material." Proper maintenance is essential, he adds, and that conversation about maintenance needs to be done at the beginning of the process. "Specifying materials is only as good as the upkeep that will occur after construction ends," he says.
Low VOC, recyclable wood fiber panels are used as acoustic panels at True Food Kitchen in Arlington, Va. Image courtesy of Tony Ventouris
Key Takeaways
Moving toward a more successful design doesn't always mean major steps have to be taken. These experts offer a few points to remember when thinking
about sustainability.
You can do it. "If you're starting out, don't be intimidated," says Schroeder. "Don't think you can't afford it. If you have the right experts that can help you choose your priorities and technologies, work with your brand goals and financial constraints, I think it's pretty easy to incorporate it into different aspects of what you're trying to do in your restaurant."
Get the whole cost picture. "We design for sustainability where we can as a best practice in our firm, because it's what we need to do," says Camacho. "If there's a true cost add for it, we bring it up to the owner and say, 'Here's what it's going to cost. Here's what it's going to save you.'"
Keep it simple. "We're seeing restaurants that are 'designed for disassembly,'" says Taylor. "So, if there needs to be a change of things (in the front-of-house primarily), it can be done over a weekend or a short period of time, without a lot of destruction
or throwaway."
Remember the big picture. "As our world continues to be in a climate crisis, we as architects/designers need to help our clients understand and make the correct decisions in regard to sustainability," says Junius. "With sustainable material, furniture, lighting and equipment prices coming down and more clients aware of the world's crisis, I am optimistic that we will be able to work together toward a more sustainable future."
Mixt Takes Sustainability Seriously
Mixt is a fast-casual restaurant chain with 19 units across Arizona, California and Texas. Since its founding in San Francisco in 2005, Mixt has been dedicated to responsible sourcing of ingredients and operating its units sustainably as well. Mixt CEO and co-founder Leslie Silverglide discussed the chain's commitment to sustainable practices.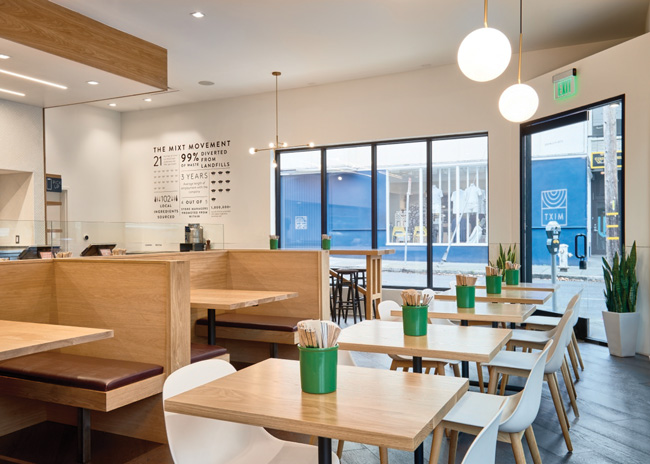 Mixt's location in the Cow Hollow neighborhood of San Francisco. Image courtesy of Dean Biryini for Mixt
Your commitment to sustainability shows in your menu. Does that extend to your restaurant design and buildings as well?
Leslie Silverglide: Absolutely. You have to first start with the space that you're going to build out and think about that. Starting with our first restaurant, I applied the principles of LEED to our buildout. If you break that down, that's thinking about water conservation, energy efficiency and building a healthy environment where you don't have all the off-gassing materials. We also looked to see how we could use recycled and reusable materials, focusing on durable materials or materials that had third-party verification, like Forest Stewardship Council (FSC)-certified wood.
In many ways, you were ahead of the curve.
LS: What's been great to see is [that] a lot of what we initially did, which was very novel, is now just commonplace and good business practice, using things like low-flow faucets and toilets in bathrooms, and having energy-efficient lighting.
From the get-go, we very much designed with a durability mindset, saying, "How can we build this to last?" Most restaurants get a refresh or complete remodel every four to five years, and so people are ripping out all this throwaway material that ends up in a landfill. Our first store that we built 15 years ago has never undergone a renovation. For example, we use real wood floors that were FSC-certified. We've redone them a few times, but we've never had to rip out the floors and put something else in. We built really good benches and they're still there today. We really think about what's not just the cheapest but what's going to last, and what's going to stand up to the high foot traffic we have coming through our locations every day.
How do you convey to customers that your commitment to sustainability goes beyond the food?
LS: When we started, the idea of green buildings was really new, so we were educating people. We used to have little laminated cards that would take you on a tour around the restaurant. We would point to all the different things in our spaces that achieved that goal. Customers would learn that way and get a kick out of it.
But we haven't wanted it to be the driving reason people come into our stores. We want our product to be the driving reason.
Do you think more fast-casual restaurants will move toward sustainability in the future?
LS: In terms of material selection, I still think there's a bit of a barrier there that often comes with cost. People are held to a tight metric in terms of how much they can invest in the buildout of their spaces. Often, they prioritize getting the aesthetic right over the sustainability of it.
But consumers are much more educated and aware and asking questions, which is fantastic for us. You've got to be a good example to further the conversation and get people interested in it.
Resources for a More Sustainable Restaurant