Boombozz Pizza & Watch Bar, a regional chain out of Louisville, Kentucky, recently renovated one of its company-owned stores, located in Jeffersonville, Ind. The project, which was spearheaded by sister companies Huber Decor and Idea Source, is meant to provide a better experience for guests coming in to watch a game and serve as a comfortable, family-friendly restaurant. This design will serve as the basis for future Boombozz stores.
The restaurant retained several existing elements including the stained concrete floor, brick bar face and natural stone bar top. The designers leaned into this industrial feel with the new tap lines, which run overhead in fully exposed metal piping, according to Page Thomas, interior design manager with Idea Source.
The designers also took steps to make the bar a more appealing spot to catch a game. New, larger televisions were added in the bar and throughout the restaurant, while eye-catching elements were added to the back-bar area, including a lit-up sign and lit shelving for liquor bottles.
These elements improve the guest experience while also drawing in new patrons, says Thomas. Located in a strip center, the front of the house has multiple windows that provide ample visibility from the outside. "You can see that bar area really well from the street and the parking lot. That lit element helps draw attention."
While the space clearly has an industrial feel, the designers added some elements to help soften the restaurant. These include dark vinyl upholstered booths — chosen because it will age well — as well as barnwood-style wallcovering that comes up to chair-rail height.
This covering, it should be noted, is not actual wood. According to Thomas, that would have been too expensive and too difficult to keep clean, especially in a family-friendly restaurant specializing in pizza and beer. Instead, the designers went with a custom made digitally printed laminate wall covering.
"There are a lot of hard services in the building itself as far as concrete flooring, exposed trusses, things like that. You automatically want to add some warmth to it and make it more of an inviting space by adding different textures," Thomas says.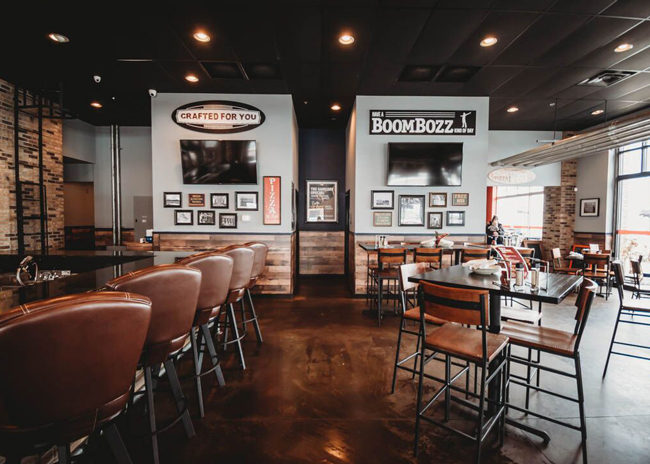 The restaurant also includes a private dining room, which is used often for birthday parties, says Thomas. To make the space feel special, it was given some design elements not seen elsewhere in the restaurant, including a red-toned wall and historical photographs of local landmarks. It also has some pizza-making gear, including paddles and pans, hanging from one wall.
These round design elements were selected to give the room a better sense of balance, Thomas says.
"A lot of times when we have a rectangular room like that, we like to incorporate artwork that has different shapes to it. It can help break up a rectangular space like that."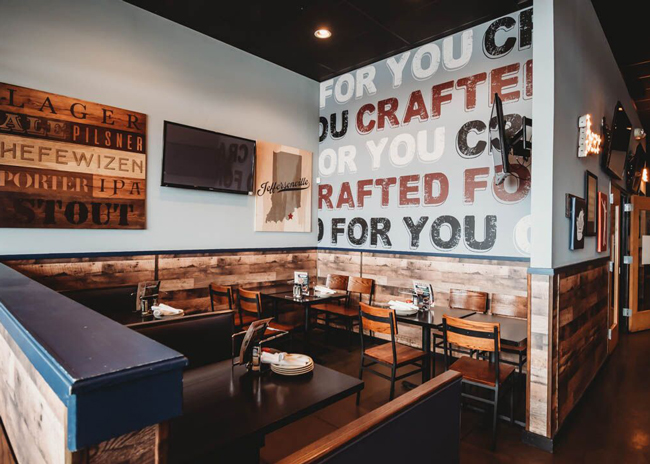 The design team paid special attention to wall elements outside the private dining room as well. Many were custom designed and printed, including the "Crafted for You" wallpaper (a Boombozz tagline) and a list of beer types on a vinyl wood-style background.
To emphasize the chain's history, the designers also used some archival materials. The chain's previous tagline, "Have a Boombozz kind of Day" was integrated into new design, while old newspaper advertisements for Boombozz were dug up and recreated, says Thomas.
"We had our graphics team put a modern spin on those. We scanned them and digitally enhanced them. We wanted their story and history as part of the design."