In 1996, Mitchell Rotolo Sr. opened a pizza and beer place on the campus of Louisiana State University in Baton Rouge. He was in his mid-20s at the time and says the job was a blast. How could it not be?
"I started this as a young guy with a college bar on LSU's campus selling pizza and beer," Rotolo Sr. says. "It was a great idea at the time, and I had a lot of fun doing it. I thought we were hip and cool and fun."
As Rotolo grew up, so did his concept, Rotolo's Pizzeria. That barroom pizzeria evolved into a chain with 30 locations, mostly franchised, primarily in Louisiana.
While that was a good business move, it also evolved into a move away from what made the first Rotolo's Pizzeria a great place to hang out. Somewhere along the way, says the company's Senior Vice President Christina Bourg, Rotolo's had lost a little bit of its grit. To better fit in with suburban markets, it had reduced its beer offerings and became polished. As a result, alcohol sales dipped, and the chain's atmosphere changed.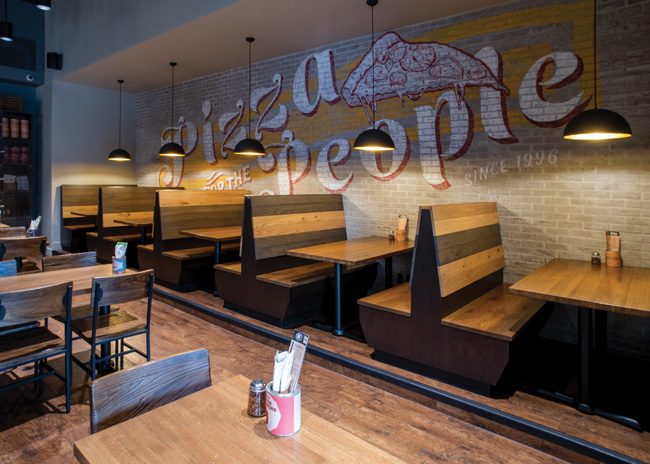 The booths at Rotolo's Craft & Crust have several features designed to make them feel like private spaces, including a small step up and low-hanging lights. Images courtesy of Rotolo's Craft & Crust
As its established customer base got older, Rotolo's knew it had to mix things up to bring in new, younger guests.
"We were either going to age out of the segment and not compete anymore, or we were going to reevaluate the interior and the menu, grow with the segment and really cater to the Millennials along with the generation that grew up with us," Rotolo Sr. says.
New Food, New Brand
For Rotolo's, a huge part of the solution was upping its food and beverage game. The chain, therefore, has committed itself to craft beer, greatly expanding its tap count. It's also improved its menu, largely through the efforts of the founder's son, Mitchell Rotolo Jr.
Having trained in Italy, Rotolo Jr. is a pizza aficionado and winner of more than a dozen medals at the World Pizza Championships. Under Rotolo Jr.'s guidance, the chain has introduced new craft menu items, with a focus on pizzas made with hand-stretched dough and higher-end toppings like fig spread, arugula and prosciutto.
With a craft menu, the chain set out to design a restaurant to match. Finding the right partner for the redesign, says Bourg, was one of the project's first big challenges.
"Mitch [Rotolo Sr.] knew what he wanted," says Bourg. "He knew the feel of what he wanted. We met with a lot of designers until we found someone who could articulate what he wanted and pull that out of him."
That designer was Domain Architecture out of Baton Rouge. The design team there was led by Interior Design Director Ali DeBosier. In conversations with the Rotolo's team, she saw a connection between the craft nature of Rotolo's new menu and its beginnings, when it was just a guy making pizza and serving craft beer.
A tour of the Rotolo's kitchen and explanation of the quality of their food, she says, helped cement the design concept.
"Mitch said, 'If you can't understand what we do, you can't help us create this new environment that says who we are.' To us, it was finding a way to design the space that would reflect not only their roots and where they came from, but what it is that they truly do," says DeBosier. "It started with one guy making pizzas in an old barroom. We wanted to make that connection between the environment and the product."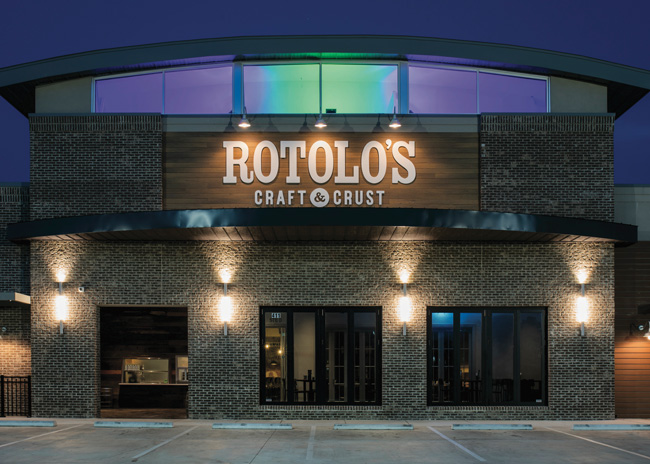 When possible, Rotolo's exterior will include color-changing LEDs behind translucent panels. Often, though, landlords do not allow this feature.
Rebranding Rotolo's
In Rotolo's case, connecting environment and product also meant rebranding. Rotolo's Pizzeria, the company concluded, didn't communicate the quality of the restaurant's food, the breadth of its menu or its commitment to craft beer.
Out, then, went Rotolo's Pizzeria, and in came Rotolo's Craft & Crust, the name of all Rotolo's stores going forward.
This shift, says Bourg, better represents the revitalized chain's offerings. It also helps avoid confusion when the brand enters new markets.
"People thought maybe we were a delivery model, or they were comparing us to Little Caesars or Domino's, and that's not who we are," she says. "It's a higher-end pizza, and we have a full menu. We thought that by taking 'pizzeria' out of the name and incorporating 'craft and crust,' it opened us up and gave us a little bit better positioning."
The Craft and Crust name sits on the outside signage/logo for the restaurant's prototype location, which opened in Baton Rouge in November 2017.
The signage alone gives guests a sense of Rotolo's new look and feel. Gone is the Italian flag-inspired red, green and white sign of Rotolo's Pizzeria. In its place is the simpler Rotolo's Craft & Crust logo backed by a wood-style composite.
The prototype exterior also features LED lights behind translucent panels. These lights help draw attention to the restaurant without being over the top. They can also be changed based on the season or event. If a local football team is playing, for instance, Rotolo's can switch the lights to the team colors.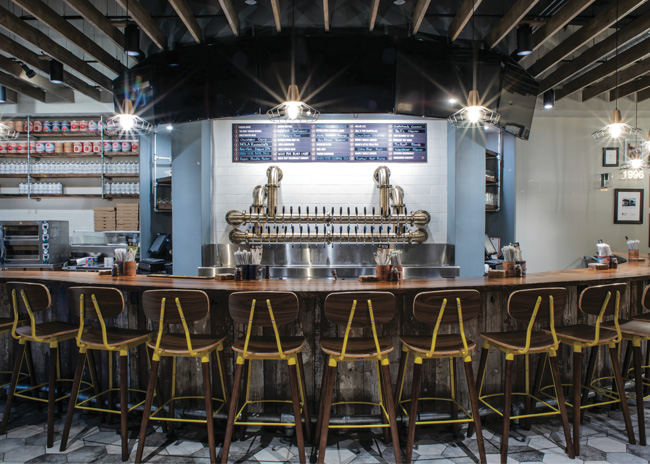 The curved bar in the prototype Rotolo's is made with a 500-year-old cypress stump. New restaurants based on the prototype use materials that reflect the community where they are located.
Feels Like Home
The restaurant's interior matches the exterior with comfortable wood elements paired with design touches that add some fun to the experience.
Walking into the new Rotolo's, guests find a space with several different sections — bar, dining room, community tables — placed in an open floor plan.
By eschewing dividers and half walls, the chain allows guests, from families to little league teams to groups of college students, to quickly see all their options and choose the best fit, says DeBosier.
In the new prototype, the first area guests see is the bar, located front and center. This is a change from the previous design, which had the bar off to one side.
This shift, says Bourg, represents Rotolo's renewed commitment to be a great place to hang out and enjoy beer and pizza with friends.
Rotolo's, of course, did much more to the bar area than move its location. Instead of a straight bar, the bar at Rotolo's Craft & Crust is curved, with a series of overhead flat-screen televisions matching that curve. The bar top is made from a single piece of wood taken from a 500-year-old sunken cypress stump, while the front is covered in bark from that stump.
At the bar back is a custom brass tower holding 42 taps — mostly craft beers but also some wines and cocktails. To showcase that tower, the chain uses only generic tap handles, not the special handles provided by breweries.
With no divider wall, the bar area is identified by its flooring. While most of the restaurant uses a wood-style luxury vinyl tile, the bar has a hex tile in neutral whites and grays. Immediately next to the bar is the dining room, the spot most families head to.
Making a family-friendly pizza place mesh with a 42-tap bar, says DeBosier, is partly cultural. In Southern Louisiana, it's not unusual to have people enjoying a cocktail in the same general space as children.
This blend of bar and family-friendly pizzeria is also supported by the design.
"[The new prototype] has a softer side and lends itself to that comfort level that you might feel at home. At home, parents are going to have a beer or cocktail with their pizza, just like a college kid would sit at home on the couch, drinking a beer and eating a pizza. You're sort of in your own environment. It feels comfortable enough that you don't feel like you're not supposed to be there, doing that," Bourg says.
In the dining room, and really throughout the restaurant, the comforting, home-like environment is achieved via hardwood tables, chairs and booths. Balancing out these warm, natural surfaces are some harder materials, including steel cages where cans of sauce and other ingredients are on display, as well as exposed ductwork. Additional edge is created through the restaurant's hand-painted mural wall proclaiming "Pizza to the People."
Sitting against this mural are the dining room's booths, which are among the restaurant's most prized spots. Rotolo's has gone to great lengths to make them more appealing to families, and really all parties.
The booths sit on a small step up, and each has a hanging pendant light just overhead. These touches, DeBosier says, serve as visual and mental cues of separation, that the booth is the party's own space where they're welcome to linger for as long as they like.
That lingering is further encouraged by the small flat-screen television at each booth. These allow guests to watch a game or show comfortably, without craning their necks.
The TVs can be turned to any channel the guest wants. "Screens can show cartoons for the kids or games for adults," says DeBosier. "It's another piece of the puzzle that says it's okay to stay here and hang out. We have everything you need."
While booths may hold a particular appeal to families, the dining area also has a separate community table section. This space is slightly offset from the rest of the dining area. That, along with the use of high-top tables, sets the space apart, making it a good spot for larger groups that might get a little louder than normal.
The final seating area is an indoor/outdoor space with large bifold doors. Located at the front of the restaurant, this space takes the place of a traditional patio, which would be of limited use given the heat and frequent rain in Southern Louisiana.
"It's really a favorite place for people to sit," says Bourg. "It's so inviting because when you drive in from the street and you're in a parking lot, you can instantly see people gathered. People want to be where people are."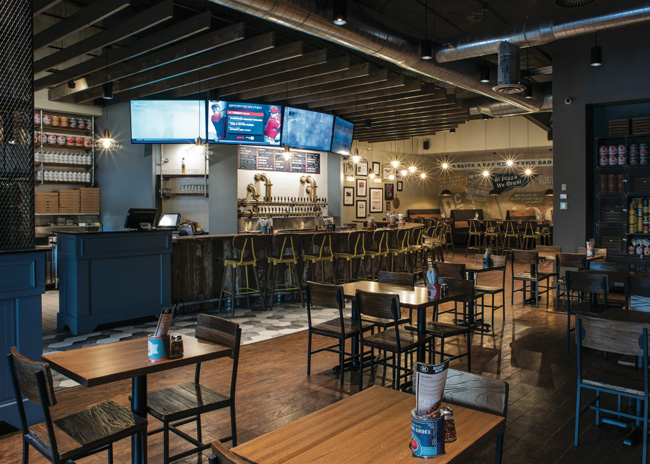 Guests entering the new Rotolo's Craft & Crust restaurants get a clear view of the layout, letting them quickly decide which area best fits the experience they want.
Design Deviations
Rotolo's has built five restaurants I'd change to: based on its now two-year-old prototype: four new and one refurbished. Naturally, they've instituted some changes taken from real-world lessons.
On the most obvious front, Rotolo's went through some standard post-prototype value engineering. For example, an expensive interior brick that was specified in the original design ended up covered by a mural. Because the mural (and not the bricks) are the focus of that space, subsequent stores use a cheaper brick material for that wall.
Other changes were more substantial.The curved bar's centuries-old cypress countertop is one of the most impressive elements in Rotolo's prototype restaurant in Baton Rouge. It's also practically impossible to recreate. After all, 500-year-old cypress stumps are not plentiful, and those that are available are prohibitively expensive.
While this could have been a hitch in the rollout of new stores, the team has turned it into a strength by using a localized element instead.
For instance, one of the new Craft & Crust restaurants opened last summer in Frisco, Texas, a booming Dallas suburb that got its start as a railroad town.
"There's a lot of [Frisco's] history tied to the railroad, so we went and sourced old railcar floors and had those reengineered close to the same color. That history and a piece of the local town are in the store," says Bourg.
Notably, the chain can also be flexible on the shape of the bar itself, Bourg adds. While ground-up builds are designed with the curved bar found in the prototype, if the chain is moving into space previously occupied by another concept, it will use the existing infrastructure and accept a straight bar.
Another bar-area change involved operations. In the prototype, bottled beer was held in an ice trough, just like at the first Rotolo's restaurant. If a customer ordered a bottle, they'd get one cold, straight from the trough.
While the experience was good, the trough just took up too much space, says Bourg. In response, the chain got rid of the trough and reduced its bottled beer offerings, which are now stored in undercounter refrigeration. Additional saved space was dedicated to new dishwashers, which have improved bar efficiency.
Community tables at one end of the restaurant are meant for larger groups (such as college students watching a game). Providing a separate space for these parties allows them to be loud and have fun without disturbing other guests.
"Nobody [working at] the bar is running anything to the back anymore. It completely isolates that area and makes it self-sufficient," Bourg says.
Another change was the omission of the prototype's Slice Bar. This space was designed to make pizza more appealing as a lunchtime meal by offering individual slices. Culturally, though, it just wasn't a good regional fit, Bourg says.
"We saw [this approach] work really well in [pizza restaurants in] the Northeast. I think the South just wasn't really ready for it," says Bourg. "It's not completely off the table. If we ever went into a space and a downtown business district or something like that, we might reconsider it. But for where our locations are now, it just didn't really work."
Among Rotolos' future locations are a restaurant in Alexandria, La., thanks to a recently signed franchise deal, and multiple stores in the Houston area. In all, Rotolo's expects to open five new locations in 2020.
When these restaurants open, they'll offer guests not just craft beer and pizza but also a place where they can relax and feel comfortable enjoying food and drink with family and friends.
"We wanted a place where people would linger, and we wanted a higher check average," says Rotolo Sr. "We felt the only way to do that was to give them a real comfortable place, where they wouldn't feel rushed out, where you could go and have a beer with a friend and you could just sit, and after you finished your food, you could order an extra drink."
Project Team
Project lead:

Mitch Rotolo Sr.

Architect:

Domain Design Architecture

E&S Dealer:

Ducote's Restaurant &
Bar Equipment

Interior design:

Ali DeBosier, Domain Architecture

Kitchen design:

Mitch Rotolo Sr.
Snapshot
Headquarters:

Baton Rouge, La.

Concept owner:

Mitch Rotolo Sr.

Concept:

Full menu featuring sandwiches, appetizers, handmade pizza and craft beer on tap

Segment:

Full-service pizza

Unit count:

30

Average check:

$36.57

Location of new prototype:

411 Ben Hur Drive, Baton Rouge, La.

Opened:

October 2017

Size:

4,500 square feet

Design highlights:

Curved bar made of 500-year-old sunken cypress, indoor/outdoor patio-style space, booths for smaller parties and community tables

Build-out time:

Nine months
Floor Plan