A little bit of Britain has come to a corner of New York City. Last month, Queensyard opened at Hudson Yards, the brand-new luxury mall on Manhattan's west side. Owned by D&D London, a UK restaurant firm, it features the best of British without being overt about it.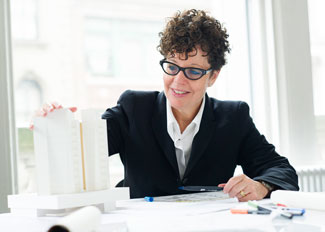 Nancy RuddyThe restaurant opened on the fourth floor of the mall on March 15. It was designed by Nancy J. Ruddy, Founding Principal of CetraRuddy, a global architecture and interior design firm based in New York, who also worked on the UK company's first stateside restaurant, Bluebird at the Time Warner Center in Manhattan.
Here, Ruddy talks about Queensyard.
What was your goal with the design of Queensyard?
NR: We wanted to bring a little bit of England to New York. We wanted to create something that felt clubby but very accessible and yet had the warmth of British hospitality and hints of England in an irreverent way. An important aim was to distinguish Queensyard from the other Hudson Yards restaurants by creating a more residential atmosphere. People are saying it feels completely different from the other restaurants in the mall, which makes us feel we have really accomplished something.
We've made it warm by using curved sofas instead of banquettes, with very lush seats you sink into. Sofas make it feel like home and for these, I was inspired by manor house sofas I'd seen in the Cotswolds. It's a contrast to many of the other restaurants in Hudson Yards, which are very slick.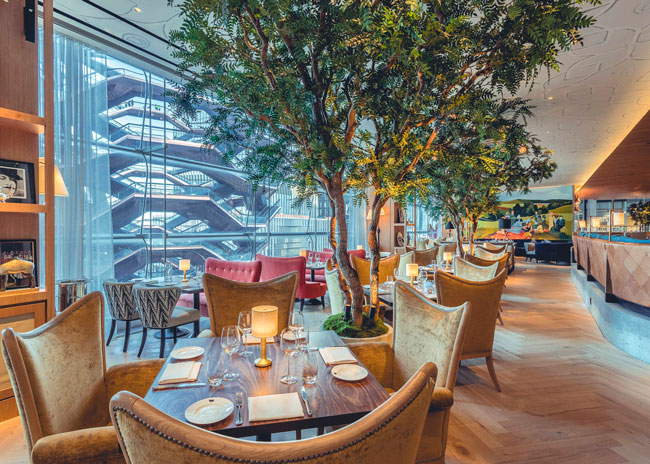 Image by Will Stanley courtesy of Queensyard
Creating a comfortable, homelike atmosphere was a fundamental consideration in the restaurant's concept and design. The genesis of the name itself alludes to D&D's British origin, where the term "yard" refers to small meeting places, and also refers back to the origin of this site, the rail yard. Our design reflects those influences — culture, site and history — blending the warm environment of an English country home with a modern aesthetic. The decor plays a big role here. For example, wood cupboards house vintage artwork, British copper pots, a bust of William Shakespeare, and an antique miniature model of a British Spitfire airplane.
How did you bring in England in an irreverent way?
NR: We've done it mostly through the artwork — I commissioned American artist, Sarah Moore, to paint two murals as an homage to British landscape painting — yet painted with a modern twist. In the murals, we have unexpected groupings of people. For example, Somerset Picnic depicts Queen Victoria in her eighties, picnicking with her entourage, with Persian rugs and furniture they'd taken outside to provide the comforts of the palace.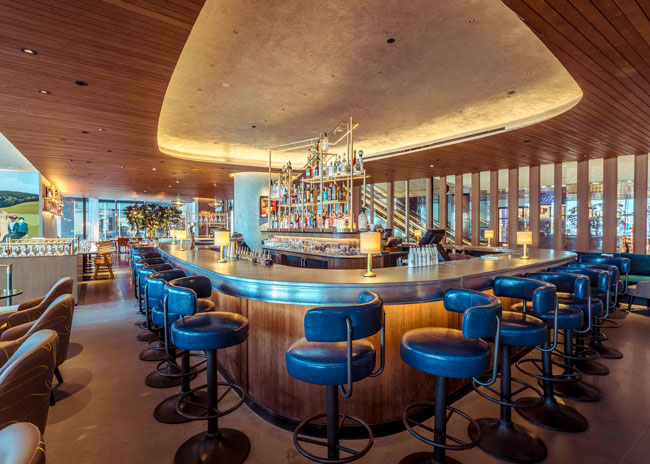 Did you use anything else?
NR: Yes, we wanted to create an interesting, visually rich environment that rewards close attention and encourages repeat visits. We incorporated lots of shelving with objects with a story. Some of things we added, you won't notice until the second or third time you're here.
For example, the shelves hold items as diverse as a vintage print of a 1681 London map, a reproduction print of Queen Elizabeth's Procession, and an illustration called "Statue of a Greyhound" by the British artist Luke Edward. We also have items like teapots, including a Turkish tin teapot that's really funky, and a picture of the Queen Mary battleship and some British caricature paintings. The British angle is clear. There's an Andy Warhol picture of Queen Elizabeth, a Basquiat print that's just a crown, a vintage photo of Freddie Mercury from Queen and photography of king and queen playing cards.
It was important to include these kinds of items, because they create an overall atmosphere that feels fun and engaging, but also avoids cliches like red telephone booths, the Union Jack, or taxi cabs.
That's part of making Queensyard a destination. For us, it's about creating memorable experiences through a design that responds to the energy and excitement of a setting like Hudson Yards.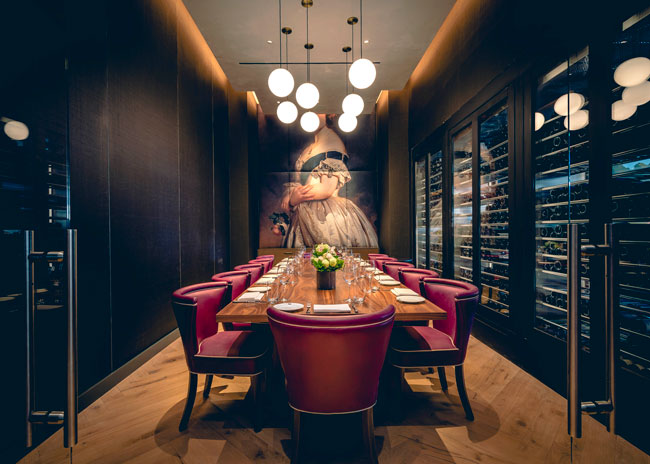 How does Queensyard's private dining room evoke England?
NR: The dining room is completely bespoke and defined by a floor-to-ceiling representation of a 19th-century painting depicting Queen Victoria. We've transferred the painting to a material with her head cut off. The combination of materials and tactile detailing creates a relaxed elegance with a hint of classic British flair.
Are there any other design elements that evoke Britain?
NR: In the bar and kitchen areas we used a wood ceiling that reminds us of low ceilings in pubs in England, so it has a really warm feeling about it. In the main dining area, we have a hand-painted ceiling that alludes to the plaster work seen in great 16th century British manor homes.