As an expert in restaurant design, Michael Poris, AIA, is principal of McIntosh Poris Associates, a Michigan-based firm that provides architecture, interior design and urban planning services across a variety of disciplines, including hospitality, retail, residential, multifamily, commercial, adaptive reuse and institutional.
Poris established the firm in 1994 with the late Douglas McIntosh, a childhood friend and fellow graduate of the University of Michigan's Taubman College of Architecture and Urban Planning. A seasoned hospitality designer, Poris takes an experience- and future-oriented view to his work. Here, Poris outlines some of his favorite restaurant design trends.
Photo Courtesy of Aly Sasson
Giving voice to the past. To create an aesthetically rich and distinctive environment for Prime + Proper, located on the ground floor of the 1912 Capitol Park Building, we wanted the interior spaces to reflect the site's history and pay homage to the past. Black-and-white decor is accented with bronze details and sophisticated finishes inspired by art deco designs of the early 20th century. The main level features a bar area with marble hexagon-patterned floor tiles and quartz countertops simulating onyx, while the dining room offers tufted banquettes, burnout velvet armchairs, brass tabletops, and custom-designed lighting to provide intimate spaces for conversation within an energetic, glamorous setting. We incorporated a custom-built wood-burning grill, glass-enclosed butcher counter, and dry-aging room with meat display cases to bring back classic steakhouse traditions, which are dining elements rarely seen nowadays. In addition, we restored the original, 100-year-old grand marble staircase, along with its bronze railing, to create a signature architectural element and further connect to the history of the place, building and location.
Images Courtesy of Aly Sasson
Creating flexibility for year-round dining. We custom-designed Townhouse's 1,800-square-foot indoor/outdoor glass-enclosed, greenhouse-like structure with operable roof and walls to provide year-round dining. Located on the ground level of One Detroit Center in Detroit's
Financial District, the restaurant affords a memorable dining experience on the plaza with spectacular views of the urban environment. The structure serves as the restaurant's centerpiece and features a pitched retractable glass roof to quickly open sideways from the top and stack over the ends, along with side walls that slide open and stack at the corners. Its flexibility gives patrons a sense of being immersed in the cityscape during days of rain, sunshine or snow.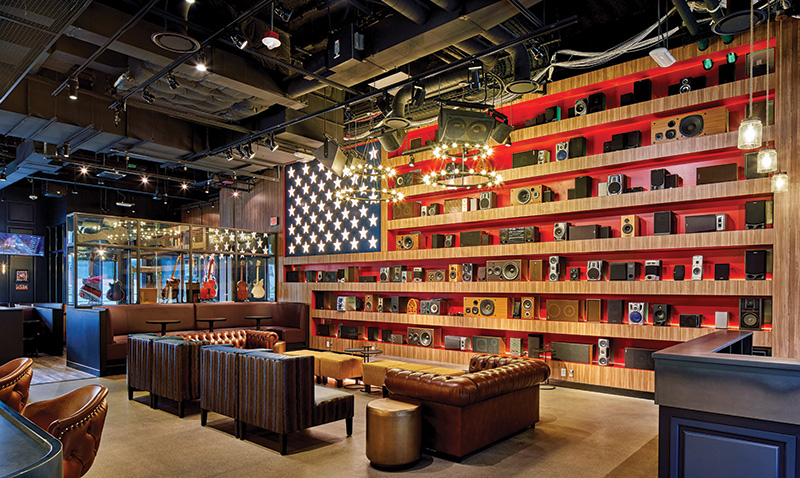 Images courtesy of Jason Keen
Designing for key social media moments. We collaborated with musician Kid Rock to design his restaurant Made in Detroit, located at Little Caesars Arena, to reflect his "creatively confused" musical identity, which includes urban, street and country influences. To create a space for social media moments, we decided to design a wall resembling the American flag with vintage speakers in a range of sizes and styles lining the red stripes next to illuminated stars. This patriotic symbol serves as the backdrop to a stage where he frequently performs and debuts up-and-coming musical talents. The "flag wall" has become one of the most photographed spots at the arena on Instagram and has garnered visibility for the design firm.
Photo courtesy of Jason Keen
Gourmet food halls for fast-casual choices. The design for District Market, also located at Little Caesars Arena, builds on Detroit's rich history of neighborhood markets by reinterpreting the concept into a sophisticated, contemporary food hall. We combined aspects of urban markets and food stalls into an upscale, gourmet destination with multiple choices for casual dining. The food stations provide a variety of dining options, from salads to hearty meals, while the bar offers cocktails for guests to stop by for a quick drink. We worked with New York-based Patricia Spencer Design to give each station its own graphic identity yet maintain a cohesive look throughout the interior. The quick-service stations and seating areas are finished in materials drawn from Detroit's industrial and Arts and Crafts heritage, including copper, concrete, tile and metal mesh, to further connect the market to the city.
Images courtesy of Michelle & Chris Gerard
Activating retail spaces with coffee bars. To emulate a rustic, modern-day western trading post, the design of Will Leather Goods positions it to be more than just a retail store. It becomes a place for social gathering and lingering. A coffee station/lounge seating area offers a variety of beverages, as well as desserts and simple bites, to entice customers to take a leisurely break or casually hang out. The L-shaped coffee bar features reclaimed materials from the old Engine 1 Detroit Fire Department to extend the shop's vintage vibe and connect to the city's past. The coffee station provides an eclectic display of merchandise, including coffee drips, cup sets, and an assortment of flavors by Eugene, Ore.-based Tailored Coffee Roasters.