Italienne, Chef Jared Sippel's new restaurant in Manhattan's Flatiron District, combines the best of Northern Italian and Southern French cuisines in a space that offers subtle nods to Provence and New York City.
The divide — two styles of cooking — carries over to the interior with two styles and two distinct spaces designed by Tree House Design LTD of New York. A classic New York art nouveau storefront with arched windows invites patrons into a 4,600-square-foot restaurant that is divided into two dining spaces: a cafe and bar gives way to a formal dining area via a blue-gray painted-wood-and-glass corridor that mimics the arched windows found outside.
The cafe and bar area seats 45 and is dominated by a 25-foot-long white Carrara marble-topped bar. A custom light fixture made of 15 pendants topped with four sizes of clear glass demijohn-style wine jars hangs over the bar.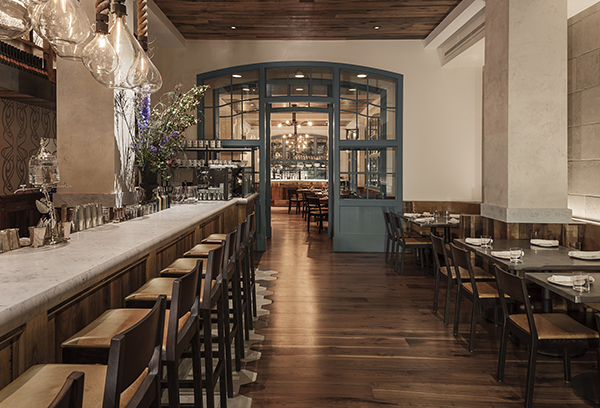 A back bar in the cafe is made of reclaimed white oak and distressed zinc. The back bar shelves, made of the same material, make use of the space's volume by reaching the top of the 13-foot space. They are papered inside with an art nouveau-style pattern.
Seating is a mix of two- and four-tops in addition to the bar itself. Two existing columns in the space were finished with hand-applied venetian plaster. The cafe area also features a 1927 pedestal-mounted red Berkel slicer displayed behind glass panels.
The formal dining room seats 64, and a series of arched painted wood frames with handmade antique mirror panels replicates the storefront windows on the top half of the wall. The frames are painted the same shade of blue-gray with lavender undertones as used in the corridor. A 16-foot salumi bar is located in the back of the dining room and a second, smaller vintage red Berkel slicer sits on it. Seating in the dining room features butcher block tables, dark walnut chairs and banquettes with saddle leather cushions.
Ceilings throughout are covered with reclaimed and distressed wide planks of white oak. Floors are a mix of hexagon tiles in high-traffic spaces and wide-plank walnut wood in the public spaces. Subtle pops of lavender in the paint and in vases evoke the famed fields of Provence.
Photos by Brian Emery