From the proprietor behind the successful Bar Marta in Chicago comes a new venture in the city's food-centric West Loop. Won Fun is the ground-floor modern Sichuan restaurant that seats 60 people, and 2Fun Chinese is the lively upstairs lounge that seats 140 customers and offers dim sum, snacks and a DJ booth, complete with karaoke on Tuesdays. The concepts reside in a 100-year-old warehouse once home to a deli and grocery company.
How would you describe the overall design concept for the upstairs and downstairs?
AB: The design really happened by piecemeal — I'm a cook by training, so when I was designing, I kept adding different elements, and the space evolved over the course of the construction process. It wasn't "OK, this is the design; now build it." The space we took over was this cool industrial warehouse with a long history in the area, so we wanted to keep some of the original elements, like the steel columns and timber ceilings as well as the glass box windows, which we used as the base for some painted gold dragons.
Austin Baker
The red-and-black color scheme and moody lighting in Won Fun is unique. What inspired it?
AB: I was going for a Chinese film noir look inspired by "Raise the Red Lantern," which is a great movie. That's where the idea for the 280 red silk lanterns that decorate the ceiling came from. They were handmade by a local artist. We also built the red leather booths with these black geometric dividers and lights that create a reddish glow over the tables. The centerpiece is a 60-foot dragon we brought back from China. And we kept the building's original brick walls, but they used to be covered in a heavy-duty diamond-plated steel that we removed and refurbished and used as the base of the bar to add some texture. We also kept the concrete floors but
refurbished them. It's like a Chinese movie in a warehouse. Upstairs, we kept the color scheme very similar.
Did other design elements come from your travels?
AB: I used to live in Asia and brought back these cool gold Tibetan doorknockers. I had them in my house for eight years, and now they're on the host stand. And we also used these awesome, hand-cast dragon door handles on the outside of the doors, which themselves are 100 years old. We found them in the walls inside the old space after doing some demo. It was an old door that was covered up. So we pulled them out and cleaned them up.
You have a great collection of plates and bowls for your different dishes. What was the thought process for the tabletop selections?
AB: We actually bought most of our dishware from Chinatown. Since there was already so much red in the space, we looked for classic blue-and-white-patterned china, which also matches the look of our menu.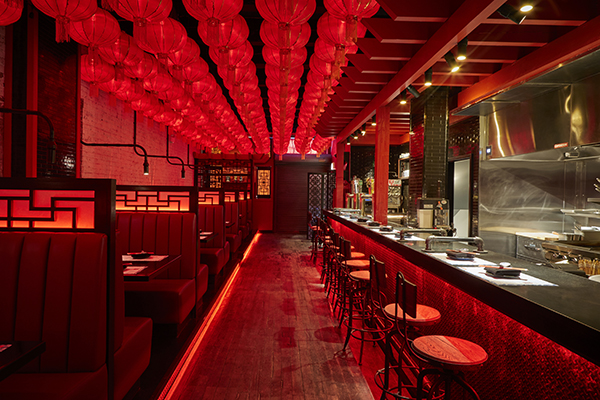 What makes Won Fun different from other Chinese restaurants here?
AB: We really embraced the complexity of the dishes from Sichuan and other regional Chinese cuisines and stayed true to the flavors, but we use a lot less chili and definitely less oil so everything is easier to eat.
Speaking of the menu, what are some standouts?
AB: We serve a Peking duck dinner that's meant to be shared and served with steamed buns and duck fried rice. Our dandan noodles are based on an extremely classic dish and one of the original street foods in the Chengdu capital of Sichuan. They're sold by a guy who carries a pole with noodles on it, and when he would hit the pole, that was the dandan sound. We've definitely incorporated that idea of mala with prickly ash peppercorns and chili oil, but we balance it out with noodles we make in-house, which is a labor of love because we couldn't buy the same noodle here. Another super classic Sichuan dish on the menu is the pork wontons, or dumplings, with just a few ingredients — pork, scallions and a little ginger, because it's all about the sweetness of the pork and you don't want to overpower that. We dress it with a little sauce of chili oil and aromatic soy sauce brewed with seven different spices like Chinese cinnamon, black cardamom and star anise.
Photos courtesy of Neil Burger Photography