Page 5 of 5
Quality and Durability Stands the Test of Time
Ken Lavery, Special-Lite's marketing and communications manager explains the importance of durable doors
Q: Why should a restaurant choose products that offer durability?
Ken Lavery: With the high-cycle, high-abuse environment of a busy restaurant, the last thing you want to worry about are products such as your doors and frames failing or looking worn, rusty and damaged. Not only does it take your time away from other important aspects of your business to fix these problems, but it also reflects poorly on your brand image. You want a durable product you can install and forget about. By choosing a high-quality resilient door and frame you'll not only experience long product life and trouble-free maintenance for your operations team, but your brand image will be supported and protected.
Q: What elements should operators focus on?
KL: Operators should focus on products that are designed and built using resilient materials such as FRP (Fiberglass Reinforced Polyester) and aluminum. These materials will never rust, rot or corrode. FRP face sheets are also impact-, scratch-, and stain-resistant, are easy to clean, and will look great for decades. Operators should also look for products that have been thoroughly tested as well as a company you can trust with the knowledge and experience that comes from many years dedicated to the engineering and manufacturing of high-quality, dependable products.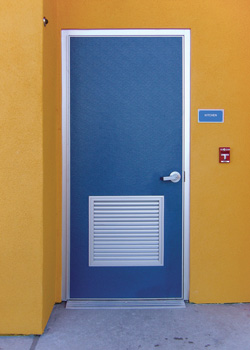 A high-quality durable door and frame, like the SL-17 FRP pictured above, from Special-Lite helps reinforce branding even on the back of house.Q: What about aesthetics?
KL: Even though a product is built for durability and long life that doesn't mean it can't look great, too. We offer a variety of door types and styles to suit any architectural motif. For heavy traffic locations, Special-Lite offers Medium Stile and Wide Stile Monumental Doors. For a more contemporary look, the Aluminum Flush Door can be anodized or painted and outfitted with custom lites to match your restaurant's décor. Special-Lite Wood Grain Doors are perfect for locations with more traditional architecture. They combine the appearance of wood with the performance of a heavy-duty commercial door. Special-Lite's wide range of door and frame types and styles can match any restaurant décor and help support its branding. And since every entrance system is made to order, there's never a problem with odd-sized or oversized doors, custom lites or unique hardware.
Q: How important is the back of the house?
KL: With restaurants incorporating open kitchen design, it's more important than ever that the doors at the back of house represent your brand image. A door or frame showing rust and corrosion does not communicate cleanliness. Special-Lite FRP Flush Doors can stand up to the toughest use from crew members or delivery drivers. What's more, they'll never rust, are easy to clean, require very little maintenance and will look great for decades.