Page 2 of 5
Altro Revitalizes Resort's Historic Kitchen
Installation of Altro Stronghold 30 flooring with Altro Puraguard wall protection creates resiliency inside commercial kitchens.A hotel's success is contingent on the entire guest experience being as close to perfect as possible, combining the comforts of home with luxury and breathtaking aesthetics as well as durable components that can stand the test of time and heavy usage.
A success story of this amalgamation is The Miraval Berkshires Resort & Spa in Lenox, Mass. A deluxe relative of the Hyatt brand, this hilltop Tudor-style mansion and its surrounding woodland was transformed into a tranquil retreat that embodies the parent company's "life in balance" philosophy.
Converting this historic 380-acre campus into a premier New England getaway presented its fair share of challenges — particularly the task of updating the mansion's outdated kitchen.
Years of exposure to heavy traffic and inconsistent maintenance had left preexisting quarry tiles damaged and worn down. For the mansion to complete its transition, the kitchen required a flooring solution that prioritized both durability and the safety of its staff simultaneously.
"They were looking for something with longevity and also easy cleaning," says Scott Dillon, owner of Nashville's
Beacon Parts and Construction. "I knew from past experience that, with Altro's product, the Miraval would get better quality."
A collaboration between multiple Altro representatives and consultants ultimately led to the Miraval choosing Altro Stronghold 30 as well as Altro Puraguard wall cladding for its kitchen renovations.
Altro Stronghold 30 is frequently specified with Altro Puraguard wall protection to create a durable environment for commercial and industrial kitchens.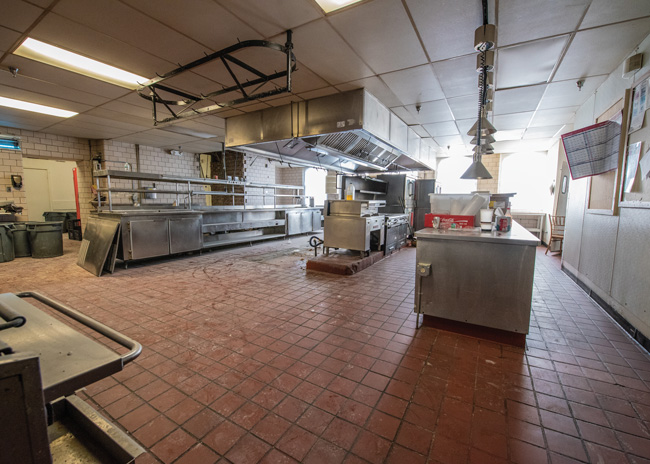 Before: The Miraval Berkshires old kitchen floor was damaged and worn down from heavy usage.Designed to minimize the risk of injuries and accidents in areas associated with wet and greasy conditions, this resilient safety flooring offers Altro's highest available slip resistance rating. Altro Stronghold 30 also contributes to reduced fatigue with its 3mm thickness, providing ample comfort underfoot. Altro Puraguard is resilient and can prevent damage to the wall from moving carts, bumps and dings. Its homogeneous throughout coloring camouflages scuffs so kitchens look newer longer. In addition to its impressive durability and slip-resistant properties, Altro Stronghold 30 promotes a hygienic kitchen environment. Porous grout and cracked tiles can harbor bacteria and other common contaminants that evade routine maintenance, compromising the health of both guests and staff alike. Altro Stronghold 30's heat-welded seams create an impermeable seal that prevents moisture and bacteria from accumulating below the surface, making it ideal for commercial kitchen and food prep areas where cleanliness is a top priority.
According to Dillon, cleaning is simple, with a chemical spray followed by a water spray and squeegee to drain.
Dillon added that Altro's flooring takes just four days to install versus two weeks for other tiling.
"The service life is a good 20 years, and repairs can be accomplished quicker compared to other flooring," Dillon says. "The folks at Miraval were on board right away with these products."
With the help of Altro safety flooring and wall protection, the Miraval Berkshires turned what was once a dilapidated space into a state-of-the-art kitchen ready to serve its guests the finest culinary creations.