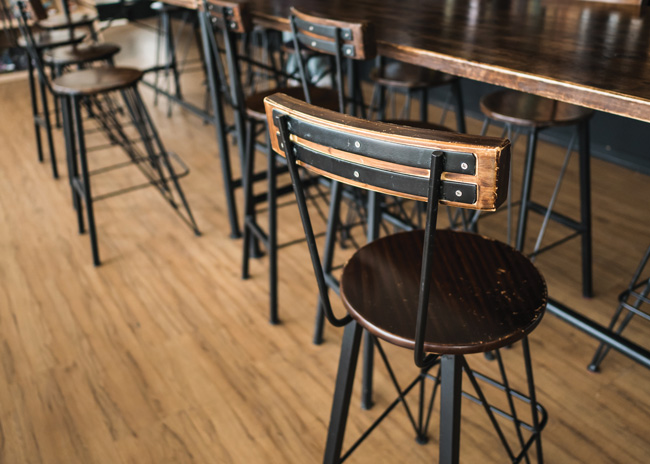 With restaurant design, much attention is given to aesthetics and layout, but what's just as vital to the overall appearance that can be overlooked is the durability of materials and components. This factor is especially important in high-volume and family-oriented foodservice operations.
There are a number of areas in which durability plays an important role.
Flooring is an element that everyone has contact with. Not only does this element have major implications for aesthetics, acoustics and safety, but material must perform in high-traffic areas. Flooring and tile have come a long way in recent years. Vinyls with a wood appearance and porcelain tiles hold up well in foodservice environments and are affordable. With today's flooring, restaurants don't have to compromise between quality, durability and appearance. Themes and designs can be accommodated without sacrificing appearance over the long term.
Commercial-grade, wipeable wallcoverings are a great alternative to higher end wallpaper that may not stand up to high-traffic areas. This element is best used on higher accent walls or upper wall portions.
Durability is paramount with tables and chairs, and commercial lines feature materials and designs that can withstand heavy use. This is because both will be moved around extensively, need to accommodate large numbers of patrons that may be hard on the furniture and stand up to children who make messes. Laminate, granite or wood tabletops are sturdy for years of use, and fully welded tables and chairs will wear the best.
Altro Revitalizes Resort's Historic Kitchen
Installation of Altro Stronghold 30 flooring with Altro Puraguard wall protection creates resiliency inside commercial kitchens.A hotel's success is contingent on the entire guest experience being as close to perfect as possible, combining the comforts of home with luxury and breathtaking aesthetics as well as durable components that can stand the test of time and heavy usage.
A success story of this amalgamation is The Miraval Berkshires Resort & Spa in Lenox, Mass. A deluxe relative of the Hyatt brand, this hilltop Tudor-style mansion and its surrounding woodland was transformed into a tranquil retreat that embodies the parent company's "life in balance" philosophy.
Converting this historic 380-acre campus into a premier New England getaway presented its fair share of challenges — particularly the task of updating the mansion's outdated kitchen.
Years of exposure to heavy traffic and inconsistent maintenance had left preexisting quarry tiles damaged and worn down. For the mansion to complete its transition, the kitchen required a flooring solution that prioritized both durability and the safety of its staff simultaneously.
"They were looking for something with longevity and also easy cleaning," says Scott Dillon, owner of Nashville's
Beacon Parts and Construction. "I knew from past experience that, with Altro's product, the Miraval would get better quality."
A collaboration between multiple Altro representatives and consultants ultimately led to the Miraval choosing Altro Stronghold 30 as well as Altro Puraguard wall cladding for its kitchen renovations.
Altro Stronghold 30 is frequently specified with Altro Puraguard wall protection to create a durable environment for commercial and industrial kitchens.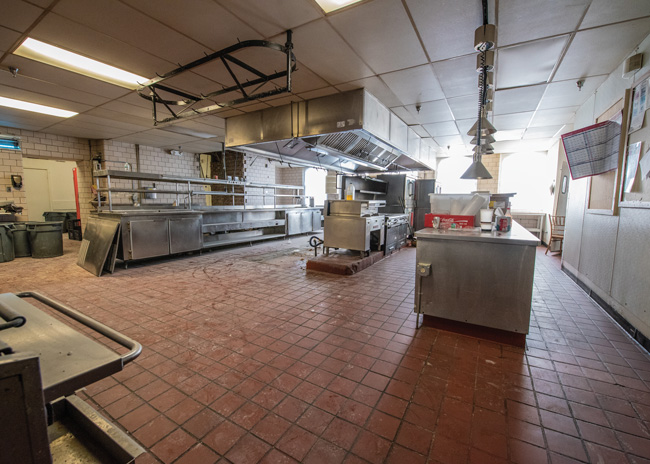 Before: The Miraval Berkshires old kitchen floor was damaged and worn down from heavy usage.Designed to minimize the risk of injuries and accidents in areas associated with wet and greasy conditions, this resilient safety flooring offers Altro's highest available slip resistance rating. Altro Stronghold 30 also contributes to reduced fatigue with its 3mm thickness, providing ample comfort underfoot. Altro Puraguard is resilient and can prevent damage to the wall from moving carts, bumps and dings. Its homogeneous throughout coloring camouflages scuffs so kitchens look newer longer. In addition to its impressive durability and slip-resistant properties, Altro Stronghold 30 promotes a hygienic kitchen environment. Porous grout and cracked tiles can harbor bacteria and other common contaminants that evade routine maintenance, compromising the health of both guests and staff alike. Altro Stronghold 30's heat-welded seams create an impermeable seal that prevents moisture and bacteria from accumulating below the surface, making it ideal for commercial kitchen and food prep areas where cleanliness is a top priority.
According to Dillon, cleaning is simple, with a chemical spray followed by a water spray and squeegee to drain.
Dillon added that Altro's flooring takes just four days to install versus two weeks for other tiling.
"The service life is a good 20 years, and repairs can be accomplished quicker compared to other flooring," Dillon says. "The folks at Miraval were on board right away with these products."
With the help of Altro safety flooring and wall protection, the Miraval Berkshires turned what was once a dilapidated space into a state-of-the-art kitchen ready to serve its guests the finest culinary creations.
Brains, Beauty and Brawn
Key Accounts Business Manager, Anthony Pilla, discusses the durability of Marra Forni ovens
Q: What challenges do fast-casual pizza chains face?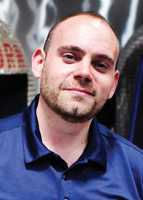 Anthony Pilla: To me, it's about creativity. When it comes to providing food options your patrons are going to keep coming back for, versatility makes or breaks a business as does consistency. You need an oven that can be used for pizza as well as other items that are baked, slow roasted, braised, seared and fire roasted. That's where our Rotator oven comes in. It's ideal not only for fast casual pizzerias, but, also for colleges, hotels/resorts and hospitals. Due to the oven's simple touchscreen operation, anyone can jump on the line, and the results will be the same every time. And the Rotator oven can cook pizza in 90 seconds with one rotation, which is unheard of in our industry.
Q: Talk about the importance of durability in foodservice.
AP: Durability is crucial, as equipment gets beat up day in and day out. Our Rotator ovens are manufactured in house, and our burner and motor are American made for the utmost in durability. We use 3000-degree installation with proprietary Italian refractory bricks that are lighter, yet more durable to heat. These offer superior heat retention and absorption. The Rotator's motor only uses 10 percent of its full capacity, which means it can take the necessary pressure of even the busiest commercial kitchen. It utilizes a combination of gas and air, 60 percent and 40 percent respectively, burning only 84,000 BTUs versus the typical 160,000 BTUs or more with traditional ovens.
Q: What other attributes lend to the Rotator oven's longevity?
AP: Our oven has low gas consumption and is eco-friendly. The Rotator's 3000-degree installation traps heat in the oven, which not only saves energy, but also provides longevity. Our bricks are high porosity, which means heat goes in and out fast. Our unique full brick floor recoups floor heat faster, and the bricks are resistant to cracking. The Rotator offers a gas burning or combination of gas and wood burning operation.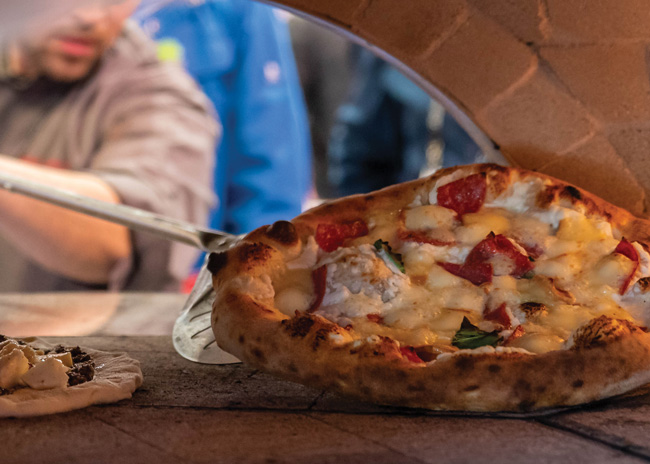 Q: How does the oven's operation enhance its durability?
AP: It features a redundant back up system, which is three-part and failsafe.
The Rotator's plug and play ventilation system is customized to your architect's or engineer's specifications before it ships. And the system has all the necessary UL listings, which make it possible to vent at high temperatures.
Q: What is the service life of these ovens?
AP: They've been around for 10 years and are still operating. Cleaning and maintenance are easy, with sweeping and cleaning under the deck as needed and a burner cleanout once every eight months.
Q: Why is labor savings, like durability, so important?
AP: You don't have to be highly trained to use the Rotator oven as is the case with a traditional wood-burning oven. It has an automatic timer, which is a huge benefit, as the oven can be set to turn on at a certain time without a staff member present. This is a huge return on investment.
Custom-Crafted & Durable Seating Solutions
Legends build legacies. And the legendary longevity of MTS products built a legacy of satisfaction on the strength of superior comfort and supreme durability. MTS has perfected restaurant relaxation over the course of more than six decades by meticulously analyzing, calculating, and crafting seating that catches the eye, captures the imagination, and aces the test of time.
Combining MTS Seating furniture provides an eclectic look in your restaurant with a comfort level that will keep the consumer happy.
Our Back of The House Is Ahead of The Curve
To continually raise the quality of restaurant seating to new heights, MTS deploys the full capabilities of in-house design and engineering departments. Here, methods can be tested, conventions can be challenged, and collaboration can be unlocked. Through this unique faculty, MTS is able to seamlessly prototype and produce en route to bringing innovation to market. Our custom-crafted chairs and barstools offer superior structural integrity, backed by timeless quality, ageless aesthetic, and the all-under-one-roof efficiency of MTS has borne awe-inspiring invention.
Comfort + Food
There's no better pair than MTS and restaurant seating — because nothing pairs better with a meal than enjoying it in the complete comfort that only MTS can provide. Restaurants rely as much on an inviting atmosphere as they do a delectable menu, and in spots where comfort is a premium ingredient, we offer a full course of options capable of creating a lasting impression. Through constantly bringing new products to market, our broad offering spans the spectrum of classic steakhouse Americana to rugged and rustic to contemporary cocktail.
If what's in your imagination isn't already in our catalogue, MTS will custom-craft a solution for your specific space without compromising on craftsmanship. Because MTS leaves no room to doubt.
Barstools from MTS Seating like the 806-30-UPS offers standard powdercoat colors, premium metal base glides and high strength steel frame for supreme durability.
Sustainability Sets the Table
MTS employs a more mindful manufacturing processes to allow our footprint to sustain your foot traffic – for grand openings and generations to come. In 2004, we instituted a company-wide sustainability program which revolutionized our partnership with our planet and reenergized the way we do business. We call it SynerGreen®, and it has led us to a number of groundbreaking milestones in sustainability. Like in 2008, when we became the first and only metal-framed hospitality seating manufacturer at the time to earn the GREENGUARD Indoor Air Quality Certification on our entire line of seating. We followed that up in 2014 by partnering with MindClick to further solidify our status as the sustainability leader in metal-framed hospitality seating. The numbers back up our mission; we've achieved nearly double-digit reductions in year-over-year water and electricity usages since 2017.
Having a positive impact on our planet and our customers is an essential vision shared by all MTS employees and encompasses every aspect of our business. Our partnership with Mother Earth is not just a fad; it's a commitment to our customers, to our environment, and to our future. As we continue to pursue greater greener practices, we will continue to prove that sustainability doesn't take sacrifice — of quality, craft, or heritage.
Quality and Durability Stands the Test of Time
Ken Lavery, Special-Lite's marketing and communications manager explains the importance of durable doors
Q: Why should a restaurant choose products that offer durability?
Ken Lavery: With the high-cycle, high-abuse environment of a busy restaurant, the last thing you want to worry about are products such as your doors and frames failing or looking worn, rusty and damaged. Not only does it take your time away from other important aspects of your business to fix these problems, but it also reflects poorly on your brand image. You want a durable product you can install and forget about. By choosing a high-quality resilient door and frame you'll not only experience long product life and trouble-free maintenance for your operations team, but your brand image will be supported and protected.
Q: What elements should operators focus on?
KL: Operators should focus on products that are designed and built using resilient materials such as FRP (Fiberglass Reinforced Polyester) and aluminum. These materials will never rust, rot or corrode. FRP face sheets are also impact-, scratch-, and stain-resistant, are easy to clean, and will look great for decades. Operators should also look for products that have been thoroughly tested as well as a company you can trust with the knowledge and experience that comes from many years dedicated to the engineering and manufacturing of high-quality, dependable products.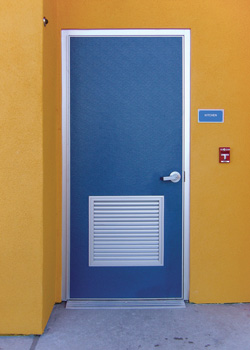 A high-quality durable door and frame, like the SL-17 FRP pictured above, from Special-Lite helps reinforce branding even on the back of house.Q: What about aesthetics?
KL: Even though a product is built for durability and long life that doesn't mean it can't look great, too. We offer a variety of door types and styles to suit any architectural motif. For heavy traffic locations, Special-Lite offers Medium Stile and Wide Stile Monumental Doors. For a more contemporary look, the Aluminum Flush Door can be anodized or painted and outfitted with custom lites to match your restaurant's décor. Special-Lite Wood Grain Doors are perfect for locations with more traditional architecture. They combine the appearance of wood with the performance of a heavy-duty commercial door. Special-Lite's wide range of door and frame types and styles can match any restaurant décor and help support its branding. And since every entrance system is made to order, there's never a problem with odd-sized or oversized doors, custom lites or unique hardware.
Q: How important is the back of the house?
KL: With restaurants incorporating open kitchen design, it's more important than ever that the doors at the back of house represent your brand image. A door or frame showing rust and corrosion does not communicate cleanliness. Special-Lite FRP Flush Doors can stand up to the toughest use from crew members or delivery drivers. What's more, they'll never rust, are easy to clean, require very little maintenance and will look great for decades.