A Q&A with Scott Crandall, VP of National Accounts for Crossville, Inc.
Q: What differentiates your company from other tile manufacturers in the marketplace?
Scott Crandall: The tile m arket has grown with more manufacturers bringing production to U.S. soil. Crossville stands out for several reasons. Over 33 years ago, we launched the large-format porcelain tile market in the U.S. – and we've kept pace with great products ever since. We're U.S.-operated and owned by privately-held Curran Group. This gives us unparalleled proximity to our market and phenomenal resources to be innovative even beyond product design; we lead in technology, sustainability initiatives, and fulfillment solutions.
Additionally, we've always focused on the commercial design market, meaning we have over 33 years of experience in the restaurant segment. We understand the various dynamics of design – rebranding, franchisee relationships, supply chain, maintenance, and cost control. Crossville is a trusted name in the A&D community.
To achieve the ideal aesthetic and performance for a modern-concept restaurant and convenience store, the project design team assembled a unique mix of Crossville's surfacing solutions, including Astral Plane and Altered State.
Q: How does Crossville offer designers of restaurant concepts unique solutions?
SC: We can quickly produce custom products that best meet the brand's needs – from design aesthetics to performance requirements such as slip resistance. In addition to our tile portfolio, we offer a Porcelain Panel program and our new Crossville Porcelain Countertop program. With these innovative offerings, we offer a broader scope of products and applications to answer a wide range of surfacing solutions.

Q: How do you approach the larger scale requirements of a restaurant chain re-design or a new concept design?
SC: As a domestic manufacturer, our product availability and service are second to none. Direct communication enables streamlined rollouts. Flexible procurement options offer a nationwide network of geographically-placed distributors or a factory-direct option. We provide the best service in the industry, period.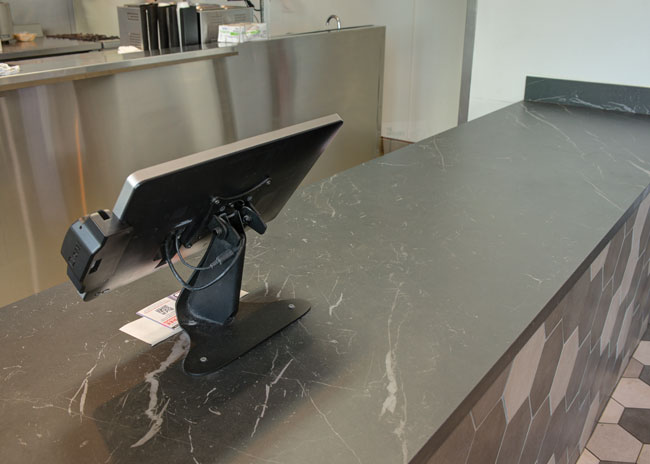 Crossville Porcelain Countertops are the new surfacing solution restaurant operators have longed for. These 12mm-thick, commercial-grade porcelain counters are extremely durable and won't stain, fade, or yellow—even in exterior installations.
Q: When specifying tile for a new restaurant, what are the most important considerations to address?
SC: Design is always at the top of the list. However, performance (slip resistance and cleanability) coupled with availability and supply chain management is very important. A great design means nothing if you can't get it to the job site when the customer needs it.