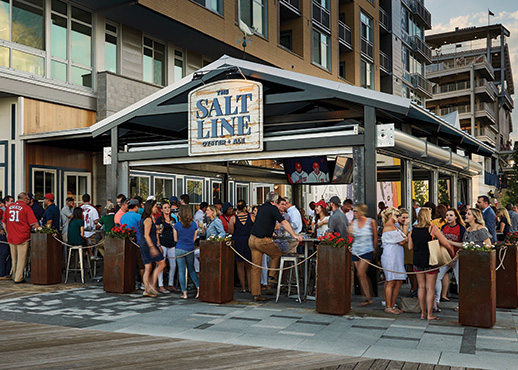 Al fresco dining is important to Paul Holder. As co-owner of The Salt Line in Washington, D.C., it's a major part of his business.
Paul Holder: We are a New England-inspired oyster house located on D.C.'s Capitol Riverfront, opposite Nationals Park. Our outdoor bar and dining area are covered to protect diners from the passing showers. The riverfront and shade mean it's generally 10 degrees cooler on hot summer days. We offer a blend of outdoor seating — lounge, hi-top and standard tables.
How much of your business is driven by sports events?
PH: The Nationals drive a lot of business during the summertime , but good weather is just as important. As long as the weather is good, we can be just as busy — if not busier — on days when there are no sporting events.
What's more important to you when selecting outdoor furniture: style or durability?
PH: While style is certainly a strong consideration, it doesn't matter how cool a piece of furniture is if doesn't hold up to regular usage. Each seat equates to dollars, and if we're missing a few chairs because of damage that means we can't serve as many guests. We're in the restaurant business, not the furniture repair business. We want products that will hold up and not require an inordinate amount of maintenance and upkeep that would distract us from other more important matters.
The stories on the next few pages will give you some tips for finding the right outdoor furniture for your operation.
Outdoor Dining All Year Round with Cabreeze™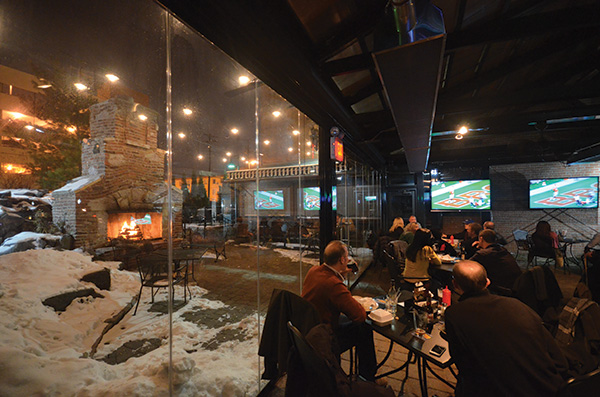 Even in harsh weather, McGovern's patrons dine in comfort, thanks to the Cabreeze retractable roof and opening wall system.When you think of outdoor dining in the winter, you think of a sunny locale like Miami or Honolulu. You certainly wouldn't think of St. Paul, Minn. But at Patrick McGovern's Pub in St. Paul, customers enjoy dining on the patio all year round…with a little help from Cabrio Structures' Cabreeze™.
Patrick McGovern's is a 700-seat casual restaurant specializing in American food. After a local smoking ban in 2003, owner Pat Boemer installed a patio for summer dining. "I thought, this is great but I only get three months out of it," Boemer says.
After doing a lot of research, Boemer installed a Cabreeze retractable roof and wall systems on his 80-seat patio. Now, he says, "I can seat more people anytime. If you're coming to McGovern's on a summer night, you don't have to worry about the rain or wind." But his patio is also packed with customers in fall and winter. "Even in winter, the first place that fills up is the patio because I keep it heated."
McGovern's summer business is up 20 percent. And, surprisingly, fall and winter are now Boemer's busiest months thanks to the extra business the patio brings in. And, he adds, with the extra business, the roof paid for itself in just 18 months.
Boemer says customers love the Cabreeze retractable roof over the patio. "I get so many compliments. It was very successful from the get-go." His advice to other restaurateurs? "If you're serious about your business, you'd be crazy not to get one."
Stylish, Durable Outdoor Furniture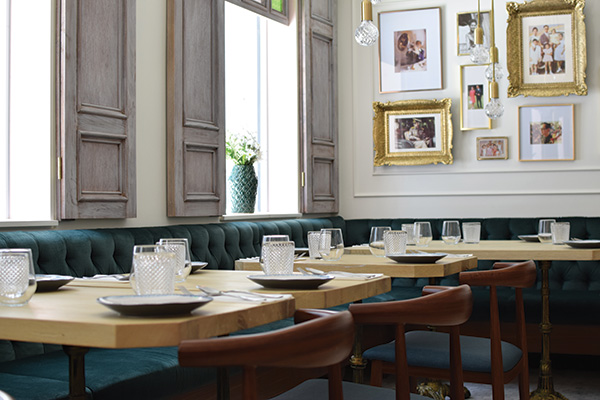 Fermob's Cotton White Bistro chairs and tables at Pilot in Brooklyn.Restaurant furniture, by its very nature, has to be durable. But for Alex Pincus, CEO of the Summer Ops hospitality operations group, durability is especially important. The group operates four restaurants, of which the newest two have outdoor dining: Pilot, on a boat in Brooklyn, and Island Oyster, on a 30,000-square-foot site overlooking New York City.
The furniture at Pilot and Island Oyster has to withstand tough weather conditions, but it also must fit the design aesthetic of the restaurant. "Our restaurants are design-centric, so it's important for us to have pieces that fit with the character of what we're trying to convey," Pincus says. The restaurants are "dealing with the elements on a vigorous level every day," he says. "It's really hard to find things that will withstand the elements and, at the same time, look and feel good."
That's why Pincus selected Fermob's Cotton White Bistro chairs and tables. They not only fit the design concept of his upscale casual outdoor restaurants, but they really stand up to the weather. The Bistro chairs are made of lacquered steel and fold easily for storage. The steel tables come in a variety of sizes and shapes that fit every operation. Pincus says that the Fermob Cotton White Bistro furniture "works really well. It's been extremely resilient."
Now that he's used Fermob furniture, would he consider any competitive products? "I haven't seen anything that I would consider competition," he says. "It was an 'all or nothing' kind of purchase for us once we discovered Fermob. It's been great."
Sophisticated Outdoor Dining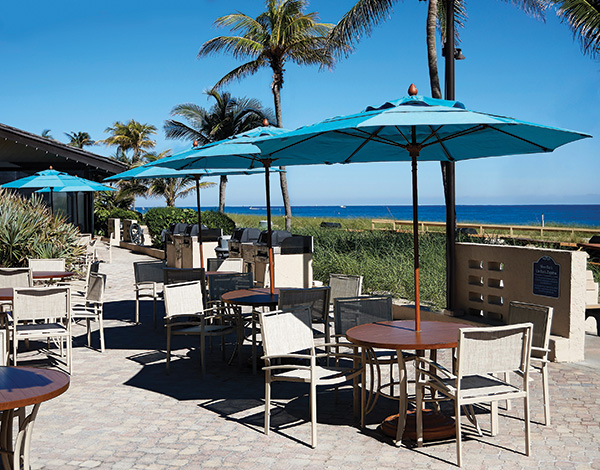 The sturdy FiberBuilt Bridgewater umbrella provides years of durable service and comes in a wide array of fabric and FiberTeak™ simulated wood finishes.Everyone likes to eat outdoors, but few of us enjoy dining while exposed to the sun's strong rays and unrelenting heat. Fortunately, FiberBuilt produces a wide range of shade products to make every outdoor dining experience comfortable.
FiberBuilt's umbrellas are constructed with flexible fiberglass ribs, rust-resistant hardware, and heavy gauge aluminum poles that withstand sun, rain, salt air and high winds — in fact, the fiberglass ribs last years longer than steel or wood ribbed umbrellas. The commercial grade construction (including powder coated aluminum poles and patented simulated wood FiberTeak™ poles, each with multiple finish options and marine grade acrylic fabrics) is enhanced by stylish canopies. The canopies can be customized with logos, multiple fabrics and decorative banding to complement every type of outdoor furniture and location. Accompanied by in-table and freestanding bases, these umbrellas meet the needs of restaurateurs from ice cream parlors to upscale bistros who expect smart design and lasting quality in the decor that greets their customers. And if cantilevered umbrellas are preferred, FiberBuilt offers several large-scale, contemporary models.
Florida-based FiberBuilt Umbrellas & Cushions understands the importance of providing a comfortable dining experience. That's why, in addition to the umbrellas manufactured at their Ft. Lauderdale headquarters, they produce a full line of seat cushions and pillows to coordinate with the outdoor decor.
With so many canopy styles, pole sizes, finishes, bases and fabrics to choose from, there's an attractive, durable FiberBuilt umbrella to fit every budget.