Page 4 of 4
Sophisticated Outdoor Dining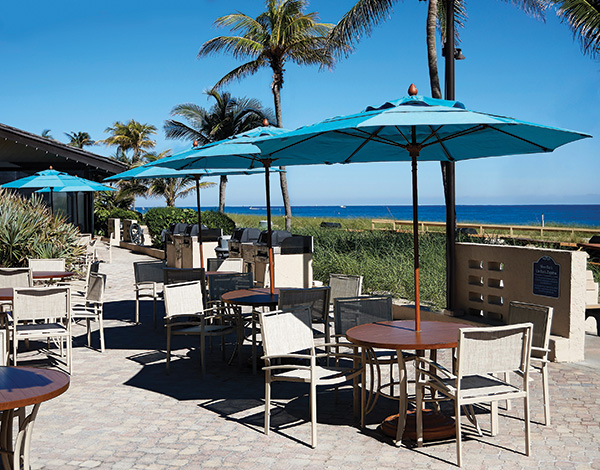 The sturdy FiberBuilt Bridgewater umbrella provides years of durable service and comes in a wide array of fabric and FiberTeak™ simulated wood finishes.Everyone likes to eat outdoors, but few of us enjoy dining while exposed to the sun's strong rays and unrelenting heat. Fortunately, FiberBuilt produces a wide range of shade products to make every outdoor dining experience comfortable.
FiberBuilt's umbrellas are constructed with flexible fiberglass ribs, rust-resistant hardware, and heavy gauge aluminum poles that withstand sun, rain, salt air and high winds — in fact, the fiberglass ribs last years longer than steel or wood ribbed umbrellas. The commercial grade construction (including powder coated aluminum poles and patented simulated wood FiberTeak™ poles, each with multiple finish options and marine grade acrylic fabrics) is enhanced by stylish canopies. The canopies can be customized with logos, multiple fabrics and decorative banding to complement every type of outdoor furniture and location. Accompanied by in-table and freestanding bases, these umbrellas meet the needs of restaurateurs from ice cream parlors to upscale bistros who expect smart design and lasting quality in the decor that greets their customers. And if cantilevered umbrellas are preferred, FiberBuilt offers several large-scale, contemporary models.
Florida-based FiberBuilt Umbrellas & Cushions understands the importance of providing a comfortable dining experience. That's why, in addition to the umbrellas manufactured at their Ft. Lauderdale headquarters, they produce a full line of seat cushions and pillows to coordinate with the outdoor decor.
With so many canopy styles, pole sizes, finishes, bases and fabrics to choose from, there's an attractive, durable FiberBuilt umbrella to fit every budget.