Innovative restaurant operators continue to collaborate with creative designers to develop restaurants out of shipping containers. The results are smaller, focused concepts that often can go where other brick and mortar locations can't.
Kirk Lance, owner of quick-service Mexican restaurant Aprisa in Portland, Ore., has a grand vision to roll out his concept across the country. Lance's idea centers on using shipping containers to construct modular restaurants complete with all the equipment. He would ship the structures to the parking lots of big box stores or to small, underused or vacant lots along high-traffic routes. After connecting to utility lines, the shipping container restaurants could be open for business two days later. Lance is among the first wave of restaurant owners turning to shipping container construction.
In an era of robust global trade, shipping containers are ubiquitous. According to various estimates, some 17 million of them carry merchandise around the world on ships, trains and trucks every year. In the U.S., after their contents are removed, many of these steel boxes lie empty close to their final destination because we import far more goods than we export. Many of these empties are stacked up and left to deteriorate.
Some designers see these steel structures as readily available building materials rather than waste and use them in residential and commercial applications including restaurants. Shipping containers offer several advantages as building blocks for restaurants, including offering an accelerated construction schedule using modular construction methods as well as the ability to pick up and move if a site doesn't work out. In addition, reusing waste material boosts green credibility. On the minus side, shipping container construction poses potential difficulty in obtaining permits, limitations on design options and potentially overestimated cost savings.
Restaurant operators can choose to assemble shipping containers in many configurations, ranging from single units or by combining them like Lego blocks. Designers can finish the interiors and exteriors of these units with many types of materials: wood, metal, stucco, cement board — you name it. Whether these steel boxes are suitable for a particular restaurant application depends on many factors including location, strategic vision and marketing concept. Large chains including Starbucks and Taco Bell have tinkered with container-built structures over the past few years, and it appears the use of these readily available materials may be more than a fad.
Cost
At first take, reusing something that nobody wants should make for significant savings on construction. While the cost of the boxes themselves, which are typically $3,000 or less, may be fairly cheap, that doesn't translate into great savings on the overall project. "The reason people start thinking about it is that it seems easy and inexpensive," Lance says. "Both of those ideas are incorrect." Often, container-built buildings turn out to be about the same cost as those constructed by traditional methods, he says.
Converting containers into usable buildings requires cutting openings for windows, doors and utility lines. These structures often require the installation of insulation and finishes for the interior as well as the exterior. Operators that want to stack these units will have to add structural supports. While similar to traditional construction, most of the techniques to do this work require tradespeople experienced in container conversions because the tight quarters of the structures don't leave much room for error. "Don't think that you can just go to some guy with a blowtorch and be able to fulfill your vision," says David Campbell, CEO, Boxman Studios, a design/build firm specializing in the use of shipping containers in construction, based in Charlotte, N.C.

Bin 702 is a Las Vegas-based restaurant that also serves liquor. It resides in a shipping container park, which includes buildings featuring similar construction. Photos courtesy of AJ Barker.
"If you are putting one container next to another and it is placed one inch off, how do you fix it?" asks John Simeonidis Jr., co-founder and chief brand officer of Bareburger. "If the contractor has seen that before, it is an easy fix." While not rocket science, container construction comes with a learning curve, he emphasizes. "You don't want people learning how to build with containers on your dime," Simeonidis says. An experienced container contractor can do the job faster and likely cheaper than a newbie.
Designing a space using containers comes with limitations — you can only work within the dimensions of the boxes. Shipping containers come in standard sizes. They range from 7 to 9 feet high, by 8 feet wide, by 8 to 40 feet long. The approach to building with containers differs from stick-built construction. "It's more like designing an RV or a yacht," Campbell says. Manufacturers build their containers solely to ship goods, he points out, and do not intend for them to serve as building materials. Thus, when stacking containers and adding some design flair like a cantilevered feature, reinforcement with structural steel becomes necessary and can add significant materials costs.
So, how much do container-built restaurants cost? A.J. Barker, director of culinary for Concept Kitchen and Bar, says a typical price for a fully decked out 200-square-foot unit — licensed and shipped on a standard flatbed truck — runs about $225,000. Costs vary according to size, types of finishes and equipment specifications.
On the plus side of the ledger, container structures offer some tax advantages. For tax purposes, each box can be considered a piece of equipment, Barker points out. Thus, operators can amortize them over seven years, while the amortization schedule for permanent buildings can span 15 to 30 years.
Permitting
Using shipping containers to construct buildings represents a relatively new concept, so most local permitting agencies and some state agencies are unfamiliar with it. That leads to many questions from inspectors and lengthy permitting processes, adding time to the project schedule and costs — particularly for those who engage in a community's first container project. "Building inspectors know all about two by fours, but they don't understand how shipping containers work in a structure," Lance says. "They don't have a book on that."
Simeonidis experienced firsthand the unique challenges of permitting when Bareburger designed a container-built site in Plainview, N.Y. "I think it was the town's first container project," he says. Bareburger's plan was composed of 11 containers — 7 on ground level and 4 stacked on top to create a second story. Inspectors had extensive concerns about waterproofing, how the containers would be connected to the foundation and what the structure would look like when completed.
Bareburger's architecture firm had to submit detailed specifications about flashing and other waterproofing measures. "They wanted to know how we were going to prevent water from creeping between the containers," Simeonidis says. The town also wanted detailed renderings to allay concerns over aesthetics. The fact that Bareburger planned to dress up the containers so that the restaurant wouldn't appear from the exterior to have been built from steel boxes was necessary to gain approval.
Inspectors new to the idea ask a lot of questions even on smaller scale projects such as Aprisa's one-container concept. "There was a lot of back and forth with state inspectors, the architect and the structural engineering firm," Lance says. The extensive permitting process and a major redesign delayed the project, which took four years from conception to completion. Now that the trail has been blazed, however, Lance estimates that it would only take six months to build the next one in Portland.
Communicating with permitting officials early and often is critical. "Go to permitting agencies in advance," advises Simeonidis. "You can save yourself a lot of headaches, time and money later."
One advantage container-built structures offer in the permitting arena: You can have modular structures certified on the state level by an agency that inspects modular buildings. The state certification stamp on the structures will be accepted by every community in the state so that the local inspectors only need to approve utility hookups. This fosters quick deployment for a rapid expansion plan.
Using shipping containers allows restaurants to enter spaces that might otherwise be off limits to them for a variety of reasons. To add versatility to the design, some restaurants will opt to stack shipping containers. Before doing so, though, it's important to address a variety of structural requirements.
Speed-to-market, test marketing, and seasonal applications
Using containers in modular construction can yield attractive dividends for restaurateurs. Just as a food truck provides an opportunity to test market a new concept or try out a new location, so too can a container-built restaurant. "You can start with a small operation with a small crew," Barker says. Thus, with a modest investment, restaurant operators can gauge customer response to their ideas.
Want to see if an up-and-coming neighborhood is right for a new concept? Find a landlord with a vacant parking lot who is willing to lease space inexpensively and for a short term. If the neighborhood doesn't respond well to an idea, the loss will be limited. In the case of mobile structures, restaurant operators can pull up stakes and move to another location without having to outfit a new space.
After solidifying a concept, modular construction allows restaurants to rapidly scale up their businesses. An experienced specialty firm can build a mobile, modular, container-based restaurant in about 10 weeks, Barker says. After that, replicating the design becomes easy. With the kinks worked out from the prototype and advantages gained from economies of scale, restaurant operators can build 20 more in 6.5 weeks, he says.
Mobility intrigues Simeonidis for another reason. He envisions a small-scale, modular container site that can be moved every six months. For instance, a mobile walk-up Bareburger could summer on the New Jersey shore and then migrate south to Florida for the winter.
Mobile, modular units can become ideal choices for remote areas. Consider a boomtown such as Williston, N.D., where oil and gas extraction has prompted a population spike. The subsequent building boom has caused an acute construction labor shortage, making it harder to get anything built. Operators that locate a new modular container restaurant there can exploit a prime business opportunity. If the boom turns to bust and business dries up, operators can move the entire restaurant to another location.
Sustainability
Aprisa, a walk-up and drive-through taqueria stressing fresh, high-quality ingredients, markets itself as an environmentally responsible business. Portland's eco-conscious population responds favorably to the green ethos, and that's a major reason Lance chose to repurpose a used shipping container.
Bareburger, too, cultivates a sustainability-minded clientele, and designed its menu and operational practices to reduce waste. The chain, now with 24 locations in the U.S. and Canada, uses reclaimed wood and other recycled or repurposed materials on all of its projects. Its first dip into container construction bolsters that practice.
Modular, mobile buildings can be moved, relocated or resold rather than demolished. "If you do that, you are not leaving architectural waste behind," Barker points out. It's like recycling an entire building including the kitchen equipment.
Containers can also enable the use of a brownfield lot at which conventional construction would be cost prohibitive. A modular structure can be placed on a site with little soil disturbance. If soil contamination is suspected, a modular unit could be sited on a concrete pad without the need for a costly environmental cleanup.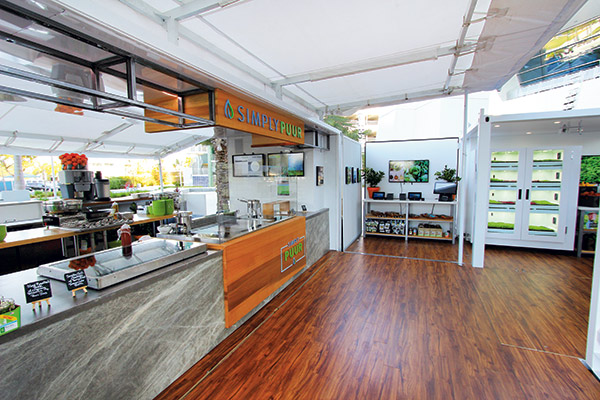 Simply Puur
Weighing pros and cons
So, how should restaurateurs weigh the pros and cons of using containers to construct their eateries? The first step is to consider how container structures might impact the strategic plan. For example, a downsized unit may allow a chain to expand to an area where the success of a full-size unit is questionable.
Since profitability hinges on the number of customers being serviced within a given space, a smaller space that costs less to buy or lease translates into higher profits. "Real estate is seen more as a burden than an asset today by many chains," Barker says. If a scaled-down, drive-through/walk-up profile allows a company to expand into new territory more profitably, then modular container-built stores are a great option. As many chains experiment with different sized footprints tailored for different types of locations, shipping containers can be an attractive alternative to conventional building materials as they can be configured in many forms and sizes.
A scaled-down store may force some compromises, however. A smaller footprint could require some restaurants to trim their menu offerings, Campbell points out. "The client needs to realize that working with abbreviated spaces can impact the number of dishes you can do and the number of meals you can make," he says.
For some, container structures could be the keys to new opportunities. Barker believes small container structures can open restaurant ownership to more people. Functioning as a test kitchen for a new business in just about any location, they allow entrepreneurs the opportunity to build a business for a relatively modest investment, particularly if the structure is leased rather than purchased.
"We no longer live in a one-size-fits-all business world," Barker says. "A shipping container can be a soapbox for anyone's dream."