Red Ginger, a Southeast Asian concept designed by Stantec, a Canadian architecture and design firm, opened in Miami Beach's upscale residential district South of Fifth. The 3,300-square-foot restaurant sits on the ground floor of a new 8-story building, which was also designed by Stantec and developed by the boutique management company Menin Hospitality.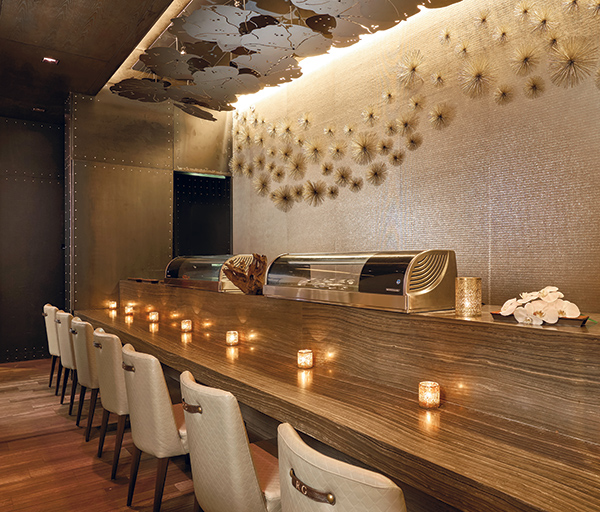 Inside, the large dining room, bar and sushi bar take design cues from Thailand's landscapes and temples in the ancient capital of Sukhothai. At the entrance, the reception desk rests on a raw plank of wood fused together with melted aluminum dramatically suspended from the ceiling, while a split-faced Balinese slate with lighting peeking underneath and a teetering coral wall provide glimpses into the rest of the restaurant.
"Our approach was to create a true sense of place that would transport diners to Southeast Asia, while incorporating bits of surprises throughout," says Susan LaFleur, an interior designer at Stantec.
In the dining room, the restaurant's hand-carved divider panels were inspired by sea-fan corals found in the Indian Ocean off the coast of Thailand. Columns clad in limestone are inscribed with a Buddhist prayer found in the Khmer Rolous Temples in Cambodia built 1,200 years ago. Red Ginger's overall palette embraces warm, neutral tones flanked by red accents, coral walls adorned with red ginger flower fixtures, a suede fabric ceiling, wood divider panels and a glowing water feature.
Inspired by the Ko Tarutao jungles in Thailand, a series of handmade bronzed teak leaf light fixtures hovers above the sushi bar, and the shell wall covering, produced in the Philippines, features brass sea urchins.
Custom-designed furniture in solid wood with leather upholstery adds to the contemporary Asian feel with clean lines. Banquette tabletops were crafted from the base of cut trees.