"If you ate in one of our KFCs, you saw how much better it is than in the U.S.," boasts Henry McGovern, chairman of AmRest Holdings, who sat down for an interview with rd+d in the company's Wroclaw, Poland, headquarters in March.
For proof, he cites newly designed open kitchens, cooks in chef's uniforms and separate order and pick-up stations already in 50 of the 430 KFC units owned and operated by AmRest, Europe's largest publicly listed restaurant company (WSE: EAT). "Nowhere else in the world will you see this design," declares McGovern, who co-founded the 800-plus unit concern in 1993.
In addition to KFC, AmRest franchises Pizza Hut, Starbucks and Burger King in Central Europe, Spain, France and Russia, as well as La Tagliatelle, an upscale casual-dining concept acquired from a Spanish company in 2011. A year later, AmRest purchased Shanghai-based Blue Frog Bar & Grill and Kabb Bistro Bar. It has since added to its 67-unit Starbucks stable, acquiring 19 more in Romania (14) and Bulgaria (5) in March.
rd+d: Over the past several years, AmRest's development in Central Europe and elsewhere has really spiked. Where do things stand today?
HM: We have the best pipeline in quite some time. There's lots of room left right here [in Poland], even with 400 restaurants. Our 2020 goal, which is quite a stretch, is to get to 1,000 restaurants in Poland, Czech Republic and Hungary — a division we call CEE. Of that, Poland will be half or more. So we'll open 25 to 30 units a year here.
rd+d: Where are the new markets within Poland?
HM: We are building everywhere in Poland. We are less than half penetrated, even in Warsaw where we've been for years. There is still a migration to Warsaw with some 40,000 to 60,000 people arriving each year. That equates to a couple of restaurants for us.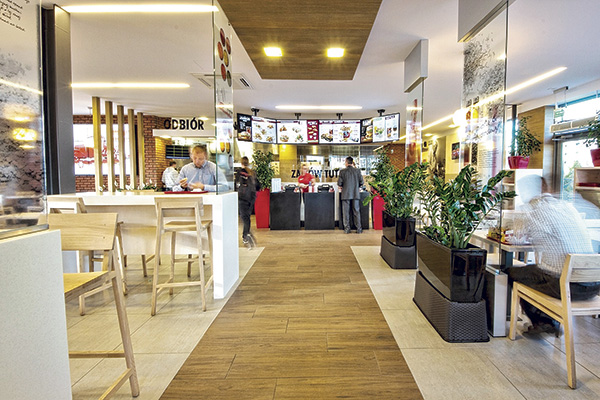 AmRest recently introduced a new KFC design prototype in Poland. The company operates 430 KFC units there and plans to add 25 to 30 to that number each year between now and 2020.rd+d: What are your staffing plans?
HM: We need a lot of people. We grow by 500 to 700 managers a year. Most of them are already on the bench. I often say we are more of a training company than a restaurant company. We like people to grow up in our system.
rd+d: What's been the effect, if any, of the enormous amounts of capital the EU still pours into Poland?
HM: The Poles are still building infrastructure, meaning lots of roads and highways, including transportation hubs. We love the hubs. Incidentally, we have a Starbucks drive-thru in Wroclaw, in test. This is the first one in this part of the world.
rd+d: KFC is your mainstay here. How is it positioned?
HM: It's a very strong brand here, more between a Chick-fil-A and an international McDonald's. The food is freshly made in the store. We've invested so much into our supply chain to have fresh chicken delivered to the restaurants, having regional suppliers. We spend a lot of time developing supplier capability and forming partnerships with farmer co-ops. We spend so much time on a supply chain basis it is quite frustrating not to communicate what the brand stands for. If you have fresh, let people know.
rd+d: What are some of the highlights of the KFC redesign work?
HM: We need to be ready for mobile ordering because it fits with the way people today want to order. We're enhancing our drink stations to be fresher looking. We'll have cartons of lemons, fresh-made lemonade and ice tea. It's nice to be able to order, get your drink and then your food, all in a seamless flow and that's what we've done.
rd+d: How many KFCs have you remodeled so far?
HM: We've renovated the top 50, if the space they're in allowed it. All the new ones are being built this way, with the new prototype. It takes more linear space for this design. Like any change, it takes some figuring out how to be efficient and there's been a bit of labor allocation to work through, but after a year of tweaking, we have it where we want it.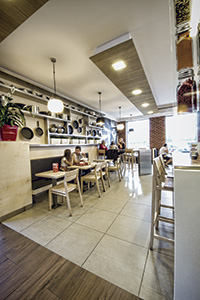 rd+d: You said last year that one of your goals is to reduce building costs. What have you done so far?
HM: We're trying to leverage our scale. We've brought all design functions in-house. We're buying in bulk and doing more work on a standard design package instead of doing one-offs every time. As you know, in this business HVAC is the big cost. So I said, "Let's get one great partner and get our HVAC spec'd correctly to the size of the space." Most of our builds are conversions or in shopping malls.
rd+d: Why didn't you leverage your size years ago?
HM: HVAC alone took us 15 years to get right! We just got rooftop [HVAC] units two years ago. We couldn't get service agreements. You can take the risk and get a service handyman to fix things if equipment breaks, but your warranty won't be good — and so you're spending $100,000 without a service agreement. We're also trying to cut down on the time it takes to build a unit. Welcome to emerging markets!
rd+d: What's the real estate situation like in Polish cities for opening restaurants?
HM: There are a lot of great office buildings for a Starbucks, for instance, but no exhaust shaft. Imagine the cost of refitting one that doesn't have ventilation in the right place and no exhaust lines out. Now, are you going to spend $110,000 to run it up 28 stories? If so, you have just raised your cost by 35 percent. Or maybe there's no grease trap, which costs $24,000 to retrofit. What seems like a straightforward, cookie-cutter space isn't there. We're still working on 50 years of [Communist] past.
rd+d: What does it cost AmRest to open a new unit, on average?
HM: It really depends on space. An average for us is $800,000. A drive-thru unit is a little more than $1 million. We can get into a food court for $400,000. About a third of our portfolio is in malls.
rd+d: Speaking of new units, you've closed two La Tagliatelles that were part of an effort to launch that brand in the U.S., in Atlanta and Washington, D.C. What happened?
HM: We made a huge mistake. In Spain, we work with a lot of small Italian suppliers for items like tomatoes, special cheeses, and our special flour, for example. We manage this through a central facility to consolidate these small players, check for quality, make sauces, et cetera. We know La Tagliatelle is a fantastic brand, and we didn't pause, unfortunately, when we discovered we couldn't bring some of the product directly — meat and dairy, in particular — from Italy.
rd+d: Had you signed letters of intent in the U.S. by that time?
HM: Yes, and we'd opened a central facility. So we let the cost get away from us and we had to support that infrastructure and went with too many restaurants at once. We didn't fully understand what the customers would value as authentic Italian. In Europe, we're considered very authentic. So to be told this isn't authentic would have been laughable if it hadn't been our blood, sweat and tears.
rd+d: What's La Tagliatelle's future in the U.S.?
HM: I can't give you a definitive answer because we're evaluating that. But I can say we now have eight in France. We're opening in Bordeaux and Lyon this year. We are very happy with the way it is trading there.