It's a refrain repeated too often by casual industry observers: Casual dining is dying. Yes, some big-name brands in the segment are struggling. Full-service concepts that made Technomic's 2014 list of the Top 500 Chain Restaurants (ranked by U.S. system-wide sales) posted sales growth of 2.4 percent in 2013, compared with the 3.8 percent growth recorded by limited-service concepts.
And, as happens in any maturing segment of an industry, we're seeing some correction in the size of some long-established players in the form of store closings. It's not pleasant to watch, but it happens when a brand fails to respond quickly enough to customers' changing preferences or to present a compelling differentiation message.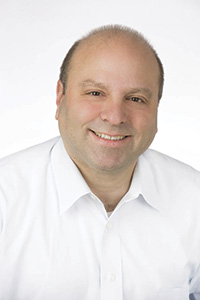 Darren Tristano, Executive Vice President of Technomic, Inc.
To say that casual dining is dead or dying, though, is to ignore the powerful moves being made by rising and resurgent brands to position themselves as leaders, not just within the full-service category but also in the restaurant industry as a whole. A new generation of casual-dining concepts, such as Buffalo Wild Wings, Coopers Hawk Winery & Restaurant and Yard House, continues continues to thrive. How are they winning with guests, and how can the casual-dining segment better resonate with today's consumers? Here are three strategies in play.
Create an Inviting Ambiance
Let's get this out of the way: Consumers' top concerns when they order from a restaurant are the taste and perceived quality of the foods and beverages. The menu matters most. After that, service and convenience are high priorities. Ambiance rates below these, as Technomic's research continually shows.
But what's often overlooked is how ambiance can influence perceptions of other elements. A satisfying burger served in a restaurant that looks like it hasn't been refreshed in 15 or 20 years isn't the same as a satisfying burger served in a restaurant with a bright, upbeat, contemporary vibe. And a customer who didn't love her meal on her first visit to a concept may be more inclined to give the place a second chance if she found the atmosphere fun.
As part of a consumer survey for our recent Future of FSR: Family & Casual Dining Consumer Trend Report, we showed consumers photos of one of two restaurants: one with a traditional interior (darker, neon-accented overhead lighting, slatted-back wood chairs) and one with a contemporary interior (lighter woods, more use of stone, vertical light fixtures). Given no additional information, they were asked about their expectations. Overwhelmingly, consumers who were shown the contemporary-looking interior expected the quality of service, ability to provide a unique experience and overall dining experience to be better than did those who were shown the traditional interior.
Complete interior or exterior overhauls may not be feasible for every casual-dining brand that could use one. However, even small changes made to make a casual-dining concept feel more open and energized can go a long way in creating an atmosphere consumers want to return to.
Think Regional
One of the great things about chains — consistency — is now something that many consumers are not so crazy about anymore. To them, consistency registers as sameness, which registers as bland.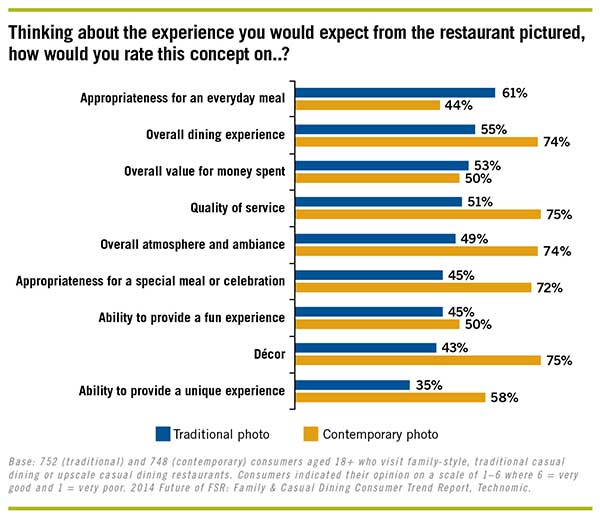 An individualistic streak has long been a hallmark of the American persona, and embrace of uniqueness is one of the overarching themes of advertising and pop culture today. We need look no farther than Burger King for an application of the each-of-us-is-special mantra: The chain recently scrapped its 40-year-old "Have It Your Way" slogan in favor of the more contemporary "Be Your Way."
For casual-dining brands this means consumers are eager to find something in one restaurant that they can't find in another, including in another unit of the same concept. This doesn't mean that casual-dining guests don't appreciate dependability, just that they also like the flavor of little differences here and there. Casual-dining brands can satisfy this interest by offering and actively promoting regional specialties.
Take a cue from fast-casual Smashburger, which offers a signature local burger in each of its markets, created in homage to regionally produced products and local tastes. Regionally produced craft beers also find a home on the menu.
Within casual dining, Fish City Grill varies its menus slightly by location to showcase local seafood favorites, and Yard House, a top performer in Darden's portfolio, touts its Chalkboard Series limited-availability lineup of "unique and complex" brews from local as well as national and international brewers.
How much does local/regional resonate with consumers? In a poll for Technomic's 2014 Healthy Eating Consumer Trend Report, 38 percent of respondents said foods or beverages described as local are slightly or much more tasty than other products.
The idea of incorporating more regional specialties might sound alarms about food costs and operational complexity. Brands can address these, however, by trimming menus elsewhere and nixing underperformers. Doing a handful of things very well can pay off much more than doing dozens of things in an okay but unremarkable way.
Use Technology
Casual-dining restaurants can offer a brief respite in consumers' hectic days. On dine-in occasions, for 45 minutes or so, guests can sit back, be waited on and (hopefully) get a good quality plate of food at a reasonable price.
But consumers need to be able to trust that the casual-dining restaurant they turn to for an everyday meal will be able to let them get in and get out on their timetable.
How to do it? With technology. Online ordering represents one option a growing number of full-service restaurants continue to adopt. BJ's Restaurant & Brewhouse, which saw sales climb 9.4 percent in 2013, offers online ordering for takeout or dine-in, and select locations offer delivery service. Quaker Steak & Lube (sales up 8.7 percent in 2013) offers online ordering and dedicated order-pickup windows. And Olive Garden is rolling out a program that will let guests order online for car-side pickup.
We expect in-restaurant technologies, such as tabletop tablets, to proliferate, too. These technologies, which let guests summon a server, order or pay and leave on their own schedules, can create a dining experience that's more satisfying for them and efficient for operators.
Some operators may question consumers' interest in these newfangled amenities, but patrons show enthusiasm for them. Four in five consumers polled by Technomic in September who indicated that they have used tabletop tablets or ordering kiosks at restaurants said the technologies are both easy to use and faster than traditional ordering/payment options. In the end, it's all about making consumers' favorite restaurant brands as accessible to them as possible.
Casual dining can continue to come to consumers' rescue for a wide range of dining occasions. But contemporizing brands via focused and regionally attuned menus, a vibrant atmosphere and technologies that make patronizing the restaurant easier than ever is essential for the sustainability of individual concepts and the casual-dining segment as a whole.