In October, BBQ Holdings purchased Tahoe Joe's, continuing to grow by blazing a trail of acquisition. The Minnetonka, Minn.-based company, which just four years ago owned just one brand, Famous Dave's, now also owns Granite City Food and Brewery (acquired in March 2020) Village Inn and Bakers Square (acquired July 2021).
Acquisition is the route to the company's growth, believes CEO Jeff Crivello, and here he offers up some best practices for other restaurant companies looking to do the same.
1. Diversify offerings.
Famous Dave's is a barbeque concept. Tahoe Joe's is a steakhouse. Granite City is polished-casual chain with a bar focus, where beer is brewed on-site. Village Inn is a family-friendly diner that serves breakfast; and Bakers Square is a casual-dining spot with a big focus on pies. The menus are not the only differentiator, Crivello notes. The restaurant have different strong dayparts and also different strong seasonal components, with barbeque spiking in popularity in the summer and pies seeing their peak in November.
"If you look at an investment portfolio, you'd be very nervous if you had just one stock — and your portfolio would be very volatile. My goal was to diversify the risk," Crivello points out. But the differences in the brands also have to complement each other because Crivello plans to operate some of them as dual concepts. Famous Dave's and Tahoe Joe's are ideal in this respect, he says. They both have a similar feel but a different center-of-the-plate protein.
2. Understand why the business is for sale.
"Typically, a business that's for sale is for sale for a reason," says Crivello. "Whatever the reason is, it will have a very drastic impact on how it's priced. Some are just over-leveraged (in too much debt) and need to restructure. Or there are concepts for sale that need to be sold because the concept isn't viable. You have to be really cognizant of those reasons."
Paraphrasing Warren Buffet, Crivello adds that you should be on your hands and knees begging the seller for the things you want to buy.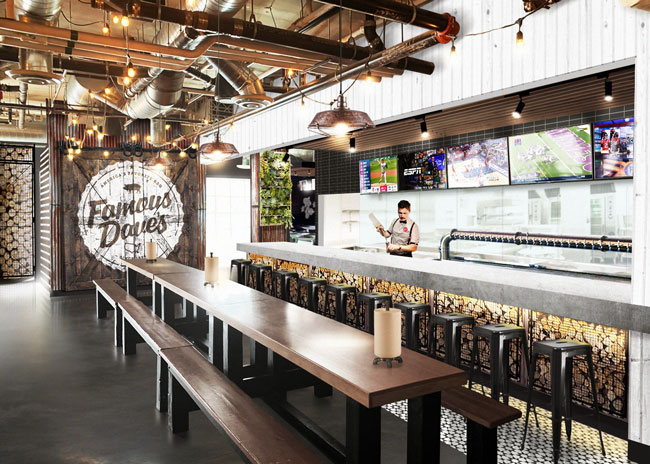 In the wake of COVID-19, Famous Dave's quickly added curbside pickup and made improvements to its online ordering platforms. Image courtesy of Famous Dave's
3. Consider the company culture.
The culture of a prospective company has to fit well with the company doing the acquiring, Crivello notes. When BBQ Holdings bought Village Inn and Bakers Square, for example, it welcomed some employees who'd been with the chains for more than 40 years.
"Culture can evolve over time, and there's no reason to jolt and shift a culture immediately," he says. "As leaders, we need to understand the culture." And the best way to do this is to spend a lot of time communicating with existing employees, he says, and "building a relationship of trust from the very beginning."
4. Be gentle on systems.
Upon acquiring a restaurant company, you also take on its systems, from payroll to HR and the POS. "We can't have a different one for each brand, so we try to integrate them. That creates a lot of heartburn," Crivello says, "so tackle one at a time."
5. Be geographically aware.
Consider where every restaurant in a chain is because it's very difficult to operate a fragmented system. "The overhead is very expensive; we prefer to acquire a regional brand that has been built in clusters," says Crivello.
6. Consider the size of both organizations.
Big and small restaurant groups require different things from an acquiring brand. A big company typically comes with a team, management, infrastructure, systems that have been in place and tested and evolved over time, says Crivello.
However, smaller groups lack a lot of those things. "So, if someone is acquiring [a brand] they need to have the infrastructures in place. We don't mind the smaller ones — we have over 4,000 corporate employees, so we have an infrastructure and a support center and great management. We feel confident that we have the ability to grow via some of those smaller bolt-ons due to the team we've built."
7. Continue investing in yourself.
BBQ Holdings also continues to grow by increasing the number of corporate stores it has in all of its brands. "It's important for trust for corporate to be able to put their money where their mouth is, invest in their own stores and let franchisees see they can build and grow from your successes," Crivello points out.
"Franchisors have to lead by example. The concept goes into a death spiral once the parent stops putting money into the system."