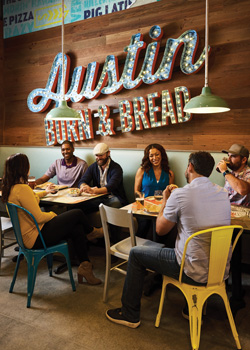 Image courtesy of Schlotzsky's Austin EaterySchlotzsky's Austin Eatery signed a 10-unit franchise development agreement that will expand its footprint in key markets and in underdeveloped areas of Arkansas, Texas and Oklahoma. The deal is the brand's single largest agreement since evolving to the Austin Eatery concept in late 2016.
Driving the chain's expansion are seasoned multi-unit franchisees Jordan and Terry Giles and Scott Lay of LG2 Restaurant Group. The Gileses have been with Dairy Queen for more than 20 years, operating 15 locations in and around Tyler, Texas. Their partner Lay has more than 20 years of experience in the commercial real estate industry with a concentration on design and construction for quick-service restaurants. Lay has been a Dairy Queen franchisee for the past four years.
Founded in 1971 as a small restaurant in Austin, Texas, serving only one sandwich, Schlotzsky's now spans 35 states with more than 370 restaurants. Operating under the FOCUS Brands Inc. umbrella, Schlotzsky's is evolving all deli locations to the Austin Eatery concept with plans to convert the entire system midyear. The newest rendition embraces the brand's origins with new menu items that draw inspiration from Austin's food truck culture as well as craft beers and wine, providing an environment for casual dining and socializing. The updated restaurant design incorporates elements of recycled wood and corrugated metal. These changes have moved the brand into the fast-casual or fast-fine category, according to a release.