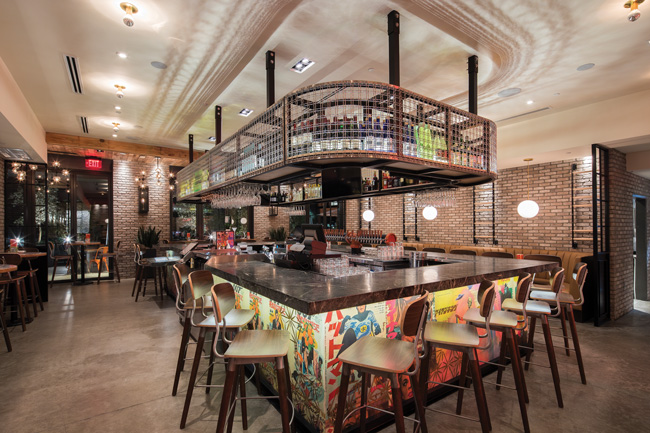 A large, vibrant bar that flows into the patio is a central feature of all Hawkers restaurants. At Windermere, the base of the bar is covered in a collage of vintage Shanghai pop-culture posters and art. Images courtesy of Chad Baumer PhotographyStreet food is often the purest expression of a culture's culinary heart and soul, and it's just that type of authentic experience that the founders of Hawkers Asian Street Fare sought to bring to Orlando, Fla., when they opened their first unit there in 2011. Friends Kaleb Harrell, Kin Ho, Allen Lo and Wayne Yung missed the familiar flavors of their childhoods and the specialties hawked by street vendors enjoyed on travels throughout Asia. Those shared cravings led them to pool their resources and open Hawkers, a casual-dining brand that now has five units open in Florida and three more in development, including in Charlotte, N.C., and Atlanta.
The fifth unit opened last spring in Windermere, an Orlando suburb. A more polished, mature expression of the hip, East-meets-West brand, the 4,500-square-foot restaurant is the third designed in partnership with Orlando-based GDP Designbuild.
"When this concept came to us, we were really excited because it was something we knew a lot about. It's our own cultural heritage, and having traveled extensively in Asia, we had a good understanding of the cultural nuances of the dining experience that the Hawkers team was after," says Justin Fong, principal and director of design at GDP Designbuild. "I'm glad they stuck with us for a while because it has given us a good chance to explore what they want and what works as they fine-tune the brand."
From a concept and culinary standpoint, they had a pretty good idea of what works: When the foursome opened their first unit in Orlando's Mills 50 District — a bootstrap endeavor for which the founders handled most of the design and construction themselves — lines extended around the block. The carefully researched and curated menu of Asian street food favorites and multigenerational family recipes, served small-plates-style in a full-service format, struck a chord with consumers hungry for casual, authentic ethnic dining experiences.
From a design standpoint, Hawkers continues to evolve, with each unit bringing a blend of what have become iconic brand signatures and locally influenced elements to the party.
"Where we've landed as our brand has developed is that we want authenticity, both in our food and in our environments," Harrell says. "It's a central part of our brand promise. Are we going to be exactly like what you can get from traditional hawkers on the streets of Asia? Probably not, as we have limited capabilities to source certain ingredients. But it's as authentic as is practical for this market."
The commitment to authenticity translates to the materials Hawkers uses in its design and to the team's approach to using objects and art for storytelling. It's also the driving force behind the basic layout and flow of the restaurants, in which a large open kitchen, central bar and indoor-outdoor elements are mission critical to creating the type of high-energy, street-fare vibe the owners envisioned.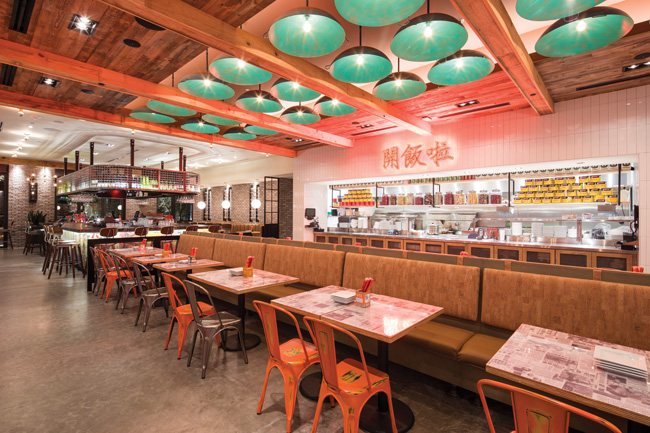 Ceiling materials, art and other wall coverings help to create a variety of experiences within the open space. Painted woks serve as light fixtures, and neon Cantonese characters above the kitchen translate to "let's eat!"
The Streets of Windermere
When the team expanded to Windermere last year, a few miles southwest of the original downtown Orlando location, it entered new territory in more ways than one. The unit occupies a corner space in a newly built strip center at a high-traffic intersection. It is Hawkers first entry into a more upscale, suburban environment.
"Internally, we joke about it being the Streets of Windermere, because it's a very upscale community compared to our other locations," Harrell says. "But it was a great opportunity. Initially, our big challenge was to figure out how to take this idea of street food, which is a bit gritty and about as casual as you can get, and translate it into something that fits the neighborhood without losing brand integrity. We did that largely through materials. Justin did a really good job of selecting things that represent the kind of raw and unpolished feel that we go for and incorporating design elements that have become brand signatures while at the same time taking the look and feel a little more upscale."
A long, rectangular space, Hawkers Windermere flows from a small entry/host area into the main dining room, which is flanked along one wall by a nearly 1,400-square-foot open kitchen. A 27-seat freestanding bar sits at the far end of the dining room in front of the building's back wall. That wall, which fronts a 50-seat patio on the street side of the building, is fitted with floor-to-ceiling glass doors that open fully to create an indoor-outdoor dining and bar environment. Restrooms sit on one side of the main dining room, and a 280-square-foot private-dining room sits on the other.
Fun and kitschy brand messaging extends to the restrooms, where guests enjoy 1960s Chinese opera music and custom wallpaper made from vintage Asian comics."Usually, we like our bars to be close to the front door, but in this scenario, one of the challenges we had was figuring out the best layout," Harrell says. "It's a strip center that has facade exposure on the street side and the parking lot in the back. That was a new experience for us because normally we go into high-density urban centers where it's all street and very pedestrian-friendly. Here, we ended up putting the front door on the back side by the parking area and the bar that opens to the patio on the street side. It works well because people passing by on the street side get a sense of the vibrancy and energy of that indoor-outdoor area, and it draws them in, especially at night."
Fong adds that reconfiguring the facade on the back side of the building to accommodate the indoor-outdoor patio and bar was among the most expensive aspects of the project. "We didn't want the patio to feel detached. The energy from the bar and dining areas needed to flow right into the patio," he says. "Ultimately we had to invest quite a bit into removing the existing storefront, reengineering and restructuring it to accommodate the large glass doors."
The balance of sequencing the space was carefully planned to accommodate both high volume and efficient traffic flow from the kitchen's expo line to dining and bar areas.
"Because it's a small-plates concept, there's a lot of running back and forth from the expo line. We kept that traffic flow in mind and tried to avoid any dead ends. It's very intuitive, and there's constant circulation. We also kept the open floor plan so that the space would feel larger and grander, even though it's a relatively small footprint," says Fong.
And while the space is largely open, strategic selection and placement of ceiling materials, art and other wall coverings create a variety of experiences within it and visually express the brand in both new and familiar ways.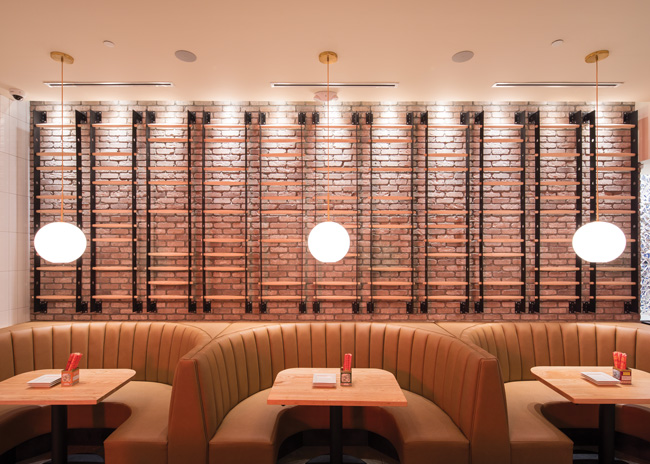 Ladder-like structures add interest and dimension to brick walls behind banquettes. Their iron frames hold "rungs" built from the type of wooden rolling pins used to make fresh Asian noodles.
Wonky Begets Cool
"Our take on the design was not to try to be too literal, but rather to try to capture the essence and energy of the Asian street-food experience," Fong says.
To do so, he says his team took a bit of liberty and created an architectural environment based on textures and details. "We wanted every material to be intense, and we wanted to be very true to the materials that we selected," Fong says. "If we chose brick or stone or concrete or wood, it all had to be real and needed to feel like it had been there for a while. We had a very limited budget to work with, so we tried to create details using very modest materials in creative ways that relate to the theming of the restaurant."
Examples of that creatively frugal approach are found throughout the Windermere location. Dome-shaped light fixtures that help to define the footprint of the main dining room were fashioned from traditional Chinese woks, to which the designers applied an aged, copper-green patina. Ladder-like structures that add interest and dimension to brick walls behind banquettes feature custom iron frames with rungs built from the type of wooden rolling pins used to make fresh noodles. A feature wall behind the host desk is covered in an abstract mosaic that was handcrafted from shards of vintage, traditional blue and white plates found in most Chinese homes, according to Fong.
Fong imported hundreds of the plates for the wall, which became one of Harrell's favorite design features for its creative celebration of mundane objects that fit the brand.
"Part of our personality is to embrace the kitschy and almost weird aspects of Asian design, which historically is pretty tacky," Harrell says. "That's really how our culture received design up until the last 20 years or so. We pay homage to that without making it a tacky restaurant. For this wall we took the really wonky blue and white plates that you'd find in your Asian grandmother's cabinet, crashed them on the floor and made a very cool mosaic feature out of them."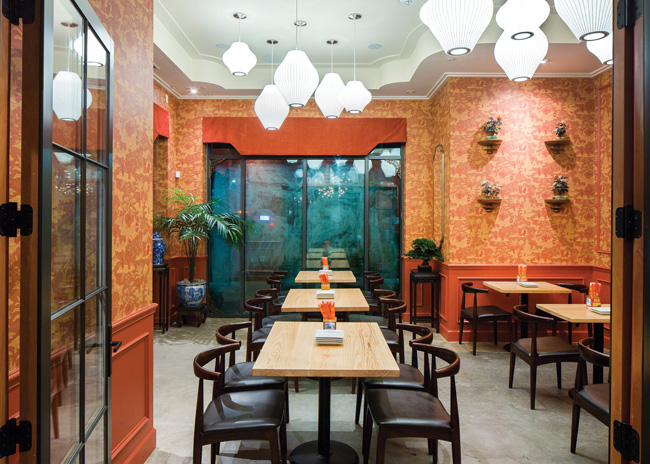 Evoking a stylish, 1920s-style Shanghai mahjong parlor, Hawkers private dining room features saturated colors, period British wallpaper, mirrors, vintage collectibles and chinoiserie."Wonky" begets cool elsewhere in the restaurant, too, with design elements that have become Hawkers signatures.
A collage created from vintage Asian comics creates a brand-boosting wallcovering for the restrooms, where 1960s Chinese opera music adds to the experience. Tabletops are inlayed with Chinese newspapers, a thematic nod to the role newsprint has played as packaging for some traditional street foods. Neon characters above the open kitchen — a Cantonese colloquialism that roughly translates to "let's eat!" — lend a nostalgic, streetscape effect. The artistic bar face pays homage to 1920s and '30s Shanghai, when fascination with Western pop culture was building fast.
"Shanghai in the 1920s was very East-meets-West, which really speaks to the personality of this brand," Fong says. "Theme-wise, the bar treatment is similar to what we tried to do in the restrooms, except the content there has more to do with movies and pop culture in the early to mid-century. The movie scene, Western-influenced fashion and nightclubs became very popular, as did art deco. For the bar, we used vintage posters to create a collage feel, taking a textured, layered approach. The narrative effect is a bit like when people paste advertising bills and posters onto walls on the streets."
Vintage Shanghai is channeled in Hawkers private dining room as well. Separated from the main dining room (when needed) by large mahogany and glass doors, the room takes on a stylish 1920s mahjong parlor look and feel with the use of saturated colors, period British wallpaper, mirrors, vintage collectibles and plenty of chinoiserie.
Both Harrell and Fong say the overall intention of the menu and design at Hawkers is to create a unique and authentic experience. The concept's full-service format, Harrell adds, gives customers an opportunity to learn more about the food and the culture from which it comes than would be possible in a fast-casual environment, which might seem a more natural fit for a street-food-focused brand.
"We wanted to give people the experience, even if just for an hour and a half out of their week, of traveling somewhere adventurous and to create the feeling of anticipation and discovery," Harrell says. "In order to do that, we needed their attention for a little bit longer, and we needed strong experiential elements. It all comes together really well at Windermere."
Hundreds of traditional blue and white plates were imported from China, smashed to pieces and randomly reassembled to create a mosaic wall behind the host stand.
Project Team
Founders/co-owners: Kaleb Harrell, Kin Ho, Allen Lo, Wayne Yung
Brand manager: Antoinette Jonas
Architecture, engineering, interior design, contracting: GDP Designbuild
Construction project manager: Casey Buckley
Mural: JUURI Art
Snapshot
Opened: April 2018
Segment: Casual dining
Menu: Asian street food (noodle bowls, curries, dim sum, small plates)
Project type: New build
Size: 4,500 square feet, plus 1,000-sqare-foot patio
Seats: 201 total: dining room, 124; bar, 27; patio, 50
Average check: $24
Build-out: 8 months
Design highlights: Open kitchen, indoor-outdoor bar/patio, wok light fixtures, rolling-pin wall structures, mosaic entry wall feature, neon Chinese characters, vintage East-meets-West pop culture art, custom mural
Floor Plan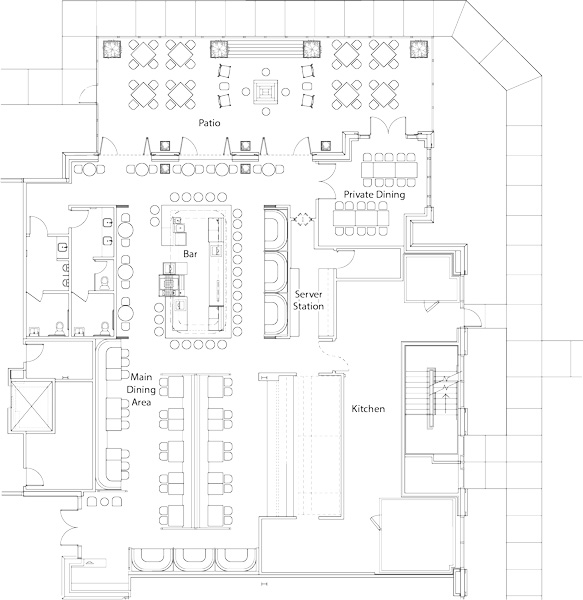 Click on floor plan for detail.