The revitalization initiative, conceived ahead of Arby's 50th anniversary next year and part of a multi-year effort to reinvigorate the brand, includes a new building image, team member re-training program and franchisee remodel financing solution.
After testing various design alternatives in 2013 and early 2014, Arby's plans to remodel at least 30 company-owned restaurants to its new "Inspire" image this year in markets including Huntsville, Alabama; Indianapolis; Youngstown, Ohio; and Salt Lake City. Architectural plans were released to franchisees in June and the company intends to significantly expand the number of remodels in 2015.
Since the start of the rollouts earlier this year, revitalized restaurants have averaged a 20 percent increase in sales, according to George Condos, president & COO of Arby's Restaurant Group, Inc.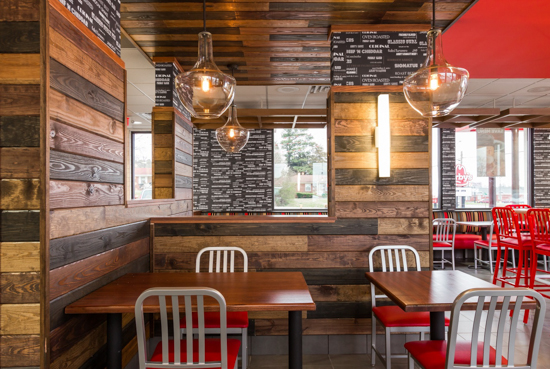 Designed as a "kit-of-parts" approach, interior enhancements include an inviting color palette that ties in to the brand colors using updated, fresh materials; subway tiling and stainless steel in the kitchen area; multicolor wood materials; modern lighting and chalkboard graphics. Exterior enhancements include cantilevered red awnings at the primary touch points (drive-thru, entranceway, etc.), new internally illuminated signage, wood tones, white brick, enhanced lighting for strong visual impact at night and upgraded landscaping around the restaurant.
To help franchisees gain access to capital, the sandwich chain has entered into an agreement with Element Financial Corp. to power the Arby's Remodel Financing Program. The Element program will provide capital to qualified Arby's franchisees for up to 100 percent of remodel costs.
"This is the first time in the brand's history that we have engaged a lending institution and leveraged the ARG balance sheet to offer such a financing package to the Arby's system," said David Pipes, Arby's chief financial officer. "We believe the program that we have put in place successfully achieves our key remodel capital objectives, which include competitive rates and terms, availability to small and large franchisees, financing that can exist within current capital structures and a simple and efficient process for franchisees."