Starbucks opened its Dewata Coffee Sanctuary in Bali, Indonesia. This is Starbucks' largest location in Southeast Asia.
The coffee sanctuary marks the first Starbucks Reserve Bar store in Bali and the tenth Starbucks Reserve Bar store in Indonesia, one of 185 such stores globally, with the majority in Asia. The store's design pays tribute to the important role that Indonesia, the fourth largest Arabica coffee growing region in the world, plays in Starbucks supply chain, including the popular single-origin coffee from Sumatra. Sumatra coffee has been a staple offering at Starbucks since 1971.
The Sanctuary's expansive interior was inspired by traditional Balinese houses with free-flowing, connected rooms that promote discovery from one space to the next. Thematically, the store's interior was designed in partnership with local craftspeople and artists with one goal: tell the story of coffee in Indonesia.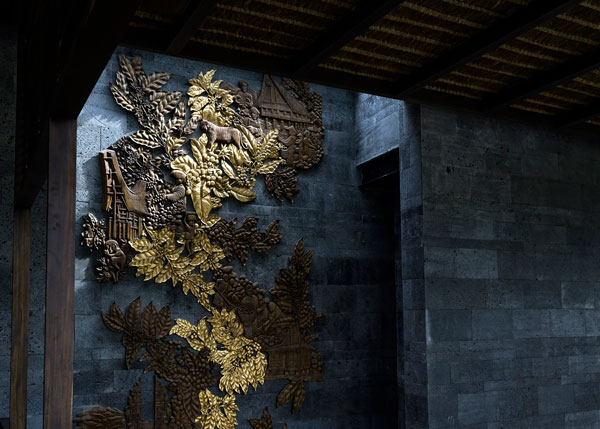 One element that brings this to life is a wood carving depicting the country's six coffee growing regions. A two-story mural in the courtyard pays tribute to local farmers.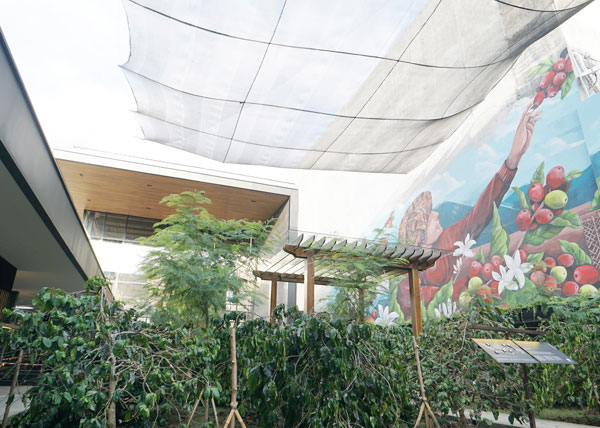 As customers enter 20,000-square-foot store, guests then walk through a working, 1,000-square-foot coffee tree farm, the size of a typical Indonesian farm. Customers continue their journey through contemporary Balinese landscaping, passing coffee plants and a de-pulping station before trying their hand at washing, drying and raking green coffee beans.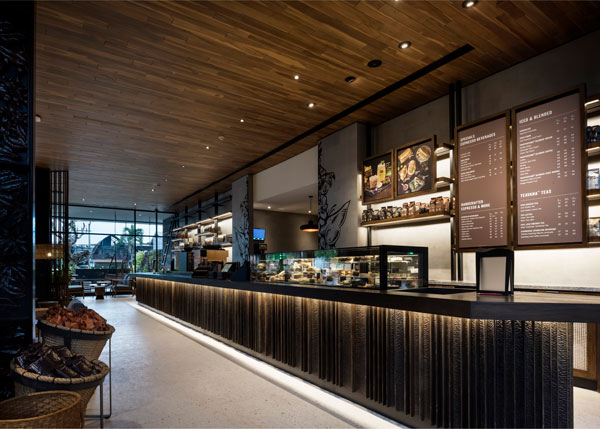 On the main floor, a 13-meter teak bar, which draws inspiration from Bali's terraced rural landscapes, allows customers to try the store's premium offerings. Across the store, a living wall filled with flora from the region, is situated behind the core bar. The core bar was designed to remind customers of Bali's ocean waves, which are replicated on a layered red-brick exterior facade.
Located on the second floor is the seedling nursery, a greenhouse canopied by panes of glass to create an open-air experience. There is an adjoining tasting room as well as a dedicated media room that features two synchronized video walls, showcasing the work of the Starbucks Farmer Support Center (FSC) in Sumatra.
Images courtesy of Starbucks