Veronica Salazar opened her dream restaurant in Larkspur, Calif., in March of last year with help from La Cocina, a San Francisco-based non-profit. The group, which provides kitchen space and counseling to low-income entrepreneurs, advised Salazar to use crowdfunding to raise a portion of the money she needed to develop El Huarache Loco.
They suggested she launch her capital campaign on Indiegogo.com, Salazar recalls, because another La Cocina client had financed a portion of her business on the crowdfunding website. "Indiegogo was a really good idea," she says of the effort, which raised about $13,000 from 79 contributors, each donating from $10 to $1,000.
Financing, One Online Donor at a Time
Today, crowdfunding is a largely donation-based activity in which businesses offer perks or rewards to contributors in exchange for small amounts of capital. These transactions take place online via a crowdfunding portal. The rules that govern each site are proprietary. Some require the total goal to be reached but others do not. To the chagrin of crowdfunding proponents, no equity is traded as was originally intended with last year's passage of the JOBS Act (Jumpstart Our Business Startups). Soliciting investments from non-accredited investors in exchange for equity shares remains against the law.
It's worth noting, however, that two states — Georgia and North Carolina — buck federal regulations by implementing intrastate crowdfunding. It permits entrepreneurs with businesses in the state to issue equity in an online format, though only to contributors who are residents of the state. Georgia, under rules set forth in the Investment Georgia Exemption, doesn't require crowdfunding portals to register with the state and issuers do not necessarily have to sell securities through such a portal.
Salazar, meanwhile, offered a pint of housemade salsa for a $25 donation and a private dinner for 8 people for a $1,000 donation.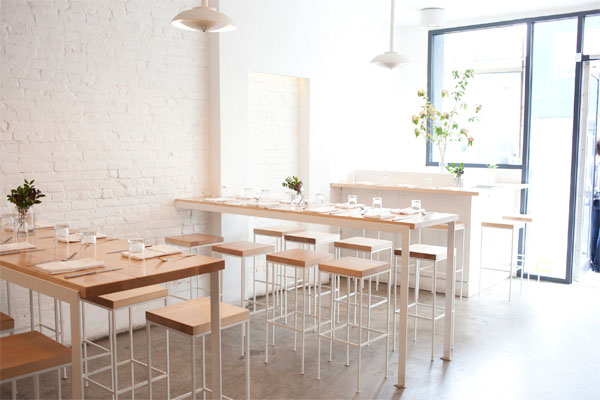 Interior of George Weld's Parrish Hall restaurant
George Weld, who owns two farm-to-table restaurants in Brooklyn, N.Y., offered gift certificates to contributors who helped fund a new eatery called Parish Hall, according to his crowdfunding profile on Credibles.org, a portal that crowdfunds "small, sustainable food-related businesses." Weld's campaign raised money for kitchen equipment and licensing fees by "pre-selling $50,000 worth of meals." The donations translated to gift certificates worth slightly more than the contributions.
"What I really liked was the fact that you were actually giving people what they paid for," Weld explains. "Contributors are buying gift certificates for themselves. It's like, 'You can eat on us until the time you're paid up.'" (Weld, however, says he failed to reach his goal after Credibles ended a pilot program on the East Coast. Credibles co-founder, Arno Hesse, says the portal went from a coupon-based platform like Weld's to a mobile one, adding the company still does business on the East Coast.)
How much money do campaigns actually rake in? Rockethub.com founder Brian Meece acknowledges the average contribution on his crowdfunding website is $75. "Most campaigns get 50 to 500 people to say 'yes,' and that's where the bulk of activity happens with this current [rewards] model," Meece offers, adding he has not yet seen anyone attempt to open a restaurant exclusively through crowdfunding.
It's usually free to set up a campaign. Processing fees apply as funds accumulate — 9 percent in the case of Indiegogo. The portal returns 5 percent of that sum if you hit your financial goal. Salazar, for example, did not reach her $25,000 target.
Supporting Local
Rewards alone aren't the reason people donate to campaigns. A basic tenet of crowdfunding is "localism," i.e., those who know and like a business will support it. Yet even contributions from a popular eatery's most fervent supporters may not suffice. In a 2012 white paper Meece advised crowdfunding campaigns to "convince not only their social network to support the campaign, but convince members of that network to leverage their own social networks and communities to spread the word about the campaign."
In addition to Salazar's catering business, her social network included customers of her two popular food stands in famers' markets in affluent Marin County. Weld's first eatery, Egg, already had a high Yelp! rating; and it scarcely hurt that many residents of the Williamsburg section of Brooklyn, where the restaurant is, are tech and media savvy. Crowdfunding experts also say conventional lenders and investors may deem a successful crowdfunding campaign as an indication of credit worthiness.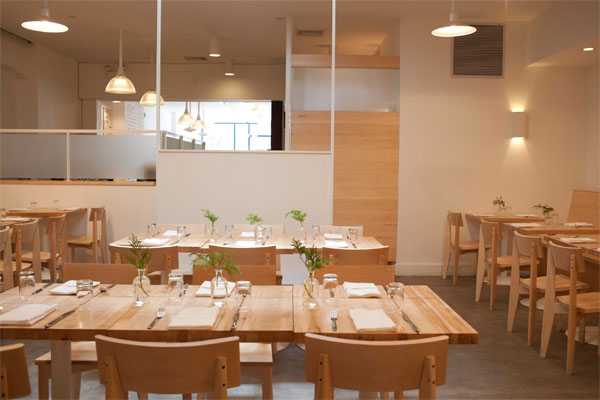 Interior of George Weld's restaurant
Still, a rewards model is not what crowdfunding proponents had in mind given the wording of the Title III portion of the JOBS Act, which amended Section 4 of the Securities Act of 1933. An "issuer" could now sell up to $1 million worth of securities through an online portal to non-accredited investors. To protect these small players the legislators capped the amount of equity investors could purchase at $2,000 (or 5 percent of their annual income or net worth) and at $10,000 for people with incomes in excess of $100,000.
Title III held the promise that crowdfunding campaigns could swap dollars for equity in an effort to stimulate business creation and hiring; better yet, entrepreneurs could do so without the reams of disclosure documents that equity transactions with accredited investors involved. To be sure, there were built-in protections for the new, low-net-worth investor.
"I would have absolutely liked to open Parish Hall this way," Weld declares, referring to Title III's intent, "and I'd have put out flyers in my other restaurant, saying we want to open a new restaurant so help us do that.
I know those [securities] laws are trying to protect us from fancy snake-oil salesmen. But small-business owners don't even think in those terms. Instead, it feels like outmoded regulations are unduly punishing us for something that happened a long time ago."
Crowdfunding Campaigns Start Here
Crowdfunding experts believe established portals present an ideal way for restaurants to raise capital and increase customers. Here are five to check out: