Page 2 of 2
Enhanced Guest Experience
While traditional Domino's locations lacked any sort of focus on guest comfort beyond perhaps a bench to sit on while waiting for a pizza to bake, the company's new design puts strong, creative emphasis on providing an enhanced guest experience. It starts with the "theater" of pizza making, visible immediately when customers walk in the door. In addition to a friendly greeting, they are met with the sights, sounds and smells of a pizzeria in action – employees hand-stretching dough and topping pies from a selection of fresh ingredients staged on make tables and piping hot pizzas coming out of the oven, being cut and boxed. Given that the "theater" has been brought to the front of the stores and is visible through the windows, the show starts even before guests enter, Solano notes.
Waiting guests can sit at a counter to watch the action, and a step platform makes it easy for kids to get a bird's-eye view. Attractive, easily accessible in-line merchandisers let guests choose grab-and-go items such as salads, milk, cookies and mini dessert parfaits while they make their way through the ordering queue.
All new stores feature comfortable lobbies with big-screen TVs and order-tracking screens. Graphics and brand messaging on the walls are playful in tone, and chalkboard walls enable two-way communication – store employees can post messages and guests waiting for pizzas can doodle or leave feedback for crew members. Some stores feature self-serve order kiosks and, depending on size and layout, may provide seating for in-store dining, a radical departure for the delivery giant.
"Most of our carryout customers order ahead, either online or over the phone, but sometimes they have to wait a few minutes for their order to finish baking. And some guests place their orders right in the stores and wait for the 12 to 14 minutes it takes to make their pizza. Now they have a comfortable, engaging place to wait, with things to do and to see. They can even stay [and] eat on-site if they want to," Solano says. "We're still the worldwide leader in delivery, and our business model hasn't changed from that standpoint, but over the last several years we've seen more and more consumers gravitating towards carryout. We wanted to have the best carryout experience in the business, and now we think we have it."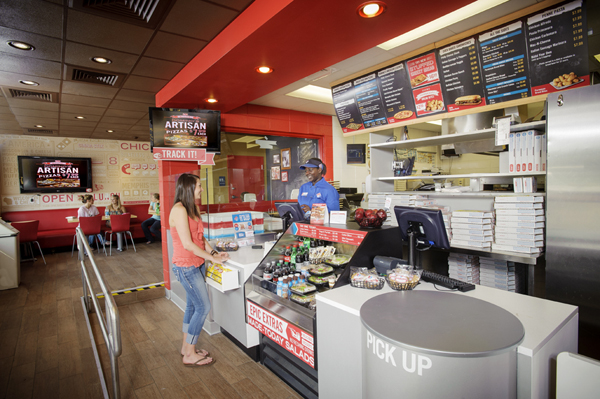 Domino's Gulfport, Miss. location.
To create a more inviting space, Domino's traditionally stark blue, red and white color scheme was warmed up, both inside and out. And materials were selected to reflect the chain's emphasis on transparency and authenticity. "We're always trying to refer to the 'real' even if we can't put the 'real' in it," says Mindi Trank, vice president of brand and consumer strategy at Chute Gerdeman and a member of the Domino's project team. "For instance, for storefront materials we want it to be real wood and real brick wherever we can. Same goes for things like the tables and interior finishes, like the wood-look porcelain tile flooring. We wanted them to have a real, authentic look and feel, and not walk away from the essence of the brand when we got down to selecting materials and finishes."
On the choice of seating, Rosenbaum notes the style selected is in keeping with Domino's focus on efficiency. "It's not a full-line restaurant, and we wanted to create the sense that the seating wasn't something that you were going to lounge in for hours," he says. "But if you choose to eat in, you now have that option available."
Complementing Domino's new design concept is a new, single-tile logo, which also marks a significant change in the branding of the 52-year-old company. The new logo is visual only – even the word pizza has been removed – and company officials hope it will become an icon as recognizable to consumers as the Nike swoosh or the McDonald's golden arches. In a company statement last fall, chief marketing officer Russell Weiner described the image as a "simple, visually striking logo" and noted that "the best way to signal that there's something new on the inside is to create something new on the outside."
The logo was designed by Domino's advertising agency, Miami-based Crispin Porter + Bogusky.
Wall of pans at Domino's prototype.
Untouchable: Operational Efficiency
While the new prototype yields a dramatically different aesthetic at Domino's, the design changes had to be made without impacting operations. And in the case of retrofits, they had to be done without expensive relocation of ovens and ventilation systems.
Trank notes that extensive work in the kitchen centered on time and efficiency modeling. "We looked at how the product moves through the space and how associates were able to work within the space, as well as at order times.
We had to create the most efficient flow, and that was the one element that could not change."
During the course of the redesign, the team toyed with the idea of creating a "Subway-type" model for customization of pizzas by in-store guests as they ordered. The idea, however, was abandoned as too much of a departure from Domino's current operations, which are fine-tuned and effective.
"We tried it, but from an operational standpoint, it really bogged down
because it was destroying their timing and efficiencies," she says. "Subway was created like that, but Domino's structure is different. Most orders are placed either online or over the phone, before the guest walks in the door."
Bottom line: While the design prototype was targeted for change and to cater to shifting consumer expectations, operations were not. According to Solano, "We didn't want to break something that was already working very well."
While the chain calls the new prototype its "store of the future," it is already being rolled out and generating positive reviews among customers and franchisees alike. A dozen or so reimages had been completed by the end of 2012, and all new stores and existing units due for a refresh will implement the new logo and elements of the new design prototype.
---
Project Team
Corporate: Domino's
Brandon Solano, vice president, store development
Amber Gadsby, retail marketing project leader
Tim Krause, construction manager
Wendy Johnson, executive vice president, account management, and COO
Lynn Rosenbaum, vice president, environments (read Design Insights from Lynn here.)
Mindi Trank, vice president, brand and consumer strategy
Renee Kinkopf, designer, brand communications
Michael Muchoff, designer, environments
Katie Clements, senior designer, materials specialist
David Birnbaum, AIA, LEED AP, director of architecture, design development
Steve Johnson, senior designer, design implementation
Industrial Engineering: Profitality
Juan Martinez, principal
Sylvia Peterson, consulting director
Juan Pablo Lopez, engineering consultant
Snapshot
Headquarters: Ann Arbor, Mich.
Units: 10,040 as of September 2012 (4,896 domestic, 5,144 international)
Prototype size: 1,200 to 1,500 square feet
Estimated average initial investment per store: $255,000
Redesign intent: Move from delivery-focused interiors to appealing, engaging interiors showcasing Domino's quality-focused "Pizza Theater" to carryout and even dine-in guests
Key features: Display pizza making, warmer color palette, step-up viewing platform for kids, in-line merchandiser for grab-and-go sales, chalkboard wall, order-tracking screens, comfortable lobbies, new signage/logo, updated exteriors