When selecting flooring, there is much to consider beyond simple aesthetics, and the options for a restaurant are many and diverse: traditional carpet and quarry tile; a wide variety of hardwoods, both natural and engineered; decorative tile; high-end environmentally friendly options; and more.
"Determine the flooring type based upon design, aesthetics, ease of construction, safety, cleanliness, environmental-friendliness, cost, durability and function," says Rich Fidler, design manager for Chipotle Mexican Grill. "It is important to consider both the guests and the employees who will dine and work at the restaurant when selecting the material."
Look Beyond Aesthetics
From an aesthetics perspective, identifying flooring material that relates well to the design of the dining space is a common driving force in the selection process. The style of the restaurant along with the menu and branding and the personal taste of the owners are key factors when shopping for flooring. For example, hardwood may help impart a warm, sophisticated look.
But choosing based on visual appeal and design alone is shortsighted. With hardwoods, for instance, long-term maintenance must be considered. Commercial-grade solid wood flooring should ideally be stripped and resealed with polyurethane once yearly as a basic maintenance practice. That could require a few days' downtime – not a viable option for most restaurants. Other wood choices, such as bamboo, cork, polyurethane-impregnated wood or engineered wood, may be easier-to-maintain alternatives to natural hardwoods. A new trend, notes Wid Chapman, owner of Wid Chapman Architects in New York City, is "porcelain tile products that have wood grain imagery detailed on the surface." 
A secondary phase of design planning strategy, beyond aesthetics, is selecting materials according to the needs of each zone of the restaurant. "The bar area will need to be protected from customers accidentally spilling drinks as well as provide protection against liquids that may spill from behind the counter onto the flooring below," says Chapman. The dining areas primarily need to protect patrons from slipping. The kitchen will need durable, waterproof materials that protect employees from slips and falls.
While carpet has long been a common flooring material for restaurant dining areas, alternative materials, such as polished concrete, which is highly durable and easy to maintain, are becoming more popular. Carpet has great traction and acoustical factors and can consist of recycled content, but the durability can be low for high-traffic areas in restaurants of any size. A design trend seen in many operations is a combination of various flooring finishes, with carpet used in some areas for color and acoustical effect, and complementary wood finishes, tile or concrete used elsewhere. Though concrete may add to the noise level in the dining area, Fidler says Chipotle solves this issue primarily through ceiling treatments.
Safety Is Imperative
A few years ago, the National Floor Safety Institute (NFSI) estimated that more than 3 million foodservice employees and more than 1 million restaurant guests were injured each year from slips and falls, resulting in costs of more than $2 billion annually for such injuries. For this reason, it is imperative that slip-resistance factors are carefully researched for each material considered for both front- and back-of-the-house applications.
Some flooring materials are certified by the NFSI, and others are labeled with a coefficient of friction (COF) rating. The higher the COF, the less likely it is that employees and guests will accidentally fall. Keep in mind that the floor is the largest factor in slip-and-fall cases – but not the only factor. A comprehensive analysis of the property and its function should be conducted according to NFSI and OSHA's recommendations. Regardless of the material desired, flooring should have high traction and high slip resistance.
Consider Durability, Cleanliness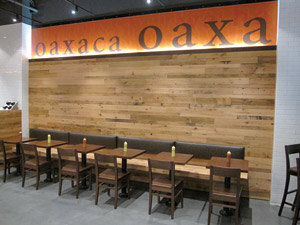 Almost no other material is more durable than concrete. Chipotle has used concrete with a diamond-grind finish for the past seven years, calling it "battle-proof." According to Fidler, the chain had tried several other types of flooring, including hardwoods, ceramic tile, laminate wood and stained and sealed concrete before settling on this type of concrete.
Another durability factor to consider is ease of maintenance. "If porcelain tiles are broken, they are easy to replace," says Chapman. Rather than shutting down the restaurant for a few days to resurface and reseal hardwood flooring, operators can simply replace a few tiles at a time if needed.
If concrete is the "new carpet," reclaimed wood is not far behind. Both trendy and durable, it is already worn down, which means its appearance will not change from finished to worn as with fresh hardwood flooring materials. In addition to its worn-look aesthetic, reclaimed wood is highly environmentally friendly. This material is an increasingly popular choice for bars or other accent areas within restaurants.
Whatever material is chosen, operators cannot afford to ignore the cleanliness factor. Carefully selecting materials as well as cleaners that lift off grease and wash it down the drains keeps restaurants safe and health departments happy. Many design professionals agree that, in terms of floor cleanliness, grout lines and seams are the greatest concern.
Each material has its own cleaning requirements. Traditional quarry tile floors are maintained with several washes throughout the course of a cooking day. Carpet is subject to a great amount of buildup from contaminants and deterioration that calls for regular deep cleaning – ideally every six months to a year, possibly more often depending on climate. Regardless of material, certain cleaning products are specifically designed for each flooring type; for best performance, manufacturer recommendations for maintenance should be carefully adhered to.
Chapman warns against the use of natural hardwood flooring as well as engineered woods, sealant-impregnated woods and even bamboo. "Many of these other types of hardwood products tend to wear well for only two to three years," says Chapman. For those who do choose hardwood flooring, Chapman suggests using tung oil or linseed oil to treat the natural wood. An overnight treatment applied yearly allows the oils to penetrate deep into the wood.
Proper Installation Is Key
The selection of materials is just one piece of the flooring puzzle. Once those materials are chosen, it is imperative to pair them with the correct, manufacturer-recommended subbase and underlayment materials. A beautiful new tile floor will not last long if it is paired with the mortar and grout meant for another type of material.
Expert, experienced installation is critical as well. Sometimes, a tile will crack and break if there has been an air bubble underneath within the mortar bed.
Chapman has dealt with customers who have either suffered or been threatened with lawsuits from water leaking through kitchen flooring. If the restaurant and its kitchen are located above a space that critically needs to be kept clear of leaks, selecting the right material, having it installed correctly and keeping up with its maintenance schedule are essential.
When operators are converting or remodeling an older restaurant property, Chapman recommends an inspection to determine the integrity of the existing flooring (especially quarry tile) before the restaurant is reopened. "It may be that the eight-by-eight-inch quarry tile actually needs to be replaced before opening," says Chapman. He also recommends keeping extra tile pieces in storage for easy replacement when needed.
Each restaurant will have its own set of priorities when selecting flooring materials. As there is an abundance of options available, consider several different ideas before settling on one final choice. Lastly, remember to include all key players in the decision so that the final selection satisfies the design team, as well as operations, administration and, ultimately, guests.